In the battle for digital domination, search reigns supreme – and brands are stepping up their search game.
According to a survey by SearchNode, 68% of eCommerce industry leaders are improving their search functionality in 2021 and expanding the lens of their magnifying glasses. 
That plays directly into today's news that digital experience platform provider Sitecore is acquiring San Mateo-based Reflektion, an AI-powered digital search solution that understands and predicts patterns, context, and needs – so brands can convert more shoppers into buyers.
The addition of Reflektion's technology will enable Sitecore to better engage, educate, and empower shoppers to make purchase decisions faster – increasing buyer confidence, long-term revenue, and overall customer satisfaction and loyalty.
The acquisition – a continuation of Sitecore's epic $1.2 billion growth plan – will help marketers solve the information overload that is characteristic of traditional search solutions, which can impede a customer's ability to find and select the products they're looking for.
When 93% of all online experiences start with search, it's fair to say that it's essential to the customer buying journey. Reflektion elevates the value of search by transforming it into a conversational, guided experience that provides more personal, accessible, and tailored answers for the customer. 
"Search is about more than just entering words into a box and hoping for the right results – it is the cornerstone of a digital experience," said Steve Tzikakis, CEO, Sitecore. "With Reflektion, a brand can add various types of search including personalized search, preview search, conversational search, and voice search. This reduces customers' effort and anxiety to find exactly what they need – with more convenience and speed – and leads to increased customer satisfaction with more conversions and revenue. Acquiring Reflektion reinforces Sitecore's position as the leader in digital experience technologies that meets customers at the moment with more relevant, intuitive, and human experiences."
Elevating the E-commerce Experience with AI
Reflektion brings an array of complementary commerce, AI, and personalization capabilities to Sitecore, which will further augment the DXP's acquisition of Four51, Boxever, and Moosend. Together, this nexus of data and deep learning technologies will allow Sitecore to seamlessly deliver intelligent, personalized, real-time information across channels.
Four51's API-first, headless e-commerce solution enables organizations to quickly and easily deliver engaging shopping experiences, helping them improve customer satisfaction, loyalty, and advocacy. Four51's feature set complements their existing B2C commerce capabilities while the Customer Data Platform (CDP) Boxever enhances customer intelligence with AI-driven personalization tools – making it easy to capture, unify and activate customer data and deliver personalized experiences at scale.
With a robust stack powering their growth across data and digital commerce, search presents an ideal channel for connecting and expanding Sitecore's breadth of capabilities – and Reflektion delivers on that vision.
"Since its inception eight years ago, Reflektion has become recognized for its unique approach to search-product discovery technology," said Amar Chokhawala, Founder and Chief Executive Officer at Reflektion. "Our technology uses AI to adjust each consumer's digital experience, in the moment, based on diverse data from multiple channels. I am proud of the passionate team at Reflektion who has been successful in bringing our AI-first approach to many site-search deployments for large e-commerce and retailers' websites. With Sitecore, the Reflektion team and customers will be able to continue to leverage the enhancement of digital experiences, leading to continued growth and results for all."
The acquisition is expected to close in September 2021.
Ramping Up the Competition
Sitecore fired a "shot heard 'round the DXP world" last January when it announced its ambitious $1.2 billion growth strategy – which brewed speculation amongst competitors and analysts alike.
While the mature market player celebrated its fourth year in a row as a Leader on Gartner's Magic Quadrant for DXPs, it fell slightly behind both Acquia and Episerver (now Optimizely).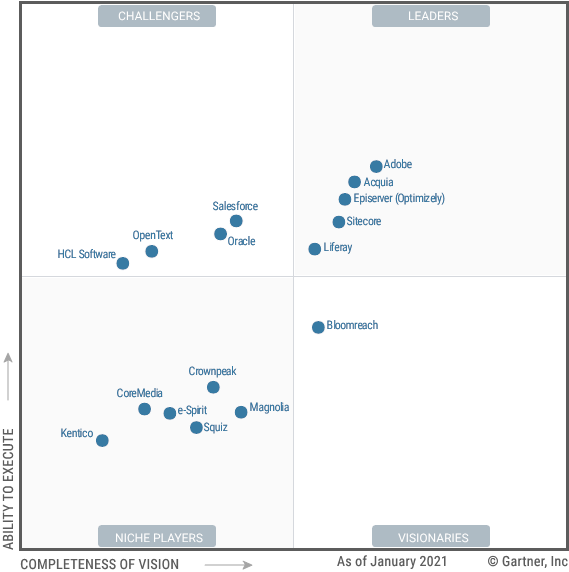 Forrester's Q1 Wave Report for Agile CMSes paints a similar picture. Since 2019, Sitecore has elevated its Strong Performer status, now straddling the fence of the Leaders circle with a wider market presence. But like the Gartner MQ, they are lagging behind Acquia and Optimizely.
With the acquisition of Boxever, Four51, Moosend, and now Reflektion, Sitecore seems poised to pounce. As competition heats up at the highest level of the enterprise, CMS and DXP players are accelerating their investment in innovation – and buying up the missing pieces to their platform puzzle. With consumers relying more on AI-driven voice assistants like Siri and Alexa, the channel opportunities for search are expanding in dynamic ways.
Sitecore's bid to stay top-of-mind and top-of-market will require more than acquisitions. But their stack is looking more like a vision – and that's what every platform is searching for.
About Sitecore
Sitecore delivers a digital experience platform that empowers the world's smartest brands to build lifelong relationships with their customers. A highly decorated industry leader, Sitecore is the only company bringing together content, commerce, and data into one connected platform that delivers millions of digital experiences every day. Leading companies including American Express, ASOS, Kimberly-Clark, L'Oréal and Volvo Cars rely on Sitecore to provide more engaging, personalized experiences for their customers. Learn more at Sitecore.com.
About Reflektion
Reflektion's Digital Commerce Experience Platform for eCommerce and Retail listens to the behaviors of each individual shopper, utilizes Artificial Intelligence to calculate their preferences and intent, and then responds to every moment-to-moment interaction by displaying the most relevant content and products in real-time and across the digital touchpoints that matter most—including preview and site search, product recommendations, category and landing pages, and email.
Leading retail brands such as Skechers, Ulta, Reeds, Petco, Ascena and RiteAid rely on Reflektion's platform.
Founded by pioneers in Artificial Intelligence and awarded both the Best eCommerce Solution and Best Overall Business Technology Solution by SIIA in 2019, Reflektion combines individual shopper insights, product intelligence, and AI to create more relevant and impactful eCommerce experiences.