Another week, another big twist in the enterprise CMS and DXP battle for market dominance.
This time, it's Sitecore making waves, proving there's only one thing better than acquiring a strategic company – and that's buying two at the same time.
Just weeks after unveiling a $1.2 billion investment plan to fund innovation and accelerate growth, Sitecore announced it has entered into definitive agreements to acquire Boxever, a SaaS-based Customer Data Platform (CDP) providing decisioning and experimentation, and Four51, a digital commerce pioneer that powers custom, highly scalable e-commerce B2B marketplace solutions.
When Sitecore originally announced its daring yet elusive investment plan in mid-January, there was a great deal of speculation about their strategy. Very little was revealed about how the funds would be used, or if any acquisitions were on the horizon.
With this move, Sitecore has answered a big part of the market's questions – and positioned themselves to better compete at the top with the likes of Acquia, Optimizely (formerly Episerver), and Adobe.
Adding Customer Data Platform (CDP) capabilities
One of the gaps that every CMS and DXP is racing to address exists around customer data. As brands and organizations demand greater personalization to optimize value and loyalty throughout the buying cycle, customer data is fueling the experience management engine – and having a CDP strategy is no longer a luxury, but a necessity.
Boxever has been on a roll with its CDP offering. The platform provides a rich, 360-degree view of customers with advanced segmentation, real-time decisioning, and experimentation capabilities. The system acts as the "brain" within an organization's marketing stack, rendering every customer interaction more relevant and engaging.
With Boxever's multi-dimensional capabilities, Sitecore will be able to enhance customer intelligence with AI-driven personalization tools, making it easy to capture, unify and activate customer data and deliver personalized experiences at scale.
Elevating headless e-commerce
As the Covid-19 pandemic accelerated digital transformation, brands discovered headless commerce – and leaned on its extensible framework to rapidly power their omnichannel strategies.
Four51's API-first, headless e-commerce solution enables organizations to quickly and easily deliver engaging shopping experiences, helping them improve customer satisfaction, loyalty, and advocacy.
According to Sitecore, Four51's feature set will complement their existing B2C commerce capabilities, enabling them to define the digital experience market in new ways. Additionally, the combined offering will require less upfront investment, with a horizon of continuous innovation and a dramatically shorter time to value.
Competing in a growing field of Digital Experience Platforms
For Sitecore, the pandemic has highlighted the need for a flexible and modern Digital Experience Platform (DXP) to provide organizations with both agility and intelligence to keep pace with changing demands.
While CMS platforms have begun to migrate their capabilities to meet the definition of a DXP, the goalposts continue to move – driven by rapidly accelerating innovation and consolidation.
Like its competitors, Sitecore recognizes the gaps and is making bold moves to shore them up. By integrating Boxever and Four51 with their proven suite of capabilities, Sitecore will be positioned to deliver a true content-to-commerce, SaaS-based DXP.
The resulting solution would enable businesses to deliver real-time, personalized digital experiences across every touchpoint, including the full buying cycle from order fulfillment to service beyond the sale. Technical organizations will also get an open stack built for modern architectures, with applications that are more intelligent, agile and always up-to-date.
Buyer's remorse?
In their announcement, Sitecore acknowledged the skepticism surrounding the recent trend of acquisitions and consolidations in the marketing technology sector.
Still, the CDP train seems unstoppable. Gartner has predicted that "70% of independent CDP vendors will be acquired by larger marketing technology vendors or will diversify through M&A of their own to enter adjacent categories such as personalization, multichannel marketing, consent management, and/or MDM for customer data."
But is all this activity paying off? Unfortunately, the data suggests that most of these strategic acquisitions have left customers feeling disappointed with the feature sets, particularly around personalization.
In fact, Gartner has further predicted that 80% of marketers who have invested in personalization will abandon their efforts due to the lack of ROI and distrust from consumers due to growing privacy issues. Google's recent news that it will phase out browser cookies for ads is the latest sign that the data privacy landscape is changing rapidly, and the impact on personalization will continue to evolve.
Consistent positioning from Gartner and Forrester
With the acquisition of Boxever and Four51, Sitecore is hoping to do more than just stay in the game – they clearly want to uplevel it. Perhaps these two pieces to the puzzle will prove highly advantageous to their near and long-term goals by offering a SaaS-based, API-first Digital Experience Platform that expands the breadth of their data and commerce capabilities.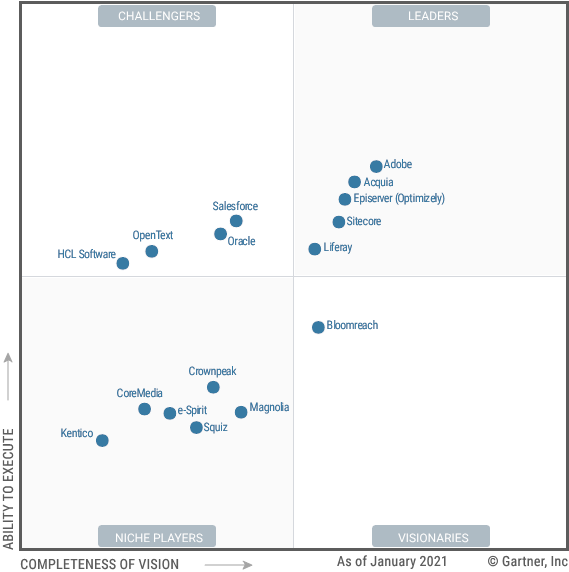 Recently, both Gartner and Forrester issued their 2021 reports for enterprise DXP and CMS. While Sitecore celebrated its fourth year in a row as a Leader on Gartner's Magic Quadrant for DXPs, it fell slightly behind both Acquia and Episerver (now Optimizely).
Forrester's Q1 Wave Report for Agile CMSes paints a similar picture. Since 2019, Sitecore has elevated its Strong Performer status, now straddling the fence of the Leaders circle with a wider market presence. But like the Gartner MQ, they are lagging behind Acquia and Optimizely – with Adobe maintaining its clear dominance in the category.
The impact of the CDP revolution
The recent announcement from Sitecore codified one thing: that CMS and DXP platforms are feverishly racing to add CDP to their core offerings.
According to Segment's industry report released last month, 73% of companies reported that a CDP will be critical to their customer experience, and integrating that capability can enhance the value of a content management or digital experience platform.
As a side note, Segment was acquired by Twilio in November 2020 for $3.2 billion. This move further demonstrates that CDPs are broadly viewed as a strategic acquisition for a multitude of technology platforms – particularly in a COVID-19 world where organizations require more access to data-driven tools to grow and compete.
The explosive growth in this category is made abundantly clear in the graph below: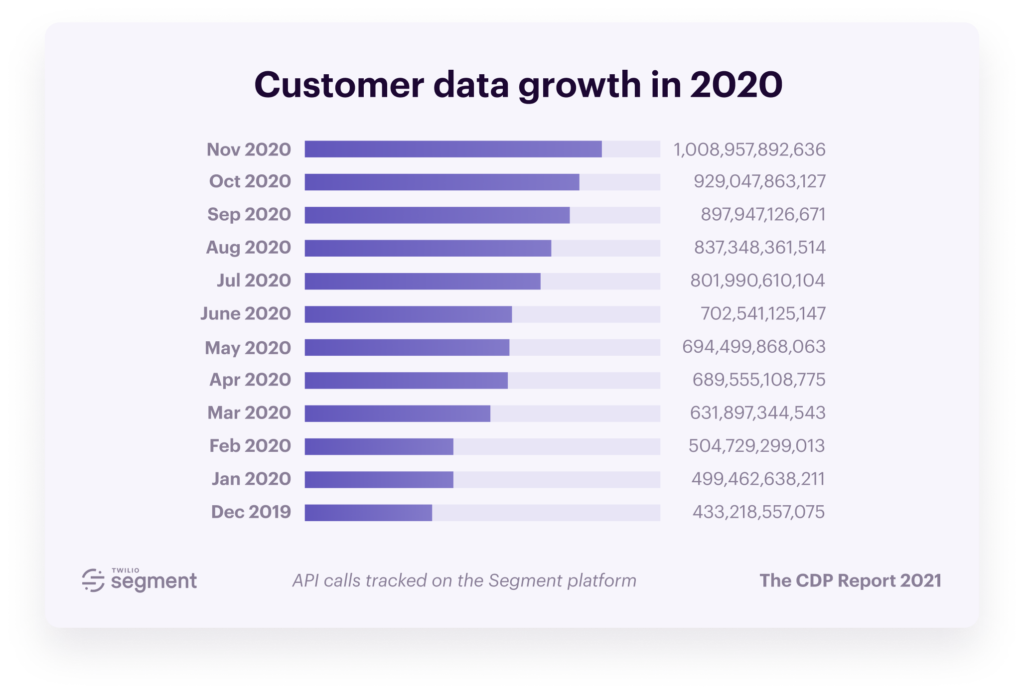 What's next for Sitecore?
They say timing is everything. When Sitecore announced their ambitious investment plan, it was just the latest in a high-intensity cycle of headlines from across the martech stack – and may have been perceived as a response to other newsworthy activities.
Unlike their rivals, the lack of clarity around their $1.2 billion investment stirred questions about their market goals, compounded by growing competitive friction and setbacks. But behind the scenes, they clearly had their sights set on key acquisitions that would accelerate their growth and address the aforementioned gaps in their strategy.
With the integration of Boxever and Four51, Sitecore can now deliver what the market needs: industry-leading content and customer data management, omnichannel delivery, headless commerce, testing, journey optimization, and more. With these capabilities in their toolkit, they are better positioned to compete at the top of the market.
The acquisitions are expected to close before the end of March 2021, and financial terms are not being disclosed. Upon completion, the CEOs of both Boxever and Four51 will take on leadership roles – and Sitecore expects to invest and expand in both Boxever's Dublin, Ireland and Four51's Minneapolis, Minnesota locations.
Now, which marketing technology vendor is bold enough to score a hat trick... and buy three companies at once?
About Sitecore
Sitecore delivers a digital experience platform (DXP) that empowers the world's smartest brands to build lifelong relationships with their customers. A highly decorated industry leader, Sitecore is the only company bringing together content, commerce, and data into one connected platform that delivers millions of digital experiences every day. Leading companies including American Express, ASOS, Carnival Cruise Lines, Kimberly-Clark, L'Oréal, and Volvo Cars rely on Sitecore to provide more engaging, personalized experiences for their customers. Learn more at Sitecore.com.