These days, if you're not beating the DXP drum of "composable" and "scalable," you might seem out of step with the direction of the market. That's been a challenge for traditionally monolithic platforms that have invested in a vision of completeness for enterprise customers, but still want to be perceived as flexible amidst a growing stack of services. 
In an effort to MACHify (more on that in a minute), Sitecore is evolving its own monolithic legacy position by adapting its fully-integrated platform of solutions. At last week's Sitecore Symposium World Tour in London, the company outlined a composable product portfolio, showcasing customers delivering digital experiences at scale with its own composable offerings. 
Driving DXP growth through strategic acquisitions
In case you missed the barrage of stories we covered, Sitecore has been making headlines since announcing its $1.2 billion capital investment last year – which, at the time, was unprecedented in the industry.
As part of its growth plan, the company went on an acquisition spree. In just one year, it purchased four technologies that addressed key gaps in its DXP strategy: Reflektion, an AI-powered digital search solution; Moosend, an e-mail marketing automation, and campaign management platform; Boxever, a SaaS-based Customer Data Platform (CDP); and Four51, a digital commerce platform for e-Commerce B2B marketplace solutions.
According to the company, these platforms are now fully integrated into Sitecore, achieving a significant milestone in delivering a complete, SaaS-based DXP.
MACH vs. monolith... or can we all just get along?
We've talked a lot about MACH-based composable architectures and how they're being adopted at a wild pace, particularly as brands look to scale faster and faster. Following the seismic shift in digital transformation following the Covid-19 pandemic, many CMS and DXP companies doubled down on a composable market posture – and Sitecore was among the enterprise crop that announced its intentions to invest in a more composable DXP position.
Sitecore's product updates have been fundamental to expanding its advanced, SaaS-enabled capabilities, which do align with several principles of MACH architectures (which stands for Microservices, API-first, Cloud-native SaaS, and Headless). Sitecore says that its suite of capabilities will enable brands to provide real-time, personalized digital experiences across every touchpoint, from content to commerce – powered by the cloud. 
One of the key challenges for vendors in the MACH space is the ability to prove their "MACH centricity" under the tenants established by the MACH Alliance. The industry organization has become a bellwether for all things MACH and established strict requirements for members that reinforce the underlying fundamentals of the movement – all in an effort to help companies invest in the most composable solutions on the market.  For platforms like Sitecore, this has become an opportunity to tout the benefits of its broader market offerings while future-proofing products like Sitecore OrderCloud as "MACH Certified." 
"For brands to truly meet the moment, it has never been more crucial than it is now to adopt technology that offers choice, flexibility, and speed," said Dave O'Flanagan, Chief Product Officer at Sitecore. "Sitecore is committed to delivering a composable DXP that meets the continuously changing needs of brands – unifying content, experience, and commerce, enabling them to offer exceptional customer experiences while continuing to innovate for whatever demands are around the corner. Ambitious brands have outgrown the one-size-fits-all vendors, and they will not settle for piecemeal point solutions – they need a stack of best-in-class features that work in harmony together – and this is what Sitecore delivers."
Here are more details on the updates to Sitecore's product offerings, which all build on innovation via their acquisitions:
Sitecore OrderCloud
Sitecore OrderCloud is an API-first, headless cloud platform for B2B, B2C, and B2X. This capability comes from the Four51 acquisition, which originally designed the platform. The new updates expand OrderCloud's marketplace support capabilities with the release of new order routing flexibility, supplier empowerment, and pricing flexibility. And as mentioned, OrderCloud is powered by a MACH architecture, giving it greater flexibility within the Sitecore stack.  
In addition, OrderCloud released a new Inventory Records feature to provide management flexibility that enables manufacturers, distributors, and retailers with seamless operational and commerce capabilities.
"With Sitecore OrderCloud, we are excited about the possibilities of connecting our customers with products they need and want to play sports and have fun," said Jason McConnell, Director of Product at NBC Sports Next. "We picked Sitecore OrderCloud because we're impressed with its composable developer-first functionality, which should give us all the flexibility needed to seamlessly weave commerce into our existing technology platforms." 
Sitecore Send
Sitecore Send is an e-mail marketing automation tool that evolved from the Moosend acquisition. Sitecore's updates include six additional languages: Spanish, French, German, Greek, Japanese, and Portuguese. Sitecore also announced a new pricing plan with a 30-day free trial for the full range of Send's enterprise-level features.
Sitecore Discover
Sitecore Discover is an AI-powered product search and merchandising solution that came with the acquisition of Reflektion. It helps understand and predict an individual shopper's purchase intent based on patterns, context, and needs – all of which help convert browsers into buyers.
The updates provide Sitecore Discover's Commerce Engagement Console (CEC) with a revamped appearance library and editor, providing a better user experience and more control over merchandising. It also improves its widgets with type filters and rule exports, adding more convenience for users.
Sitecore Personalize
Sitecore Personalize is an AI-driven, cloud-native solution for delivering tailored experiences to every customer. The product stems from the acquisition of Boxever, a SaaS-based Customer Data Platform (CDP) that provides decisioning and experimentation capabilities.
As part of the update package, Sitecore Personalize has completed its integration with Sitecore Experience Manager, offering channel diagnostic testing and real-time personalization that complements Sitecore's market-leading CMS – and is all delivered in the cloud.
Expanded integrations for Salesforce and more
Sitecore also published several new connectors on its Sitecore Marketplace for several product integrations, including Salesforce Marketing Cloud, Responsys, and Klaviyo. The company also added new AI-powered product discovery capabilities to support a broad range of commerce-related use cases, including intelligent search, product listing pages, and product recommendations.
Ramping up the competition
Sitecore has been a consistent Leader on Gartner's Magic Quadrant for Digital Experience Platforms. However, in the most recent 2022 assessment, the platform has fallen slightly behind its chief competitors, Acquia and Optimizely, while Adobe continues to maintain its dominance.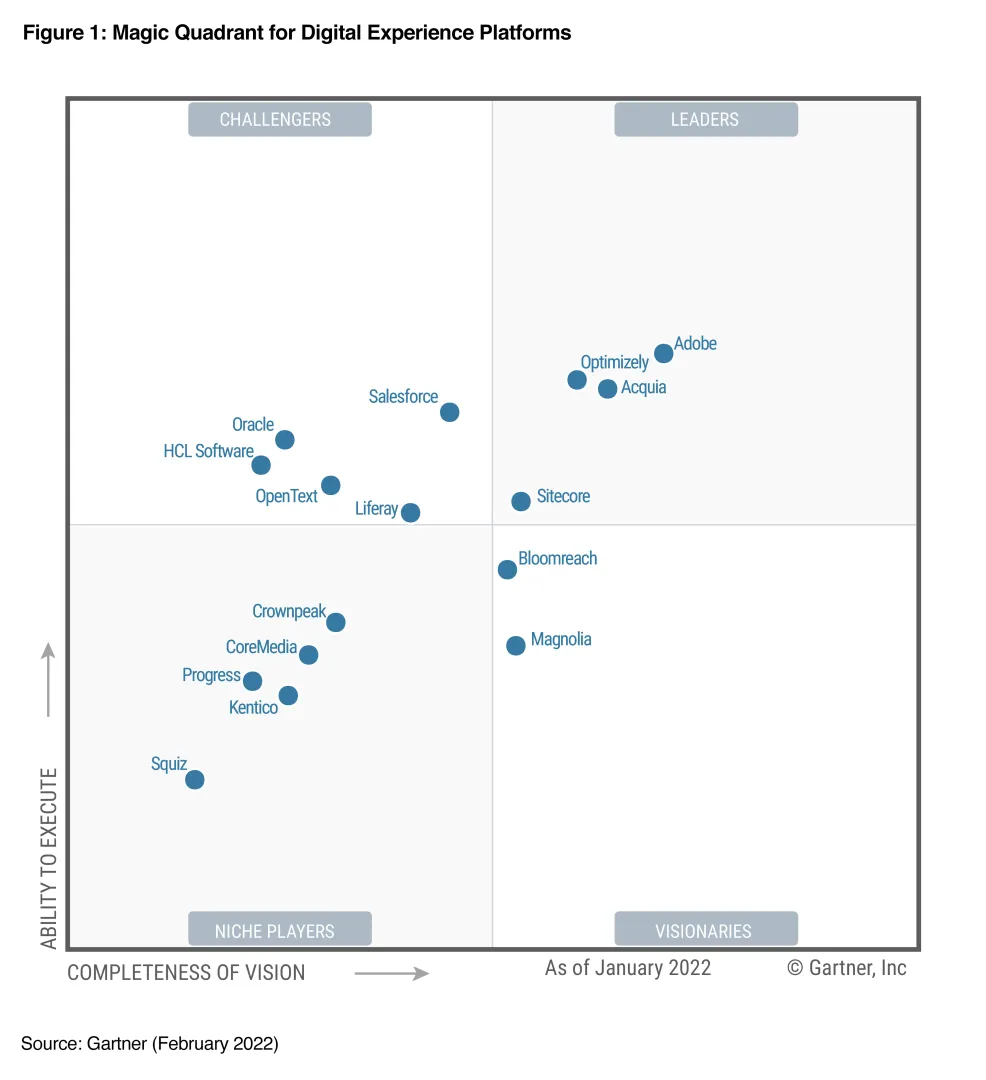 According to Gartner, the future of business is composable, and Sitecore's journey towards composability and the cloud illustrates its commitment to the market. The analyst firm noted that Sitecore's efforts to convert its core applications into SaaS – and acquiring SaaS vendors with complementary capabilities in AI, CDP, and search, among others – is a strength.
While the company may have slipped against its competitors, it certainly appears ready to do battle in the Composable Revolution. 
About Sitecore
Sitecore delivers a digital experience platform that empowers the world's smartest brands to build lifelong relationships with their customers. A highly decorated industry leader, Sitecore is the only company bringing together content, commerce, and data into one connected platform that delivers millions of digital experiences every day. Leading companies including American Express, ASOS, Carnival Cruise Lines, Kimberly-Clark, L'Oréal, and Volvo Cars rely on Sitecore to provide more engaging, personalized experiences for their customers. Learn more at Sitecore.com.