After running for their third straight year, the CMS Awards 2014 are coming to an end.
Mike Johnston launched the awards back in 2012, to give the CMS Critic community a chance to vote for their favourite products, and the CMS vendors an opportunity to shine. The awards are comprised of the People's Choice Awards, which give the public power over which CMS wins each category, and the Critic's Choice Awards, where a select few judges are appointed to select the winners.
This year, a range of new categories emerged for the first time in order to accommodate the many new products and niches developing within the content management system market, making this years awards the most inclusive – and the most useful – ever.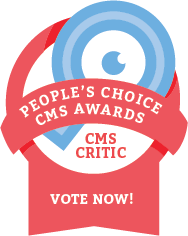 But how useful are the awards exactly? For whom are they for? What purposes do they serve?
For the Consumers
First and foremost, the CMS Awards are here to serve the consumers.
The consumers are those who work on websites, in one way or another, and/or take a keen interest in the CMS industry. Whether they build, maintain or contribute to websites for a living, or simply as a hobby, there are vast numbers of people who need the latest information on which CMS is doing the best job within each specific niche.
For example, if somebody needs to know who the top dog is in the eCommerce industry, the CMS Awards can offer a shortlist of candidates, along with winners of both the Peoples Choice Awards and the Critics Choice Awards. It acts as solid CMS researching tool.
Plus, because the awards are annual, such consumers never feel out of touch with the research they are conducting. Each award reflects the current opinion of both the masses and the critics. It's just good old useful information.
To put it simply, the awards help people choose the best CMS for their projects. Our Twitter followers concur:
@cmscritic CMS Awards mean more available research for businesses to apply their needs directly to a CMS- better research=better experiences

— Ceeonsoft, Inc. (@Ceeonsoft) October 15, 2014
@cmscritic the CMS awards are a great opportunity to show that there are other platforms besides the most obvious choices ?

— Ben Barden (@benbarden) October 15, 2014
For the Vendors
Let's not forget about the teams behind each CMS.
The vendors themselves view the awards as a chance to connect with and evaluate their communities. Not to mention, it gives each vendor the opportunity to give back to their community in some way, should the results go their way.
It should also be noted that the awards may serve as an extra incentive for vendors to improve their products. After all, winning an award is a marketable achievement, and perhaps even a bragging right over competitors.
Here's what an assorted bunch of vendors had to say about the CMS Awards.
Magnolia CMS (Nominated for Best Free Java CMS & Best Open Source Java CMS)
"The CMS Awards represent an important opportunity for every organization that's in the content management business. The finely tuned categories ensure maximum relevance for CMS Critic's audience, resulting in some good pointers for people who are just about to start a project.

Beyond the obvious benefits of winning one or more awards (i.e. generating awareness for your product and business, validating your existing customers' choice, prestige), you also get a chance to see how your community outreach works: how well does your social ecosystem respond to requests? How can you incentivize them to support you? The knowledge you gain from that can be used across a variety of other projects.

At Magnolia, we've informed our community through social media, documentation, our forum, dedicated email blasts as well as personal contact. If the preliminary results are any indication, our outreach seems to have worked!"

– Christopher Justice, CMO of Magnolia.
PrestaShop (Nominated for Best eCommerce Solution for SMB & Best eCommerce Solution for Enterprise)
"The CMS Awards represent an opportunity for each ecommerce solution to get the recognition they deserve. It's extremely gratifying to watch our community come together and show their support.

For us, winning the CMS Awards isn't just about PrestaShop. It's about recognizing the 700,000 dedicated community members that contribute to the software every day.

Our supporters are members of our open source community. Together, we have built PrestaShop into what it is today. Therefore, winning would be rewarding in itself, it reaffirms the success of our collaboration."

– Natalie Beigel, PrestaShop's Program Marketing Manager
Hippo CMS (CEO) (Nominated for Best Enterprise Java CMS)
"As a company and a product, Hippo's philosophy has always been customer-centric. We develop our digital experience platform with the needs of our customers and partners as a main priority. And, in turn, our platform help clients remain attuned to the needs of their diverse audiences, serving them the most relevant content for a compelling and personalized digital experience on any touchpoint or channel.

After winning Critics Choice for Best Open Source CMS last year, a nomination for the CMS Critic's People's Choice Award for Best Enterprise Java CMS is an affirmation from our customer and partner base that demands in the digital experience space have shifted: the enterprise is disillusioned with the closed and propietary full-suites.

An open solution like Hippo can bring a great deal of value  "out-of-the-box," but at the same time cater to the sophisticated needs Enterprise clients have that don't come in a one-size-fits all package. Neither their technical nor marketing teams are willing to sacrifice control over digital strategy for a closed  'solution.'

This nomination further confirms that clients want a business agile, scalable alternative to the full-suite. Rather than allowing vendor lockin to dictate business strategy, they expect integrations that return control to their hands. Hippo will continue to deliver on exactly that promise."

– Jeroen Verberg, CEO of Hippo CMS
ImpressPages CMS (Nominated for Best Small to Midsize Business PHP CMS)
"These awards [give us] a chance to check how dedicated and active our community is.

Winning would give us extra recognition, validation and exposure. That's a big input for expanding the userbase and accelerating the growth of the project. All important information we spread through our blog, newsletter, social networks.

For these awards we even updated our website to push the message even further. I hope more users will notice it and will understand that while helping us they will help themselves. The bigger the community – the bigger the project. The bigger the project – the bigger value it can create for each of us.

We don't plan for events we don't control. However, if we win, we will definitely find ways to share our happiness with the whole community. We have a lot of active supporters in our home country (Lithuania). We might even organize a party!"

– Mangirdas Skripka, CTO of ImpressPages CMS
So, beyond being symbolic, the CMS Awards are a pretty big deal, for everybody.
With just a matter of hours before the voting stage ends for the People's Choice awards, don't delay your vote any longer. Vote for your favourite CMS right here.