The Agility Team is excited to announce that the rebuilt and redesigned content manger is now officially out of beta and in production status, a release that has been penned "The Gold Release."
Over the last handful of months, the Agility Team has been tweaking and optimizing the Beta iteration of the content manager, which was slowly rolled out to all users. New features and updates were released every month during beta, and we gathered user feedback throughout the entire process to ensure that the content manager met all of their needs and requirements.
The Gold Release marks a huge milestone for the Agility Team, and with it comes a slew of new features and updates, including design improvements and performance optimizations. Details of the Gold Release can be found here.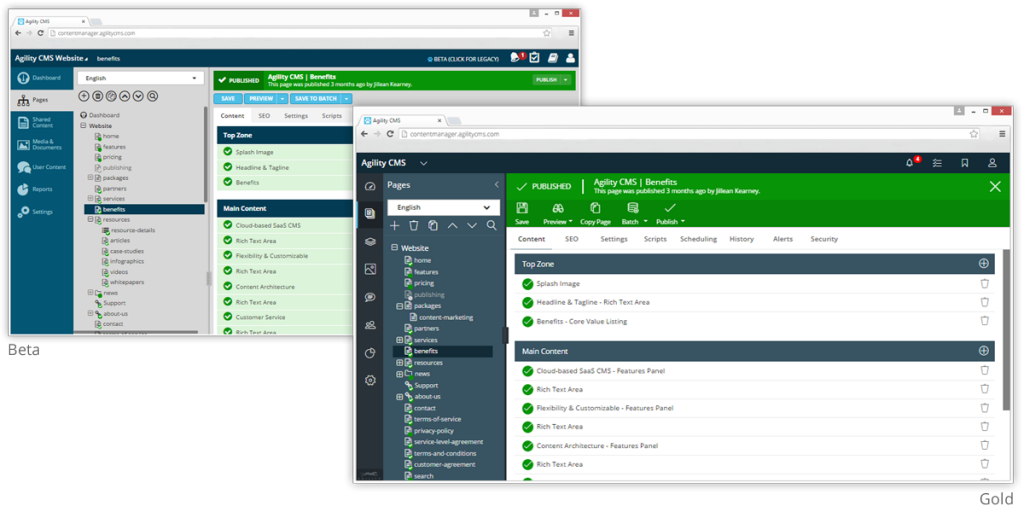 When the Agility Team first decided to rebuild and redesign the platform, they decided that it was essential to provide its users will a revamped interface, robust workflow improvements and powerful performance updates – and this has remained the goal all the way from beta to Gold.
The Brand New Interface
The Agility interface has been revamped to provide an increasingly intuitive and visually attractive experience for all users. A responsive framework and touch-friendly elements modernize the platform and enable users to update their website from anywhere, at any time.
The redesigned and rebuilt Agility includes robust workflow improvements and performance updates in order to provide marketing and development teams with the ability and flexibility to deliver the very best in dynamic digital experiences – quickly and with ease. Now users can complete tasks in fewer clicks.
The Introduction of Dashboards
One major Agility CMS update is the introduction of Dashboards, which provide improved insights to users on overall website performance, as well as user activity and recent changes made within the platform.
The Homepage Dashboard, for example, includes integration with Google Analytics, and pulls in metrics like weekly page views and average session duration. In addition to the Homepage, other Agility CMS Sections now include unique dashboards that consolidate information specific to their functionality. The Pages Section, for example, displays information about each webpage's performance and activity, including a website's top-viewed pages and top entry pages.
Rebuilt with Speed in Mind
Agility CMS's redesign includes performance fine-tuning that makes the platform smoother, more responsive and faster than ever. Agility CMS now utilizes a next generation routing and templating framework, ASP.NET MVC, which makes the platform more flexible and robust.
In addition, the amount of overhead database calls that accompany every request has been scaled back by up to five times. As a result, some Agility CMS workflows and tasks can be completed substantially quicker than in the legacy content manager.
"This is a huge step forward for Agility CMS. The legacy content manager served us and our customers well. The new upgraded iteration provides the same user-friendly experience – but it's sleeker, faster and provides more value to all Agility users," Jon Voigt, CEO of Agility, said.