This year has been an incredibly successful one for the CMS Awards and as our third consecutive year, we've had more nominations and voters than ever before!
Competition this year was very tight between contenders LightCMS, Surreal CMS and Acquia Cloud but in the end, there can be only one winner.
It is with great pleasure that I announce the 2014 People's Choice CMS Award for Best Cloud CMS For SMB (Small to Midsize Business) goes to:

LightCMS fought hard this year and it was incredibly close between them and runner up, Surreal CMS but in the end, LightCMS prevailed.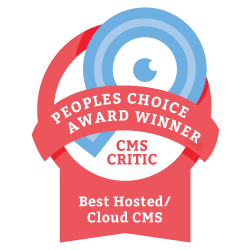 Congratulations to everyone at LightCMS (and mother company, Netsuite) on their win!
If you aren't familiar with LightCMS and would like to learn more, read our in-depth  LightCMS review on our new site, Website Builders Critic where you can find LightCMS Tutorials and more.
Share this using http://bit.ly/bestcloudcms