eCommerce solutions are becoming more and more necessary as companies transition from standard store fronts to a new digital presence. This year, we have two categories for eCommerce solutions, SMB and Enterprise.
This year, the contenders for Best eCommerce Solution for SMB were Prestashop, Shopify and ASPxCommerce. All three solutions are great ones and any small or medium business that chooses to go with these contenders would end up with a great implementation of their online presence.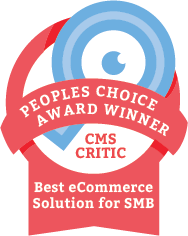 In the end, only one solution came to the forefront to take the prize and that solution was Prestashop.

The Runner up this year was Shopify.
Congratulations to the team at Prestashop, who put on a great campaign for the awards this year!
Head over to our forum and share your thoughts on the winners: Discuss the Winners of the People's Choice Awards