Although there is a wide range of high-quality ecommerce platforms available today, none quite match the pure simplicity of Volusion.
The Volusion ecommerce CMS focuses on professional presentation, along with incredibly fast and simplistic admin controls, allowing you to get your online store up and running in minutes, if not seconds.
Currently, over 40,000 stores are run and hosted by Volusion, including around 450 non-profit websites, which Volusion run for charity organizations. This ethos of giving back to the community seems to run strong within the veins of the company, who promote an easy-going, user friendly experience from top to bottom.
Inexperienced ecommerce merchants will definitely benefit from Volusion's slick admin panel, whilst more experienced online sellers can enjoy some the pretty extensive customization and marketing options Volusion has on offer.
http://www.youtube.com/watch?v=SE8oK625Bwg
Initial Thoughts
Right from the off, you can tell Volusion like to keep things basic, but in a good way. As soon as you enter their website, the simplicity and openness of the design provides the impact, followed swiftly by the invitation to, "Open a Successful Online Shop". It's a confident, unsophisticated call to action, yet within seconds, you find yourself quietly convinced that Volusion can helpyou do exactly that.

That same sense of confidence seems to exude from Volusion throughout the website, and even throughout the store set up process. It's always good to know that you're in safe, professional hands, and Volusion do a great job of presenting themselves as such.
As previously mentioned, Volusion enjoy a professional, yet laid-back approach to their business. As you browse through their website, you begin to realise that Volusion are pretty assured of their ability to help you succeed with your online business, yet at the same time, they're eager to show you that they aren't afraid to have some fun in the process.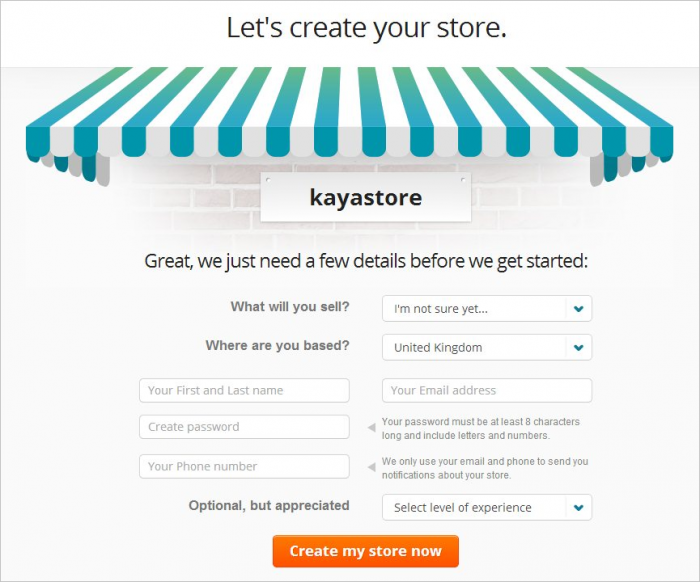 Relaxed photographs of Volusion's head offices, along with convincing statistics showcasing the undeniable success of their popular CMS, gives you the perfect overview of the company as a whole.
You get the feeling that Volusion are an extremely friendly organization, who genuinely love their work. From my experience at least, that's all you'll to need to know before you feel the urge to hit their "Try it Free" button.
Getting Started
Once you finally do decide to sign up with Volusion, you'll find it pleasantly quick and easy.
After entering your basic details, Volusion will generate your store within seconds. You will be immediately presented with your brand new store front, which boats an elegant, welcoming theme.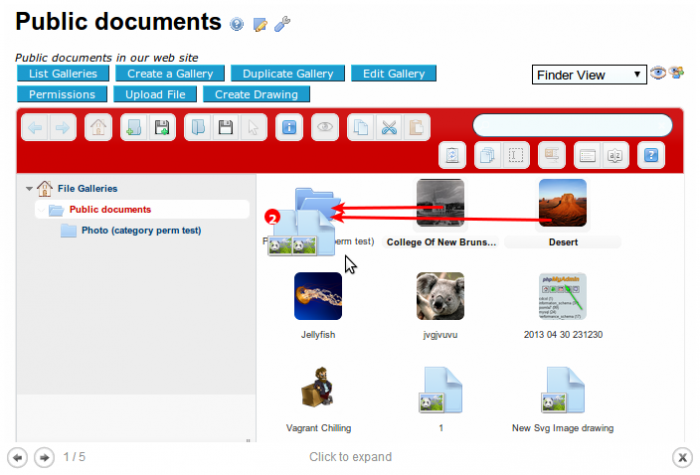 You will find a menu running across both the bottom and the top of your store but the bottom menu, for now, is the most important, as it gives you access to the snazzy Quick Start feature.
Quick Start
Essentially, the Quick Start menu is designed to get your store branded, personalised and populated with products in as little time as possible.

Within the options of Quick Start, you can choose your store design, by browsing through some of Volusion's free templates, add branding via text or a logo, and then fill out a very short product form, which helps you get your inventory out on to your virtual store front.

Once you're happy with the foundations of your store, you can move on to the last step of Quick Start, which is to finally move on to your main admin panel.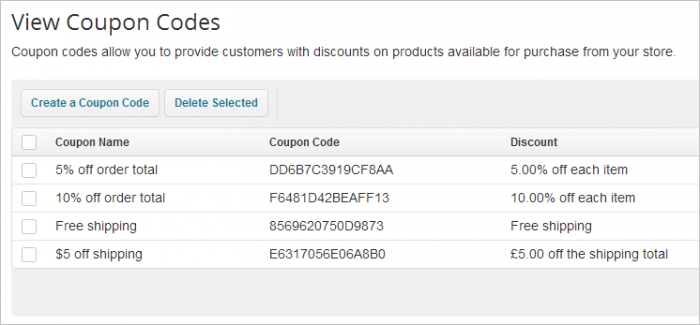 The Volusion admin panel is sleek, easy to understand, and yet offers you plenty of options and information.
Various website's statistics and sales reports are tracked and displayed right on the home page, along with links to helpful video tutorials, Volusion contact information, and other useful resources.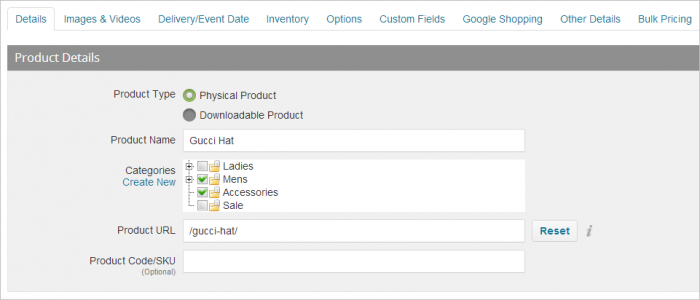 However, after getting through the simplified options of Quick Start, and opening the full admin panel for the first time, many inexperienced online merchants will likely feel lost.
Although there are indeed plenty of video tutorials and other resources on hand, it would be great to see some kind of tutorial or ineractive walkthrough, just to get the user familiar with the basics of Volusion.
Adding Products
Naturally, the most important aspect of any online store is the products on offer, and so all ecommerce CMS should focus on the simplification of adding and modifying inventories. Thankfully, Volusion does exactly that.
As well as allowing you to add products super fast using Quick Start, you can also make use of the more advanced features of product adding and editing within your admin panel.

All the standard fields are there, including the name of your product, weight, description, and so forth.
Additionally, Volusion allows you to add variations of the same product, helping your customers to see more options. These include colour variations, size variations, flavours, and pretty much anything else you'll need. There are even options to add YouTube videos to the product, and offer discounts, different pricing levels, advanced information, and more.
Before publishing your product, you can preview it, helping you to make sure there aren't any mistakes or presentation faults.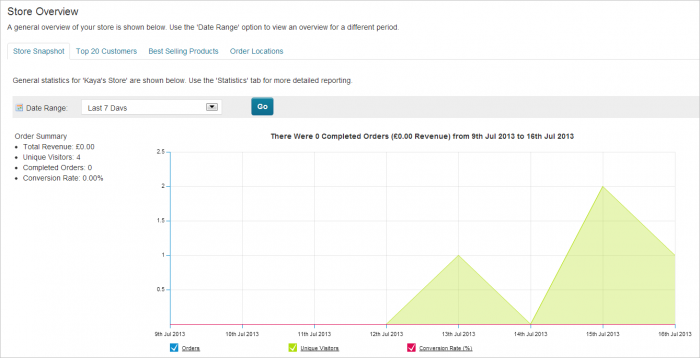 Another handy feature which is automatically available to both you and your customers, is Volusion's vZoom. This handy feature is built into every single Volusion template, and it allows users to zoom into product images, gaining a more detailed view of what they're thinking of purchasing.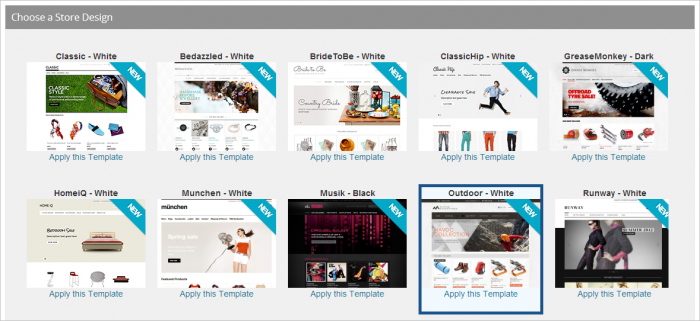 Most, if not all of the Volusion templates I tested vZoom with, work very well. These image zooming tools usually have a knack for getting stuck or frozen, making it difficult to see the rest of the page. Fortunately, vZoom seems to be free of that annoying flaw.
Also, Volusion allows you to define how your products are displayed. By navigating over to "Product Display Settings", you can enable featured products, recent products, and much more. You can then decide on whether or not they are displayed on your home page, whether they appear in grid form, list form or in any of the other forms supported by your current template.

Templates & Design
Being able to customise and hone the design of your online store is vital, and Volusion do well to offer their customers over 280 unique templates, all individually designed to a high quality.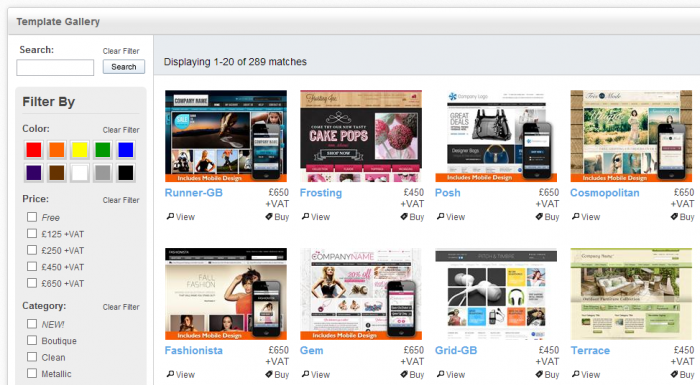 Code geeks will also be happy to hear that Volusion give you complete access to each template's HTML and CSS files, allowing you to customise and tinker away at will.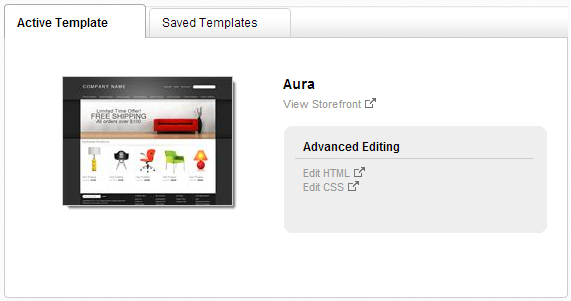 Of all the templates I viewed and tested, I couldn't find a single design flaw in any of them. Each were beautifully constructed, offering something a little different each time.
The cheapest templates start from $50 and reach as high as $895 – including tax.
When compared to rivals Shopify, BigCommerce, and others, it becomes apparent that the pricing for Volusions templates is much, much higher than average. BigCommerce offer over 125 free themes, whilst Shopify offer a mixture of free and priced themes, yet only charge a maximum of $180.
Thankfully however, Volusion do have you covered if the prices are too steep for you, as 81 templates from within Volusion's template library are completely free.
Domain Names
Unfortunately, setting up your domain name isn't the easiest task within the Volusion admin panel. In fact, it isn't in the primary admin panel at all.
Instead, you need to navigate and log in to "My Volusion", a separate admin panel which deals less with the details of your store, and more with the details of the relationship between you and Volusion, such as payment methods, support tickets, and so forth.
My Volusion is also where you can either add domains names which you already own, or be directed to Volusion's domain purchasing page, where you can search for a brand new one.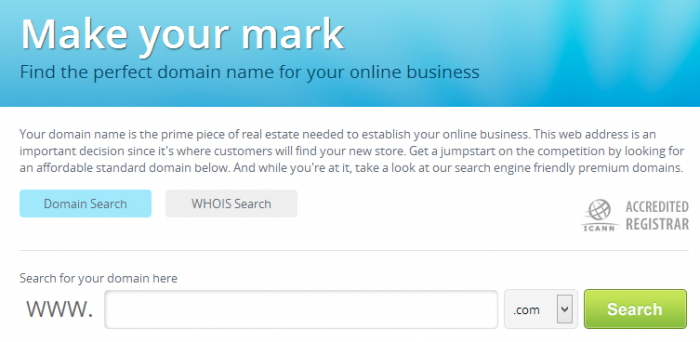 Once you actually get to the domain purchasing page, it's all smooth sailing. Also, it's only fair that I mention the fact that you can specify your domain if you decide to go ahead and upgrade from your free trial to a paid subscription – although that's not entirely clear at first.
The initial confusion springs from the fact that Volusion offer their features and services across both the main store admin panel,as well as through My Volusion. Keeping everything under one roof would definitely help a lot of new comers out, especially those who wish to try before they buy.
Payment, Shipping, Taxing
Volusion offers a fair amount of payment solutions for your customers. PayPal, Electronic Check, Google Wallet, Mail Check and Cash are all viable forms of payment, and Volusion also offer you the opportunity to apply for credit card gateways. You can also add custom payment options, if you wish to conduct business in a different manner.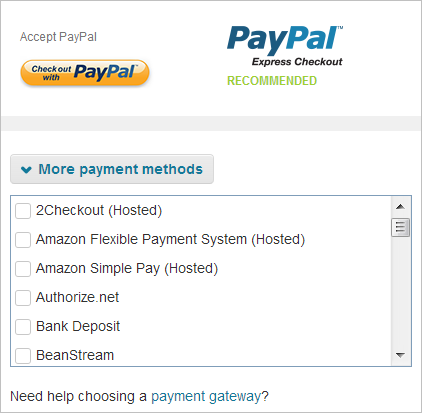 Setting up your payment methods is relatively easy, as all of the different options can be found within the Volusion admin panel. However, it would have been nice to see some more options to go with the existing ones. For example,it would have been nice to see Amazon Payments, SagePay, MoneyBookers and others make an appearance.
When it comes to shipping, Volusion are very thorough. You can very quickly select which countries or states you'd like to ship to, and then get to work on deciding on the more detailed issues, such as the courier you'll be using, etra shipping costs, and so on.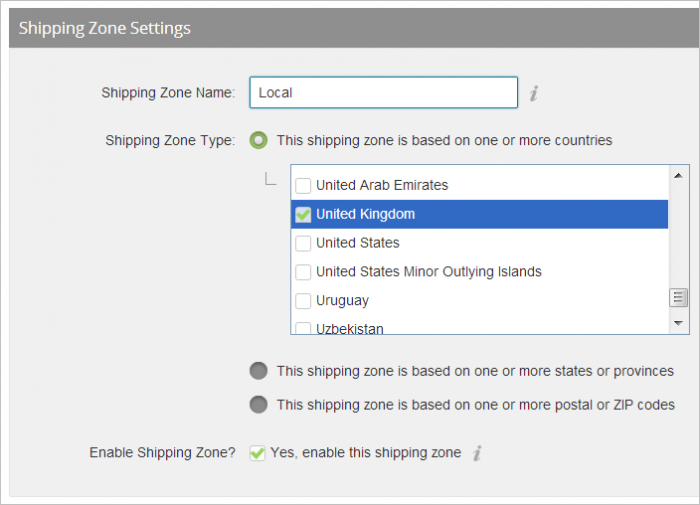 Additionally, you can a test right there from the shipping options page, which will allow you to see the ways in which you can manipulate shipping costs depending on the shipping location.
Volusion also has taxing options available, allowing you to set different tax rates for different territories. The standard VAT tax rate is already set for the United Kingdom – which is handy, but adding more tax options is easily done, thanks to a small, easy to understand tax adding pop-up.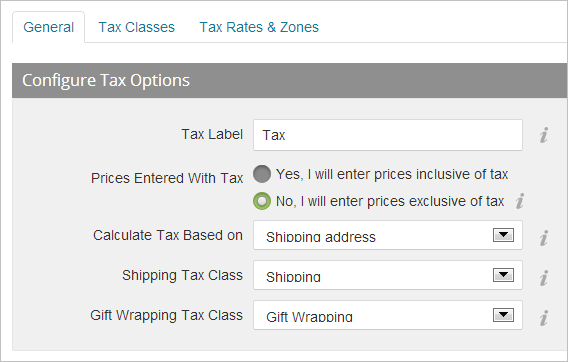 Pages
Quite obviously, having well presented pages make all the difference when it comes to ecommerce. Nothing is worse than having a badly designed "About" or "Contact" page, and Volusion help you to avoid that issue.


After navigating to "Site Content" within the admin panel, you can browse through your existing pages, or simply add a new one. Once you have created your page, you can add titles, text, and anything else you like.
Further down the page editor, you will also find Search Engine Optimization options, which allow you to enter META titles, descriptions, keywords, and so forth.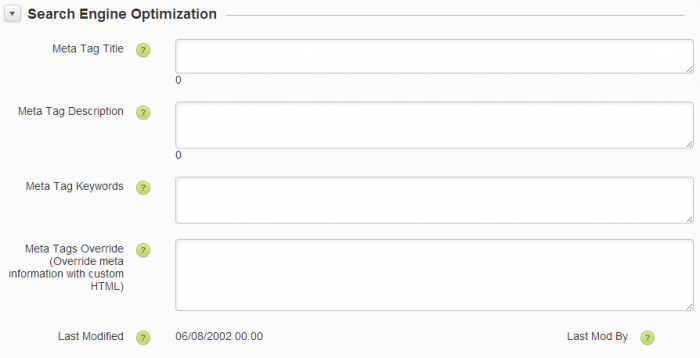 Apps & Extras
Volusion have a decent amount of apps on offer to help you bolster your marketing efforts, protect your online store and help you manage your day-to-day dealings. Apps can be browsed and installed conveniently within the Volusion App Marketplace.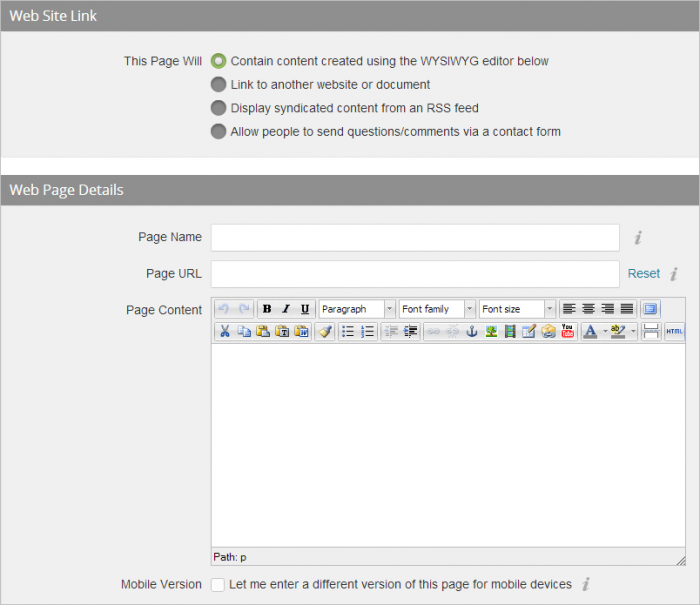 Some Volusion apps are free, whilst others require one-off payments, or monthly subscription fees. They can be categorized and filtered as such to help you find the app which is best suited for you and your budget.
It should be noted however, that there are not many apps currently on offer. BigCommerce, Shopify and other platforms offer well over 100 apps, whereas Volusion;s total number of apps certainly do not reach triple figures.
However, despite Volusion's lack of app, they do offer one in particular which is pretty impressive. FraudScore is an app which requires a monthly fee, but arguably pays for itself by detecting potential scams and fraudsters. The application scans over 15 data fields, 100 million past events and much more in order to detect fraud-like patterns when you receive orders from customers.


FraudScore evaluated each customer in the same way, giving you a handy risk score, ranging from minimal, to moderate, to high.
Marketing Your Store
No online store can survive without solid marketing efforts. Without making an impact through social media, search engines and other mediums, it would be almost impossible for customers to find your products. Volusion offer quite a few ways to ensure that does not happen.
Email Marketing
Along with third-party email marketing solutions supported via Volusion Apps, Volusion themselves offer a pretty comprehensive email newsletter service. To send our mass marketing or alert emails, you can navigate to "Newsletters" in your admin panel.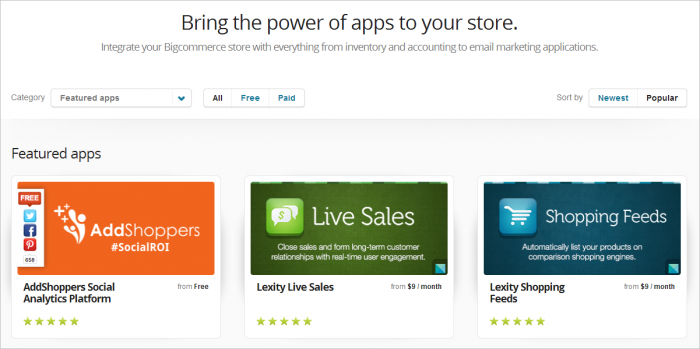 Then, you may create new emails with unique content, based on some of Volusion's email templates. The basic templates include designs for gift certificates, order confirmations, and general marketing newsletters. Naturally, all of the templates can be edited with HTML.
Social Media
Volusion is an extremely social platform. All templates have social share buttons built in, and you can even decide to share your products with your social media followers upon publishing your product for the first time, right from the admin panel.
What's more is, you can post to your Facebook and Twitter account directly without ever having to leave the Volusion admin panel. You can simply link your accounts, and then navigate to the "Social" page, where you can publish Facebook posts and Tweets along with links back to your website or products.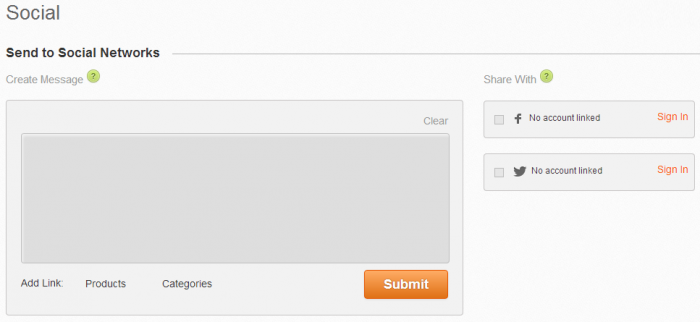 Facebook, Amazon & eBay
One of the best ways to get your products seen, is to sell it on a number of platforms. So, Volusion allow you to list your existing products on your Facebook Store, Amazon store and eBay store.

However, it should be noted that both Amazon and eBay store integration will require you to have a Gold or Platinum Volusion membership.
Coupons, Discounts & Deal of the Day
As well as helping you to branch out with your products, Volusion also help you to market your products with discounts and special offers, which can be shared with your audience via social media, or email newsletter.


Discounts and Coupon codes can be created by visitng the "Coupons/Discounts" section of the Volusion admin panel. Expiry dates can be set, along with discount percentages, usage rules and so on.
You may also wish to set a "Deal of the Day", which allows you to promote a deal on one particular product, for a set number of day. After navigating to the Deal of the Day section, you can create a new deal, select your product, your desired description, and the discount offered. Once you have finished, your template will display a new button across its menu, highlighting the deal of the day. The button will then lead your customers to the deal you have put together.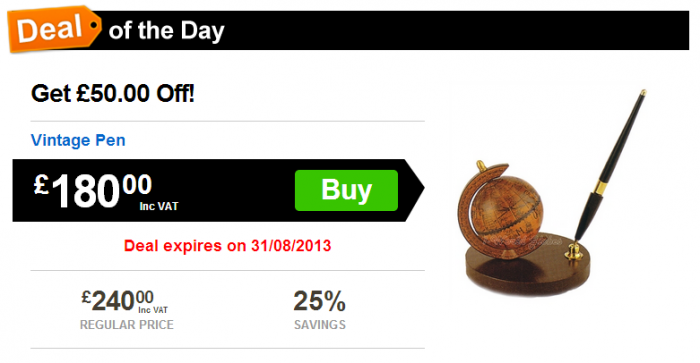 SEO & Analytics
Search Engine Optimization is crucial for the growth of any website, but especially for online stores. Volusion provide a number of ways to optimize your website, products and images for search engines.
If you navigate to the "SEO" section of your admin panel, you will be presented with an extremely detailed page, allowing you to optimize different aspects of your online store, making it as prominent as possible in the eyes of search engines such as Google.
META information can be set for each individual page and element of your website. Volusion lists the pages and sections which should be given META descriptions, tags and keywords,and allows you to work your way through your website in an organised way.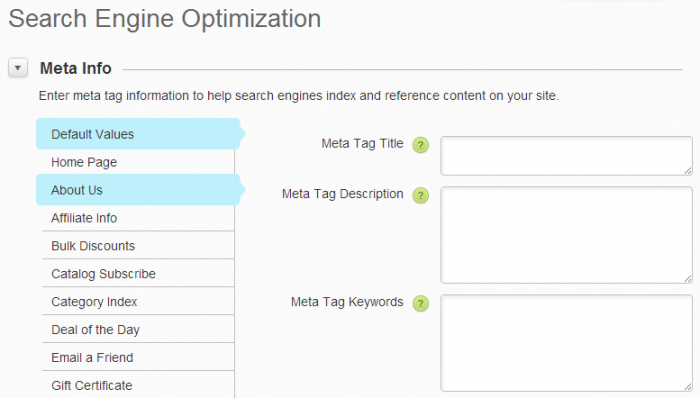 Further down the page, you will find options regarding Search Engine Friendly URLs, Robot Preferences and options related to your website's Sitemap. All of these details are important for SEO, and Volusion simplify the matter by getting it all on one page.


When it comes to analytics, Volusion have you completely covered. As well as some telling graphs and figures presented on your admin dashboard, you can head over to the "Reports" section, which allows you to Track ROI, Affiliate Stats, and even create your own reports based on different variables.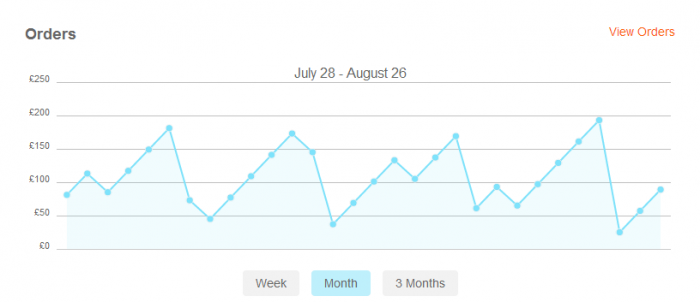 Using the Reports section, you can create graphs illustrating sales figures over a set period of time, and even find out what your customers are searching for within your website.
One disappointing aspect of Volusion when it comes to marketing your store, is the lack of a built-in blogging system. Writing blog posts about your store and your products is a fantastic SEO technique, and can do wonders for a website's traffic. By leaving a blog function out of their platform, Volusion risk losing out on customers and clients who find blogging to be a core element within their marketing campaigns.
Getting Help
Whether you are new to the world of ecommerce or not, being able to find help and assistance is always important. Thankfully, Volusion are pretty good at displaying help options prominently within all sectons of your admin panel, and beyond.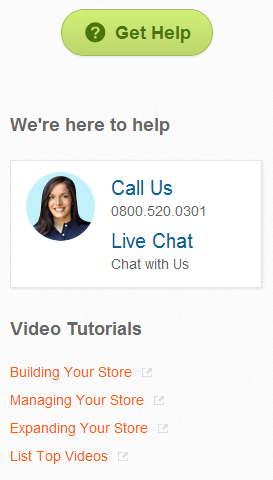 Your admin panel dashboard is home to a large "Get Help" button, along with lists of tutorial videos, resources and even links you directly to Volusion's Live Chat support feature and telephone help desk.
What's more is, there are plenty of pages dedicated to trouble shooting on Volusion's website, from FAQs all the way to detailed product manuals.
Price Plans
Volusion provide plenty in terms of features, but pricing will always be a big question when deciding on the best ecommerce platform. Currently, Volusion offer five different price plans, starting from $15.00, going up to $195.27 per month, inclusive of tax.


The five price plans make it appealing for both new merchants, and ecommerce veteran to jump on board the Volusion bandwagon. Each price plan offers something a little bit extra, and you are free to upgrade or downgrade at any point in your store's life. The most important aspect of these prices however, is how they compare to the price of their rivals. To me, they compare very, very well.
With the lowest monthly fee at just $15.00, Volusion trumps Shopify's starter fee of  $15.56. Additionally, you will find that Shopify impose a 2% transaction fee on every item sold, whereas Volusion imposes no such fees. This renders Volusion's Mini Package a better deal. Additionally, BigCommerce's lowest deal is $24.95, putting Volusion in a very good position when it comes to price plans
The Verdict
Volusion have been around for a long time,and their professionalism across the board is definitely clear to see. They know exactly what functions are needed to run a successful online store, and it's hard to argue with the way in which their CMS implements these functions.
Importantly, admin panel is simple and easy to navigate, whilst most features, menus and buttons are self-explanatory, yet are still backed up with a multitude of help and support options. Templates, content and marketing methods are all easy to implement at a professional level, which is vital when it comes to truly presenting your store in a professional manner.
All in all, Volusion reflects the essentials of what you need to run a successful business online. It's definitely fair to say that most of the tools are at your disposal, although it is equally fair to say that they could certainly be added to, and in some cases, organized better.
Pros
Getting your store started with Volusion takes mere seconds. The entire set up process oozes simplicity.
Quick Start helps to get the ball rolling with branding, template selection and product uploading.
Product creation is extremely simple, and also offers previews before publishing.
Plenty of  customizable templates on offer, 81 of which are free.
Marketing is made easy thanks to strong social media and third-party store integration.
Built-in email marketing functions work well, especially when combined with Volusion discounts, coupons and Deals of the Day.
Extensive analytics and reporting and be evaluated and carried out.
With the ability to optimize each page and product, SEO features are pretty solid.
Thanks to the absence of transaction fees, pricing is extremely good, so long as you stay away from expensive apps and templates.
A 14-day free trial helps you to try before you buy.
Cons
Volusion lacks a sufficient tutorial or walkthrough to get inexperienced users on the right track.
Domain name, billing and other important options are rather needlessly kept within a separate control panel.
No built-in Blogging feature.
Relatively small amount of payment methods on offer.
Solid price plans are hindered by sky-high template and app fees.
Final Remarks
Volusion is a popular platform which is trusted by thousands of online merchants, and rightly so. The functionality is all there and it's all of an extremely high standard.
Of course, improvements can always be made. My main issues with the platform are the highly priced templates and the lack of a blogging system. Fortunately for Volusion, these flaws can be countered with their offer of 81 free templates, and the chance for users to make use of third-party blogging options.
Overall, Volusion is an ecommerce CMS with charm. Everything works seamlessly, and assistance from experts is on hand literally everywhere you look. Templates, product pages and marketing material all look highly polished and professional, making it easy for you to pave the way to true success with your online store. Essentially, if you find yourself drawn by the allure of Volusion over its rivals, then don't hesitate to try it out.