Webydo  and  Ecwid have announced a partnership that offers Webydo users a sophisticated e-commerce solution that can be installed in minutes. Webydo provides graphic designers with a full solution for both the creation and management of sophisticated HTML websites, without writing code.
With more than 70 percent of today's websites created by developers, Webydo's cloud platform empowers designers with full creative control and independence, helping to build over 66,000 business websites to date. Through this partnership, Ecwid, used by more than 300,000 merchants in 175 countries and the most popular store builder on Facebook, will now be available for Webydo users who can add an Ecwid-powered online store to their Webydo websites with a few clicks.
"Ecwid and Webydo are transforming the way the web is created with powerful tools and stunning design options," said Shmulik Grizim, Webydo's Co-Founder and CEO. "Through this partnership, professional designers can now use the best e-commerce solution on the market within Webydo's professional web creation platform, enjoying total creative freedom and independence in creating custom designed business websites with sophisticated online stores."
Ecwid can be embedded into any Webydo site in minutes, is available in 45 languages and integrated with all major payment gateways. Based on a recent Webydo survey, e-commerce focused industries are greatly contributing to the growth and development of new websites.
The survey, which reviewed more than 30,000 new websites created on the Webydo platform, found that service industries like design and web services created more than 12 percent of new business websites while product driven industries like fashion and retail, at 11 percent, were also major contributors – see below chart: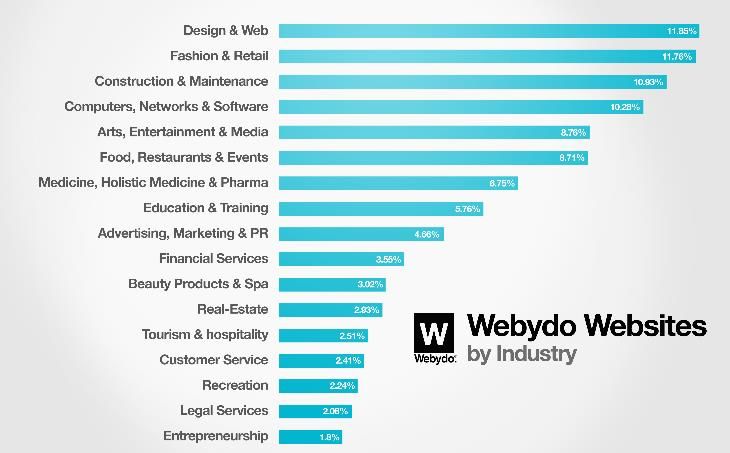 "Because Ecwid is a full-featured storefront solution, we're a good match for Webydo's professional web and graphic designers," says Jim O'Hara, president of Ecwid, Inc. "Our simple, drop-in installation also integrates beautifully with Webydo's platform. We look forward to providing Webydo's global user base with a comprehensive e-commerce functionality." 
To create a stunning Webydo site with a sophisticated Ecwid online store go to  www.webydo.com