Weebly, one of the world's most popular website builders, has released Weebly for Enterprise.
Chosen to be one of our recommended website builders over at Website Builders Critic, Weebly offers a simple drag-and-drop interface enabling users to customize sleek templates.
Weebly for Enterprise combines comprehensive content management, robust APIs, and Weebly signature drag-and-drop editing.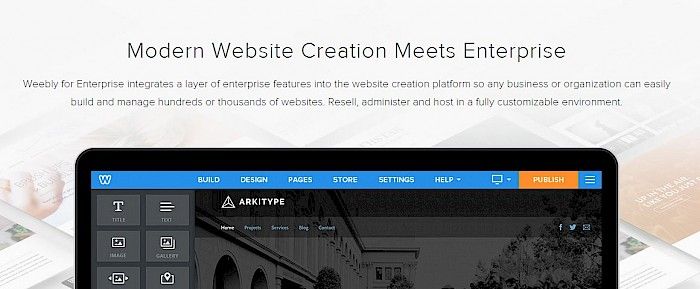 Scalable, Powerful, Professional
Weebly for Enterprise has been launched to simplify the process of building and managing hundreds of websites, providing a flexible content management system for a wide variety of applications across industries including technology, real estate, healthcare, and education.
Weebly for Enterprise features include:
Powerful Site Creation and Editing: Weebly for Enterprise extends Weebly's popular creation and editing experience to large organizations giving employees the freedom to design high-quality websites. Organizations can customize site design to match their brand identity and empower users to create and edit sites on their own with ready-made building blocks such as text, images, buttons, contact forms, maps, and videos. They can then publish those sites online in minutes.
Scalable and Customizable Site Management: Weebly for Enterprise offers a powerful CMS to administrators and can be easily scaled to the needs of any organization, streamlining the process of managing a large number of websites and setting up user accounts and permissions. It is fully customizable so that customers can define, limit and build on top of Weebly to meet any specific need.
API Support Simplifies IT Implementation: Weebly for Enterprise comes equipped with full API support, easing the process of integration with existing IT structures and protocols. No need to re-work supporting systems such as billing, CRM software or security protocols.
Central Cloud Hosting: Weebly for Enterprise provides remote site hosting with exceptional site speed, reliability and redundant data centers on Weebly's servers, letting users access company sites from anywhere and saving time and money on server setup and maintenance when compared to internally hosted sites.
"It Shouldn't Be So Difficult & Expensive To Build & Manage Hundreds Of Websites."
Regarding the release of Weebly for Enterprise, I managed to get some questions answered by Nick Dellis, Weebly's Vice President of Business Development. Here is our full discussion:
1) What has spurred Weebly into moving into the Enterprise space?
The idea for Weebly for Enterprise grew out of organic demand. Organizations of all types regularly approach Weebly to leverage our intuitive consumer experience for a wide-variety of applications.
The main requirement they had was for enterprise features like the ability to manage staff and clients, permission control, APIs, automation and things like that. We already have thousands of companies of all sizes using Weebly in this way in a pilot program we kicked off to understand these use cases.
When we dug into the reasons people reached out, the main driver was that the expectations of the average employee are changing, and they want to use enterprise software that's intuitive, effective and easy to use, just as they can at home. It shouldn't be so difficult and expensive to build and manage dozens or hundreds of websites, but surprisingly most enterprises are using a costly internal CMS or open source solutions that don't scale effectively and are extremely resource intensive. We heard horror stories from IT managers who had dozens of requests for simple marketing and content changes to sites that couldn't be done for months. Marketing departments and staff were frustrated because they couldn't just do it themselves.
With Weebly, we can provide the same intuitive site creation and editing experience every customer gets, while also integrating the tools, controls and scalability required in the Enterprise space.
Weebly for Enterprise is the end result, and is a simple, turn-key solution for any organization to build and scale their business on top of the Weebly platform. It's an off-the-shelf solution that's fully customizable and has enterprise level controls and robust APIs for easy integration into existing IT structure. We already have customers in over 15 verticals and there is huge opportunity for expansion.
2) In a nutshell, what are the key differences between "Normal" Weebly and "Enterprise" Weebly? 
The "normal" consumer version of Weebly is a product more intended for a person or a small company who wants to build their own website, blog or eCommerce store — they can choose a theme, drag and drop elements like images or video and enter text quickly and effectively, publishing a site in minutes. It's perfect for a person or organization who wants to build just one or a handful of sites.
However, for an organization that needs dozens of websites (or hundreds), things get complicated quickly. You need to manage staff members, admins, control branding elements and assets, integrate into your internal workflows and systems, add your own themes, develop your own apps/elements and so on. Weebly for Enterprise is the core Weebly consumer experience with a "layer" on top designed for enterprises to easily do those things.
3) What does the future hold for Weebly Enterprise, both short term and long term?
We see expansion into new verticals, where we use Weebly for Enterprise as a base and add components that are specific to certain industries on top.
For example, we are pretty sure that hosting companies who want to sell 100,000 websites to their clients are going to have different needs than a large hospital who is using Weebly for Enterprise to create and lock down 1,500+ physician sites. When you think about digital agencies, universities, franchises and dozens of other use cases, we have a lot of work ahead of us.
To find out more about Weebly Enterprise, check out their official website.
Also, be sure to explore more of Weebly through our CMS Directory.