The hype around digital experiences, headless, MACH, customer journeys, and other buzzwords can be deafening.
But what about content? And more specifically, managing content? 
For most people in the CMS industry, managing content is considered "core functionality" when it comes to a content management system, but also an area that hasn't really been front and center for the past few years.
Managing content – so you can do more with it – has huge potential. But how do you tap into this? 
Let's start our quest for better content management in 2022 by looking at some of the recent analyst reports. I'll then turn to a few other key market trends, provide some inconvenient truths, and finally offer some (hopefully) helpful advice on how you can make progress.
 
What do the industry analysts say about managing content in 2022?
I've looked at the reports, we've talked about them in our recent CMS Experts group meetings, and to be blunt: there's so much confusion that even industry insiders struggle to navigate this marketplace.  
If you turn to the most recent Gartner Magic Quadrant for Digital Experience Platforms, you can get a glimpse into how one of the larger industry analysts sees the marketplace. As they say in the opening of the MQ report, their focus is on:
"...the demand for platforms to manage digital experiences of customers, partners and employees…"
And the way they look at the vendors is on how well they:
"...enable the composition, management, delivery, and optimization of contextualized digital experiences across multiexperience customer journeys…"
Content is naturally a key part of digital experiences, and Gartner does consider content management a core capability of a DXP. Still, it's listed alongside 14 other core capabilities and 12 optional capabilities. 
16 vendors are included in this year's Gartner report, and content comes up directly and indirectly with a few of the vendors, such as:
CoreMedia's strengths in supporting global multisite operations provide a solid platform to ensure consistency for brands.

Magnolia's focus on offering an extensible DXP built from best-of-breed components from different vendors, to the point of enabling customers to replace native content management system (CMS) capabilities.

Oracle's offering being differentiated by content and digital asset management.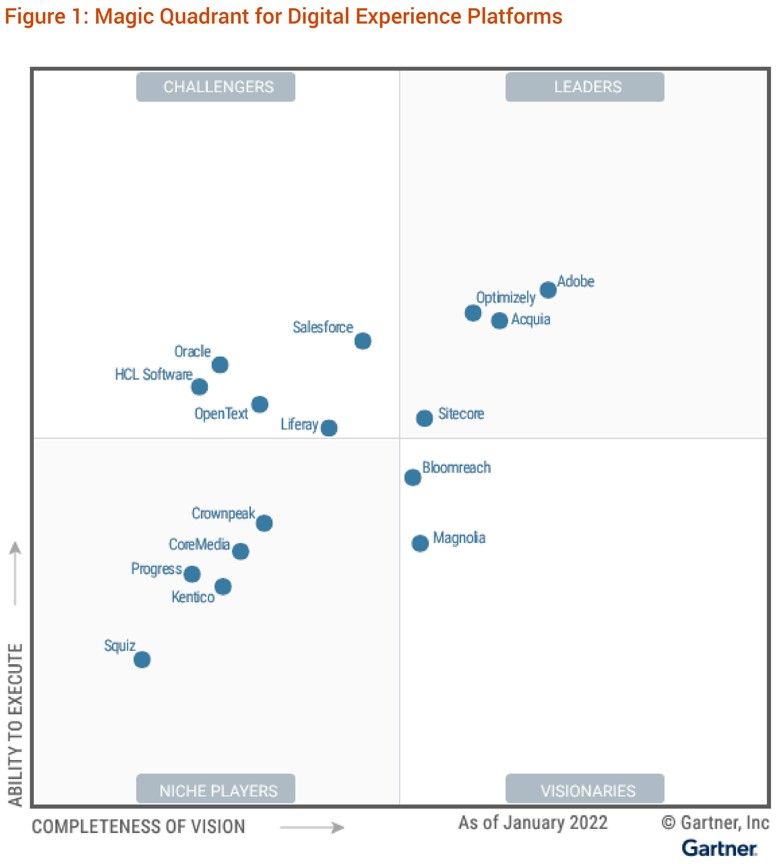 It's also worth noting that Gartner looks at business-to-employee (B2E) use cases (traditionally known as intranets) and with some of the tools squarely focused on external use cases like digital marketing. This impacts how well they rate in the "horse race style" evaluation approach. 
A noteworthy vendor in this analyst report: Salesforce, who has been marching towards the leader quadrant for quite some time. According to Gartner, they're still positioned as a Challenger, but they've made a few interesting acquisitions – most notably Slack – with the aim of connecting their suite more deeply as a customer experience hub. Salesforce does seem to have a clear vision for integrating its technologies to deliver a more unified digital experience with brand power. Still, where does CMS, and specifically managing content, fit in the Salesforce stack? 
Competing IT analyst firm Forrester released their Q1 2021 Agile Content Management Wave a year ago, which covered 15 vendors (mostly the same as Gartner). The initial recommendation from Forrester to buyers was indeed content focused:
"Deliver on the promise of reusable omnichannel content experiences…"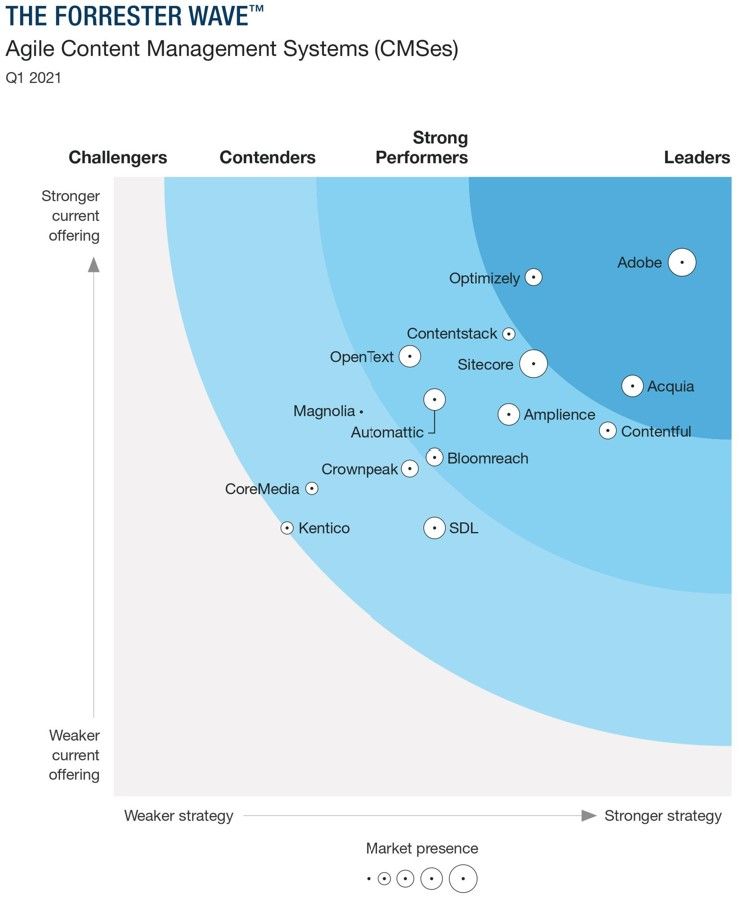 Further down they mentioned the importance of managing content and experiences centrally to drive reuse. In terms of vendors, they didn't include Salesforce in the report but instead Amplience and Contentstack. 
Forrester hasn't yet released an updated 2022 Agile CMS report, but instead a new report on "Making The Case For A Multi-CMS Strategy." That's back to the age-old discussion of best of breed vs. suites, but also a potential to focus more on where you actually manage your content. That is unless you want to manage your content in multiple systems?
Finally, there's G2, which has its "Best Web Content Management Software" quarterly grid report. G2 has carved out its own niche with user-based reviews – providing an unbiased, real-world reflection of what content managers and CMS users actually think about different platforms. Interestingly (and confusingly), Hubspot is currently positioned as the Leader on the G2 Grid, but not even mentioned in the reports by Forrester and Gartner. 
We live in confusing CMS times.
 
Market trends driving a focus on managing content
There's always the good advice of not just looking at what someone says, but also their actual behavior.  
The recent acquisition of GatherContent by Bynder is interesting as it signals an investment in Content Operations or the more hip permutation of "ContentOps." GatherContent was initially a platform designed to "gather content" from different sources (kind of like a pre-CMS, if you will) and has since been developed into a large-scale content operations platform. 
In my analysis entitled GatherContent Joins Bynder To Take ContentOps To The Next Level, I predict a shift in the content toolstack. Where the past decade has been mostly focused on delivery, content management is really not a solved problem. 
Looking at Google search metrics, can tell you a thing or two about intent and where the market is right now. One telling example: there are many more searches for CMS than for DXP. In fact, we have vendors who have long abandoned the term "CMS" and analysts who have stopped talking about it, evolved its definition, or completely eliminated the category. Meanwhile, there are a huge number of potential buyers that are looking for a new CMS – and using that keyword in their searches. 
There are a few lesser known but still established vendors that are benefiting from this confusion and focusing on managing content. Here's just three examples:
Norwegian

Enonic

, with their low friction content platform. Or as they frame it: "The ultimate back-end for your digital experiences."

Core dna

 comes from Australian roots and has invested heavily in being an alternative to legacy technology. Their focus is on making it easy "to build your content the way it makes sense for your business."

"Your content. Better, faster, at scale." This is the positioning statement by

Kontent by Kentico

, the headless CMS that's rapidly growing in adoption on the back of the Czech-based Kentico mothership. 
Another key market trend is the success of MACH and the MACH Alliance. This is indeed a technical focus (Microservices, APIs, Cloud-native SaaS, and Headless) but also opens up different conversations in the enterprise. Historically, many have found themselves having to compromise when making technical decisions, and with MACH becoming more established, it enables customers to look for tools that manage content really well while selecting something else for different use cases. 
One final trend worth mentioning: businesses have a huge focus on building their digital presence, whether its campaigns, new stores, new brands, or introducing new digital functionality, it's always build, build, build. 
While talking about building websites, WordPress remains the world's #1 CMS. Their Gutenberg Editor was introduced in late 2018 and has made creating and managing digital content much easier. It's not without controversy, however – one industry blogger even described Gutenberg as a "monumental hack" that is worrisome as a future foundation for WordPress. Will this affect WordPress and its mantle of leadership? Only time will tell.
On the enterprise side of the spectrum, many platforms are doubling down on growth and announcing huge investment rounds, particularly in areas like e-Commerce and headless commerce. One example is Bloomreach, which is keenly focused on being the best SaaS CMS for commerce – and recently reached a $2.2 billion valuation with an investment from Goldman Sachs. In the news from late February, Raj De Datta, CEO of Bloomreach, made an interesting comment:
"At Bloomreach, we believe that if the first 20 years of e-commerce have been about standing up the store or simply transacting online, then the next twenty years are about standing out from the crowd or differentiating in the face of increased digital competition and rising consumer expectation."
Besides using a tech solution that fits your needs, I would say that content and how you manage it is how you differentiate in the face of increased competition and rising expectations. That's the key market trend fueling huge investments.
 
Inconvenient truths in the CMS marketplace
There is no "best web content management system." But there is probably a good Web CMS for what you're trying to do, and that's exactly what we focused on at a provocative session at the Boye Aarhus 2009 conference some 13 years ago.
Much has happened since then, but unfortunately, customers still look for the best CMS. That's an inconvenient truth right there, and navigating the marketplace is not much easier these days. I wrote about that confusion in my post last year and offered some hopefully helpful advice: How to make sense of the CMS market in 2021. 
A big part of the problem, and a problem that's been around for a very long time, is how many customers keep creating checklists and producing Request-for-Proposals that ask questions that achieve nothing. Specifically, on selecting a CMS, you might find the open selection process by the web standards committee, W3C, interesting – in particular as accessibility was a key selection criterion. For more read: What can we learn from the W3C CMS selection process.
Another key indicator of an immature marketplace, even though this thing has been around for 20 years, is that buyers are not talking to each other as much as they should. That's why we have peer groups; that's why conferences are so important, and that's also why CMS Critic has a big value: so that you can find balance between the vendor marketing and the real story. 
When it comes to managing content, it's interesting that many CMS vendors are also struggling to keep up with the pace. Content migration is still not an easy thing and probably the biggest inconvenient truth that still exists in this marketplace – particularly when it comes to managing content in your CMS of choice. More often than not, it's actually more of a people problem. It's the people and the team who builds your site and, in the process, makes some key decisions – and it's down to the team that designs and implements the content experience afterwards to make it work. 
A bad team without a driver's permit will navigate their CMS of choice into a wall, while a good and experienced team will make almost anything work.
 
Manage content like a pro
Let's wrap up this 2022 post by trying to learn from the best, in particular when it comes to content. 
To a digital leader, there's actually some good news in the world right now, even though the pandemic and the war in Ukraine are both inescapable realities. Digital strategies and playbooks, which used to be gathering dust and a low-priority thing, are increasingly being put to good use. And the importance of a digital mindset is no longer questioned.
To quote Ashley Budd from Cornell: "We can't rely on the content strategy of the past." The new approach that she advocates includes:
creating various ways for people to help and make it easy for them to contribute 

providing content themes to showcase the breadth of what your organization can offer
There's also progress when it comes to identifying content gaps – that's content you are missing on your website as customers are searching for it or because you've designed your site to focus on health and wellness but are short on authoritative content. There are guides and tools in the marketplace to help you, including from SEO experts like Backlinko and ahrefs that come with a Content Gap report. Website governance vendor Little Forest also has an interesting approach to identifying the content you need to be creating. 
There's also the term "content design." What is that, really?
According to Melinda Belcher at Mastercard, content design focuses on the objective of driving preferences for their products and services. In other words, content design drives great customer experience through storytelling, clarity, and relevance. Still, content design is far from an established practice as compared to user experience design. Read more in this post: Content Design Drives Great Customer Experience At Mastercard. 
When it comes to managing content – and why I firmly believe this will be the year – the single biggest reason is the topic of trust. The 2021 Edelman Trust Barometer speaks of a "failing trust ecosystem unable to confront the rampant infodemic, leaving the four institutions – business, government, NGOs and media – in an environment of information bankruptcy."
Content is key to addressing it. To quote privacy and trust expert Tim Walters, you need to: 
"Embody, demonstrate, and project trustworthiness."
It's not just about compliance. It's not just about designing a better cookie banner or protecting consumer data privacy. In fact, it's what Tim Walters calls a "Global Data Privacy Revolution" – and this also impacts how we manage content and enhance growth. It's the necessary shift from privacy to trust. 
In closing: the best, in my humble view, are the ones who are sharing their work openly. Whether epic successes or that project that could have gone more smoothly, those are the heroes and the stories that drive us forward. If we continue to work together, it might also remove some of the confusion we're experiencing at the moment. 
Good luck with your projects this year! Hopefully, you've learned something about change and how we aspire to manage content. And if you're evaluating a CMS, remember to think about what it means to truly manage content.