WooThemes – the company behind the the free and flexible WordPress eCommerce tool,  WooCommerce –  has released an iPhone App for its merchant users.
WooCommerce iOS is what they're calling it, and it's designed to let you see detailed product information, customer orders, specific order details, and a range of statistical data illustrating your store's sales performance – all from your iOS device. Plus, it looks pretty snazzy.
To get started, all you need to do is download the app from the App Store, connect your WooCommerce store by logging in, and watch as your orders and products are automatically imported and synced.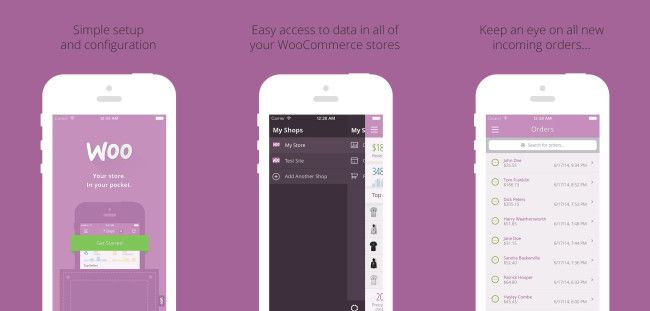 Your Store in Your Pocket
Here's a quick breakdown of what you can expect from WooCommerce iOS:
See your total revenue, number of new orders/customers, and top sellers
Get insight into trends by checking your numbers for Today, the last 7 days, or the current month
Get a quick count of your open orders (processing/pending/held)
Quickly see a list of all orders with customer name, order number, status, and date
Scroll through orders and easily search them by customer name
See the summary for an order, with customer info, order status, products, and payment/shipping details
View order notes to help you see the history for an order
For registered customers, you can see previous orders and their lifetime order total
See a complete list of all your products with name and thumbnail
Quickly search your products by name
See full product details including inventory and variations 
Add up to 4 separate WooCommerce stores
Easily switch between your stores using the side menu
Delete shops you're no longer using
WooThemes have also revealed details about what's to come for their new app. They plan to release updates pertaining to; editing & managing orders, individual customer views, Push Notifications for new orders, and more.
You can download the WooCommerce iOS from the App Store for $4.99.
To learn more about WooCommerce, check out the  WooCommerce section on the WooThemes website.