TL;DR – Recently, there was an epic but friendly debate in the Boye & Company CMS Experts Slack channel about the confusion surrounding DXC as a category. We asked the three main voices in the conversation – Rasmus Skjoldan, Andrew Kumar, and Sana Remekie – to discuss their thoughts on Zoom. Matt McQueeny helped moderate the conversation.
---
Of the great mysteries that scientists, philosophers, and theologians grapple with, one question is often overlooked:
What, exactly, is professional wrestling?
I'm not referring to school leagues or Olympic competitions – I'm talking about the WWE and its brand of sportstainment. And I don't mean to be glib or insulting with any comparisons; heck, I've been to a live wrestling event many moons ago, and it was kinda fun (particularly the people watching). 
But really, what is it? Is this a legitimate sport replete with feats of athleticism? Or is it truly just performance art following a well-oiled script? If you ask Hulk Hogan, the iconic figurehead of the modern experience, he might say, "Well, let me tell you something, brother…" and launch into a dissertation about sport versus stage. 
As humans, we're classically conditioned to put things in boxes so they're easier to understand. Sometimes, that's not so simple. This has long been the case in the software industry, where confusion often precedes clarity when new ideas takes the mat – like Digital Experience Composition (DXC). 
A short while ago, members of Boye & Company's CMS Experts, a peer group focused on content management, were treated to a sort of WWE-styled "Smackdown" in the community's Slack channel. In truth, it was a friendly exchange of ideas, with no bodyslams or half-nelsons to report (those are wrestling moves, BTW).
Still, it was spirited. And for several days, this epic "Slackdown" generated significant interest from across the DXP and DXC spectrum. It all started with a simple, poignant question from Rasmus Skjoldan, Chief Evangelist at Magnolia, a leading DXP:
"I feel like some of the Digital Experience Composition positioning going on isn't super helpful to customers, to be very blunt about it. What's genuinely in it for them?"
This drew several DXC defenders to the ring, but the most vocal participants were Andrew Kumar, VP of Customer Solutions at Uniform, and Sana Remekie, CEO of Conscia.ai. It was entertaining to watch these adroit leaders wrestle with a red-hot topic, but it was incredibly informative for the fans in the stands – so much so that I partnered with Matt McQueeny at Konabos to take the show on the road.
A few days later, we invited Rasmus, Sana, and Andrew to join us for an informal follow-up on Zoom to wrestle down some answers.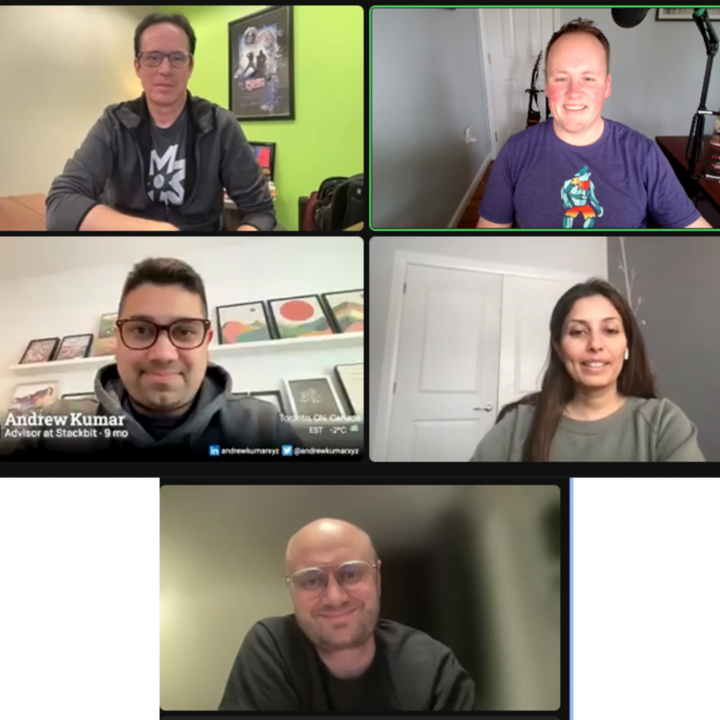 In this corner… DXP
Joe Cicman, an analyst at Forrester, has been on a quest to decipher the Digital Experience Platform. As he noted in a recent blog, DXP is still misunderstood from a compositional perspective. The definition can be nebulous based on whether it's delivered by a single vendor or assembled by an enterprise – or, in some cases, both.  
I like Joe's observation in the same post: "Every day I asked myself, 'How is it possible for one vendor to create one product that works across multiple industries and grows in scope as a company's digital remit grows?' After talking to the vendors, turns out … it's not possible."
That might be the vein Rasmus tapped: confusion is everywhere. While DXC is emerging, DXPs continue to evolve in their own space. As he pondered in Slack, would it not be better to reenergize, modernize, or even reinvent the more established DXP label and category than trying to teach customers about another new acronym?
Add this to the confusion: Magnolia was included in an early DXC report by Mike Lowndes of Gartner as a vendor in this emerging field. So how does this color Magnolia's positioning?
"When I speak to our composable die-hard customers, they are much more passionate about getting projects done, getting rid of the worst legacy apps, and reaching business goals than they are in the vendor/analyst-centric views on what's in or out of categories," Rasmus said. "Magnolia is seen as a DXC by some – which is fine, of course. We definitely cover that space with our own twist. To me, it just feels more like a use case than a real software category."
That might be true. But vendors and buyers still refer to those MQ reports with biblical reverence.
Gathered in our cozy Zoom room, Matt McQueeny asked Rasmus why he felt compelled to engage with the community around these opinions.
"I'm very focused on looking at all this from the customer's perspective," he said. "Every time I see a proposal for a category change, I'm just always asking myself, 'okay, who's actually behind this and who's to benefit from it?' Even for DXP, I sometimes have question marks around whether that really helps customers. So I felt that introducing new variations would be a significant sort of – not a disruption – but more confusion. And that's what I'm quite passionately against because I want to keep the focus on what has real value for customers."
DXC enters the ring
TLAs (three-lettered acronyms) might be the bane of our technology existence. When I was consulting at IBM GTS, we were unpacking a catchy new triptych every week from across the cybersecurity theater. Heck, even "IBM" is an acronym... it's a bit like Inception with TLAs. 
I asked Sana Remekie about her take on this acronym acrimony – and how she perceived Rasmus' call to quell the challenges by refocusing on the established DXP category.
"There's lots of three-letter acronyms popping up all over the place," she said. "I think the movement towards composability and having that best-of-breed architecture is real. Customers are asking for a choice in terms of all the packaged and business capabilities that they need to build their overall architecture, and there's agreement across Gartner and Forrester on that. They may call it different things, but everybody's starting to agree that we should give customers the ability to create and assemble their own solutions."
So how does this momentum towards composability and DXC impact the more traditional definition of DXP – particularly as an established category? 
"Some folks are saying very clearly that a single DXP – what they call a monolithic DXP – should no longer be a thing at all," she added. "Customers should be able to create their own DXPs by picking best-of-breed applications from across the ecosystem. With this phenomenon, we're now giving choices to the customer and power to the SIs to make those choices for the customer. Sometimes it's an IT team within the organization making those choices with, hopefully, the business in mind. And sometimes they say, 'alright, Deloitte, Accenture, Valtech, go make that choice for me – go directly to those vendors and put together a solution that is composable.' That happens a lot as well."
Finding the right place to "poke the DXP bear"
As the wrestling match commenced, we turned to Andrew Kumar for more insight on what ignited the debate on Slack. He took us on a brief trip in the wayback machine to his days at Telus, where the company assembled what we now call a composable or MACH architecture. 
"There weren't these sexy marketing terms that exist today," he said. "But in 2016, we [already] had this concept, and we created our own internal site builder on top of Contentful – and that's now part of DXC."
Andrew also talked about the importance of the different roles and responsibilities that DXC needs to support and the tendency to lump the audience of potential users under a generic "business user" mantle. This might be a limiting descriptor, as the pool could include a wide range of team members from marketing, content ops, merchandisers, UX designers, product managers, or even data analysts.
Clearly, there's room to improve the positioning and messaging around the DXC terminology – to find the right TLA, so to speak. And this confusion makes sense when we're still in the early growth phases.
"Adoption and demand are still very, very nascent, but it's starting to get viral," he said. "Despite being so nascent, it is disrupting and really 'poking the bear' on the big players in DXP. It's really shaping and adding maturity to headless and MACH – and these kinds of technical terms are now growing in maturity."
Poking the bear sounds dangerous, but that's what market challengers do. TLAs aside, Andrew went on to say that he would not recommend a "rip and replace" from DXP to DXC, but to take incremental steps towards composable.
"There are some bridges in place," he said. "Uniform has one that can help Sitecore and AEM customers start to make those leaps. But there's still a place for a DXP."
What's old is new
By this point in the match, we had wrestled multiple messages from our participants. Without question, DXC is the shiny new object blazing trails. At the same time, DXPs are evolving their posture to remain marketable. Andrew noted, "They're decoupling and decomposing themselves, playing ball with others and having that multi-manufacturer style where you can build with OEM parts from all over the place."
Pivoting back to Rasmus in the DXP corner, we inquired about his response to Andrew regarding the long history of APIs connecting different platforms – and how there are even use cases of Contentful feeding into Magnolia.
"I can totally back up that it's not really anything new," he remarked to Andrew. "Magnolia has been producing a solution that is fundamentally a composable DXP for a very long time, since 2013 or 2014. We've had clients compose platforms out of multiple best-of-breed applications they put together in a joined platform for a long time."
While Rasmus reinforced his criticism of a new TLA being injected into the ecosystem, he did express his support for how the narrative was being projected.
"If I look at some of the stuff I felt Uniform did super well, it was just a very clean story they came out with," he said. "I totally love that. And it felt like a really novel spin that they would be the glue between all these different applications and allow the marketer the freedom to assemble, curate, and aggregate all their content and put together experiences based on many different services. I do see really good stuff about DXC. It's just not a category – and I don't think it will become a category."
OK, so if it's not destined to be officially blessed, where do we go from here? As Andrew pointed out, the roadmap might rest with user behavior.
"In some enterprises, there could be 60 times more technical folks that don't write code, but they're still making meaningful contributions to digital experiences. That is a huge user base. And that's where the DXC is really going to make its mark, and really going to – and this is probably an unpopular opinion – start to take over the DXP. It's serving so many more users in a more democratic low code, no code interesting way. It's empowering to that user base."
A DXC by any other name is a… DXCP? DXO? EDP?
While pondering the future of a DXC category, Andrew quickly pointed out one basic flaw with the acronym: DXC Technology is the name of a well-established global agency (which happens to sponsor Manchester United). To that end, he feels "DXCP" might be a more suitable mantle – which Uniform has already been using across its communications.
He also talked about the long shadow cast by large competitors and the importance of establishing authority as a new category. "It's really a challenge for new players to enter [the DXP market]. There's just so much Adobe, Optimizely, or Magnolia dominance. They've been around for so long. There's no space for new entrants without a large insurmountable challenge."
Sana also shared her perspective on the DXC category conundrum, which echoed my recent conversations with other vendors under the DXC umbrella. While Niclas Mollin at Occtoo is positioning around the Experience Data Platform, Sana is building a beachhead for Conscia as Digital Experience Orchestration.
"Conscia's not a DXC, even though we're playing in the space," she explained. "There's a lot of confusion, so we said, you know what? We don't want to call ourselves a DXC because that would mean that we're tied too closely to a specific front end. So we're going to act as the central piece of the composable ecosystem, which connects all the dots from the back end to the front end and is agnostic of both – and we're able to orchestrate API's and experiences."
And the winner is…
Er… not clear. We're still wrestling with the answers, and the analysts have yet to canonize anything. But if we can smell what The Rock is cookin', we might be in for more confusion as DXC continues to find its footing. 
What's abundantly clear to us, however, is that DXC is building real momentum, and DXP continues to drive demand. With the advent of AI and other innovations, the DXP market is still predicted to grow to over $30 billion by 2030. While our guests shared strong opinions about DXC's future as a category and the underlying challenges, each seemed committed to demonstrable value over category woes.
At the end of our session, Matt McQueeny noted that we ended up where we always end up: with a clear mandate to focus on the business and the customer. 
The best part of this conversation was each participant's undeniable respect and reverence for one another, despite their competitive position or conflicting ideologies. Collectively, this industry powers millions of websites, apps, and experiences. Yet, the top minds shaping its trajectory represent a tightly-knit community of shared innovation – and we had three of the best participating in this forum.
We'll give Andrew Kumar the final word: "It's definitely a fun time to be in this space. It can be confusing, but there's a lot of innovation and disruption happening – and it's ultimately for the business and end customer's benefit."
I can hear Hulk Hogan saying, "Amen, brother…"
---
Big thanks to:
Rasmus Skjoldan. Andrew Kumar, and Sana Remekie for participating
Matt McQueeny for helping to moderate, facilitate, and transcribe this session
Janus Boye for creating a community to host these kinds of debates