The XOOPS Project is proud to present XOOPS 2.5.4.
XOOPS is one of the most successful Open Source CMS solutions, constantly winning top places in various competitions, and receiving various awards.
In addition to updating its internal libraries to their latest versions: phpMailer (5.1), TinyMCE (3.4.6), jQuery (1.6.4), and jQueryUI (1.8.16), the major focus of this release is on converting all Core modules (PM, Profile, Protector) to a new ModuleAdmin GUI, so all of them have a consistent "look & feel".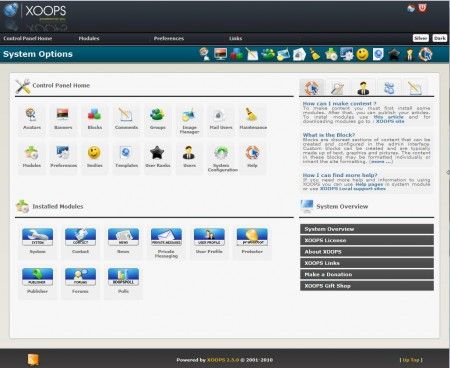 The new Module GUI will be the official GUI for all modules supported by XOOPS, and will drive:
Increased productivity
Decreased training and support costs
Reduced development time and costs
Reduced maintenance costs
Increased customer satisfaction
As next, the XOOPS Project will be working on a "Basic Module Pack", which will contain the most popular XOOPS module in one user-friendly package, all with the new Module GUI.
XOOPS has not only a very loyal base, as the number of downloads suggests, but is also highly respected in the industry. In 2008 it was a finalist in SourceForge Community Awards and in the 2008 and 2009 CMS Awards by Packt Publishing. It also won the prestigious 2008 China Open Source Software Contest Award, the 2009 Grand Prize in OSS Challenge in Korea, and the 2010 "Best Technology Award" from Northeast Asia OSS Forum.
The main features of XOOPS are full modularization where modules can be installed/uninstalled/activated/deactivated with a mouse click, its versatile Group Permissions System, and a theme-based skinnable interface, where both webmasters and users can change the look of the entire website with just a click of a mouse. There are over thousand of themes and modules available for free download. With the most popular modules like News, Discussion Forums, Photo Galleries, Calendars, Jobs and Classifieds, Polls, and Video presentations, it's very easy for anyone to set up a "Community Website". And since XOOPS is Open Source, the users can also contribute back to the development.
In the current economic downturn, Open Source software has become increasingly attractive to users and companies, as it helps them to save a lot of money. XOOPS is definitely one of these Open Source projects that can provide major financial savings.
System requirements
Any PHP version >= 5.2
MySQL server 5.0+ is strongly recommended
Web server: Any server supporting the required PHP version (Apache highly recommended)