A number of excellent analytics platforms have been developed in recent years, but Google Analytics remains the industry standard in terms of its offering. The official Google Analytics app was first released on Android in 2012, but it took another 2 years for them to release the iOS version in 2014. This paved the way for a number of third party apps to bring the service to your smartphone and tablet in a variety of different styles and formats.
With so many choices on the market, I had a look at 10 of the best Google Analytic Apps for Android and iOS.
1.Analytix for Google Analytics – Android
This is a great third party app that allows you to access important Google Analytics data when you're on the go. This display is easy to read and key stats, such as daily goals and unique views, are displayed clearly in a 'progress bar' format.
Analytix for Google Analytics is $1.99 and you can download it here.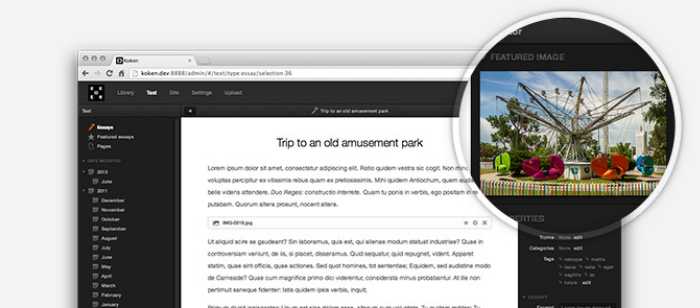 2. gAnalytics – Android
This app allows you to easily set the time period you want to assess, which allows for thorough analysis of your data on the move. It also supports multiple accounts and multiple profiles which can be switched between easily.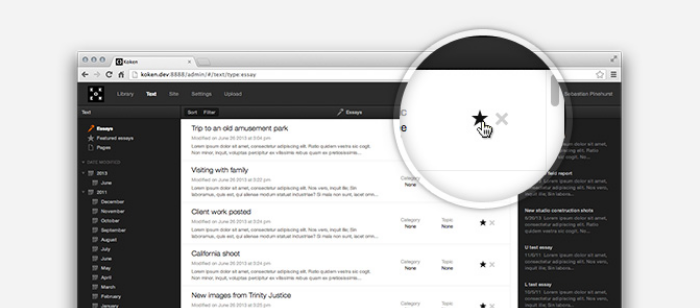 It isn't the most visual Google Analytics app out there, but it lays all of your data out clearly and concisely. It also places a premium on ease of use and this is reflected in its intuitive design.
gAnalytics is free to download and you'll find it here.
3. mAnalytics – Android
This app by Mugitek displays your Google Analytics data in a very forensic way. It might not be as eye-catching as some of its competitors, but it does provide a good depth of data analysis. You can download mAnalytics for free here.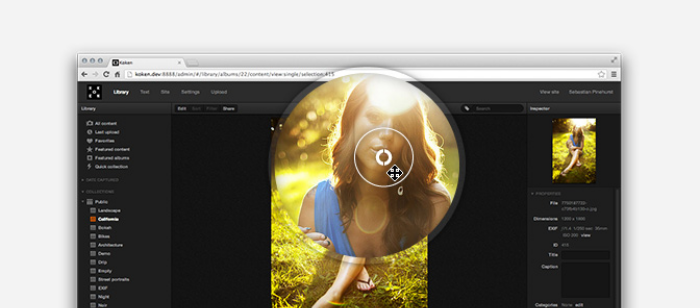 4. Analytiks for Google Analytics – Android
If having your Google Analytics data presented to you in top-notch layout is your thing, then this app is perfect for your needs. It presents all of your site data in a very visual and responsive format that really brings your traffic to life. You can also swipe between accounts and profiles with ease. Analytiks for Google Analytics is free and you can download it here.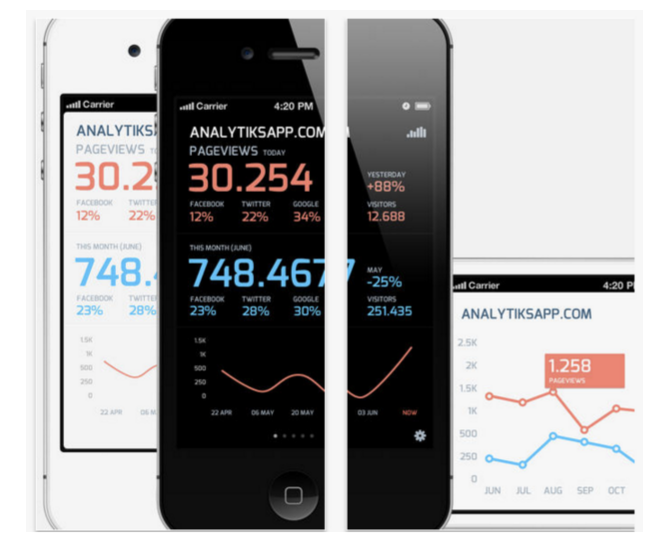 5. Abondo – iOS
Abondo is a great choice if your primary focus is measuring your eCommerce metrics. All of the primary stats – like transactions, revenue targets, unique visits, and conversions, are displayed extremely clearly.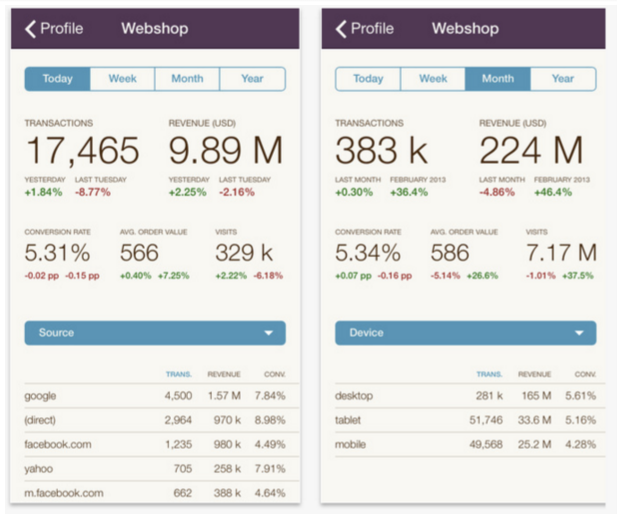 It doesn't just trade on simplicity either; Abondo allows users to drill into the stats quite a bit, allowing a lot of detail to be uncovered. This free app can be downloaded here.
6.Dashboard Pro For Google Analytics – iOS
Its complex user system might not be for everyone, but Dashboard Pro gives you a ton of complex metrics and options to visualize your stats. It also lets you track a number of stats in real time, which is a great feature. Download Dashboard Pro for free here.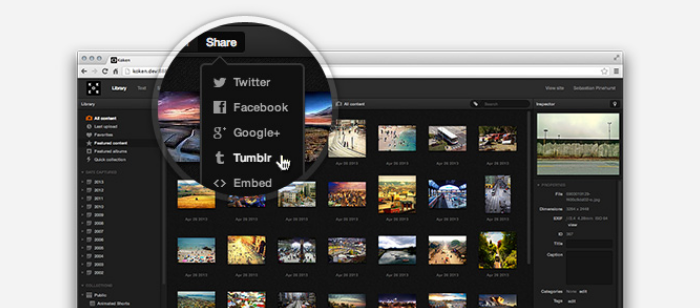 7.Quicklytics for Google Analytics – iOS
This is a fantastic app for easily finding data on multiple websites. You can swipe from side to side and alternate between different profiles and/or sites with ease. It's extremely intuitive and very responsive without eating into a lot of battery life.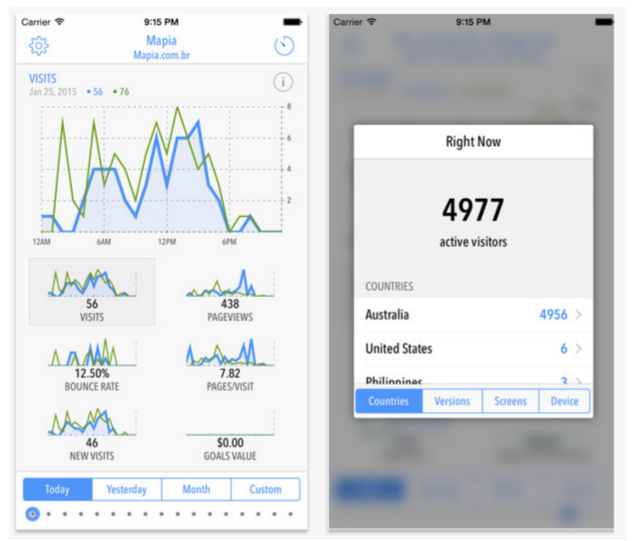 The graph-based design lets you constantly refocus on the metrics that matter to you – such as country visits, referral reports, users, unique visitors and bounce rate, and everything is very easy to navigate. You can download Quicklytics for free over here.
8.Analytics Tiles App
This is a fantastically designed app that uses its 'tile' layout system to give you a constantly updated snapshot of your site data. It allows you to swap between websites and profiles extremely easily and even lets you colour code each site to differentiate it. You can download Analytics Tiles for free here.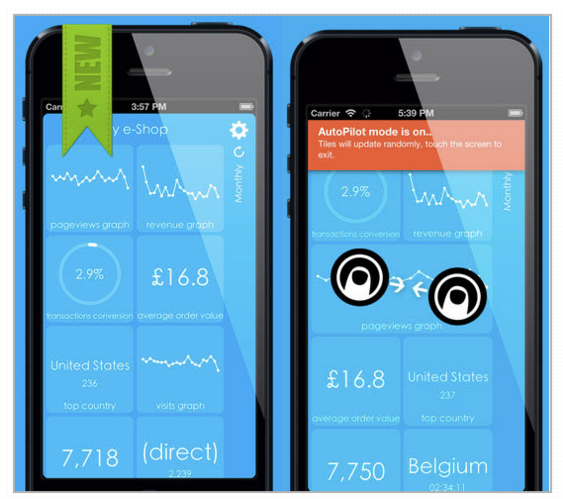 9.Analytics Matter for Google Analytics Website Monitoring
This app has a really clean and really nicely designed interface that does a great job of dialling in on the important metrics.

It has color coding features that give you a quick update on how your site is doing month to month, day to day, or year to year. It's really intuitively designed and packs a lot of information into one screen, which saves on swiping and allows for easy analysis. Download it for free over here.
10.Simply Stats
Simply Stats has a minimal design that displays all of your data in really clear, concise graphs and charts. Everything about this app screams 'usability', from its ultra simple UX to its concise data layout – and you won't be disappointed with the metrics it provides either. Download Simply Stats for free here.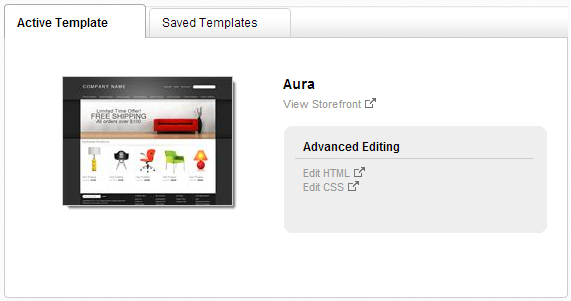 What's Your Go-To Analytics Mobile App?
Is your favorite analytics app listed here? Or do you know of a hidden gem that we haven't mentioned? We'd love to hear from you in the comments section below!