If there's one thing there's no shortage of on the web, it's software to help you improve your online presence. To help make things a bit easier, I decided to put together a free eBook which outlines what I feel are the Top 20 Tools for Webmasters. This is all software we use here on CMS Critic in some form or another.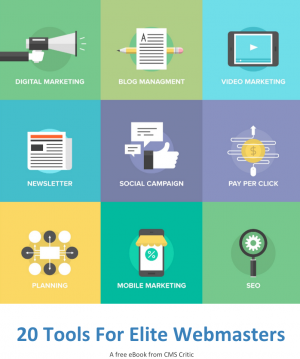 Within the eBook you'll find tons of great tools that can help you spread the word, promote your content, improve your ranking on the web, launch social contests, bill your customers and much more. My hope is that you'll try out some of these great tools for yourself and end up benefiting from them as much as we have.
I'd also love to hear from you as to what other eBooks we could put together that you might be interested in. If you don't mind, please leave a comment on this post with your ideas and we'll take them into consideration.