On the web, you can find thousands upon thousands of templates. However, finding the best one to launch a site with has always been a challenge for those who take the matter seriously. In this case, you've got to not only choose the best niche-related design but make sure you tap into an unparalleled range of functionality. To help you find your best website template this spring, we bring you 20 flagship and best-selling templates that have been recognized as exceptional by the global community.
What Makes a Template Flagship?
Use your imagination and travel back in time. Think of a large fleet that wanders the oceans to discover new lands and markets. The main ship of this fleet, which carries the commanding admiral, is called a 'flagship'. Typically, that's the biggest, the most technically advanced and well-crafted ship of the fleet that makes the jaws of common people drop in awe.
Similar to this, present day, 'flagship' themes are the leading products that serve as prototypes for a whole bunch of themes that appear later on. Typically, the design teams spend twice, three times or even ten times more time on the creation of a flagship template, compared to regular one. Creating these products, they want them to not only incorporate all the progress that was achieved earlier, but to push the boundaries of web design further on.
That's why flagship themes not only boast of exceptional designs but also bring you extended and progressive collections of features. They come pre-packed with the largest sets of premium plugins that provide for building the most advanced and feature-rich websites. Present day, flagship themes are often multipurpose and may come with a whole bunch of skins for different industries. What's more, designers want to make flagship themes newbie-friendly. That's why they oftentimes add a visual builder on top of all the other plugins included.
Today, we bring you 20 flagship and best-selling templates of this spring. Among them, you'll find best selling WordPress themes for building corporate websites, professional portfolios, fashion and personal blogs. On top, you'll tap into the gem themes for Magento, PrestaShop, OpenCart and Shopify that let you build stunning e-stores and online markets.
The themes presented in this post are all available at TemplateMonster Marketplace, one of the largest template marketplaces of 2018. To learn more about this or that template, use the links under screenshots. You'll get a chance to learn more about the theme's features and see its demo instance live.
Beautiful templates make the difference that is visible not only online but in revenues of your company. Don't miss your chance to join the league of success with one of the 20 flagship and best-selling templates of this spring!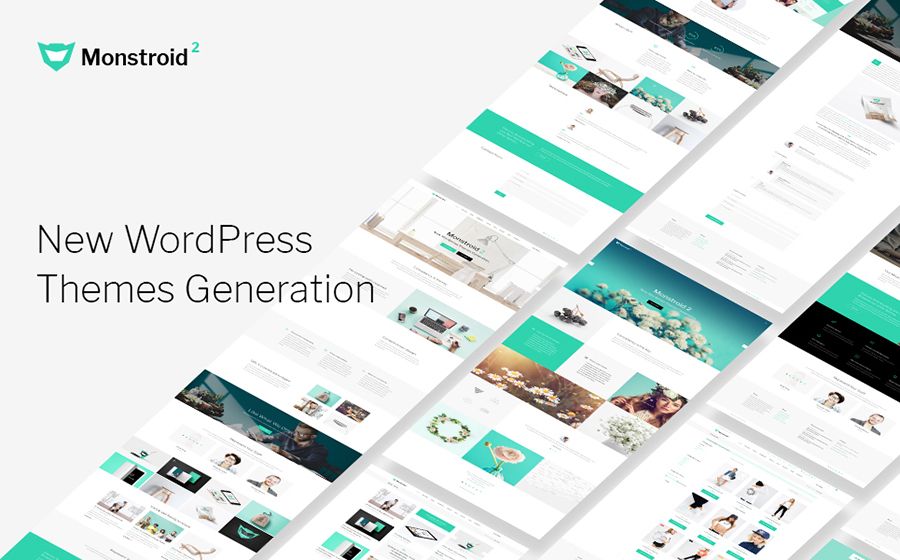 Monstroid 2 is a groundbreaking multipurpose theme, the clean design and rich functionality of which can take every website up a notch. This actually not one template, but a set of 9 prebuilt skins that allow you to create websites for different branches of industry, such as furniture, construction, fashion, food industry, business and consulting, etc. The plugins that the template offers are: Power Builder, WooCommerce, Cherry Projects, Cherry Social, Events Calendar, Cherry MegaMenu, Events Calendar, bbPress, BuddyPress, Cherry Timeline, MotoPress Schedule and many others.
EasyJet: Flagship Multipurpose WordPress Template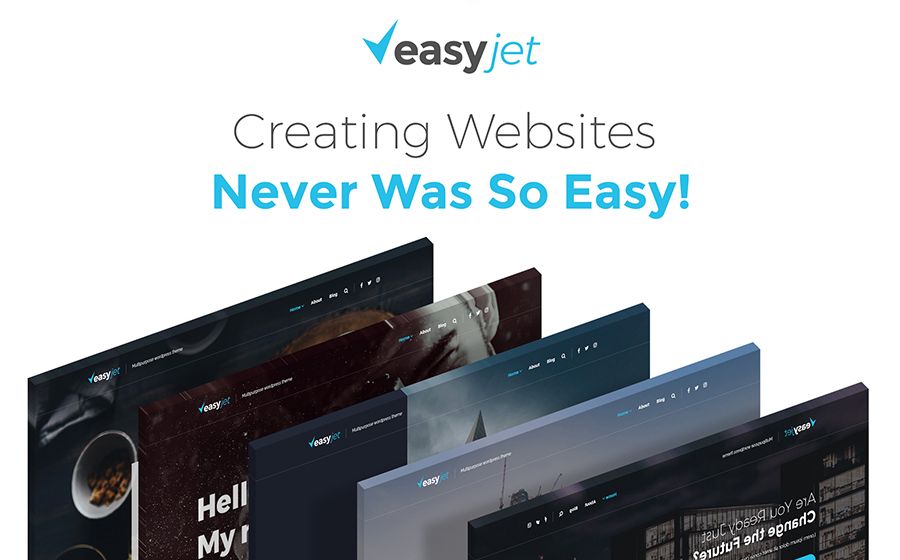 EasyJet is a flagship theme built with ease-of-customization in mind. It brings you 12 outstanding custom designs built with different niches in mind. As a result, you can build a website for a fitness studio, construction company, architecture bureau, car repair services, restaurant, beauty salon and other businesses in record time. On top of this, EasyJet theme brings you Elementor live website builder that lets you simply drag and drop pre-designed modules and set them up using comprehensive options.
Contractor: Architecture & Building Company WordPress Website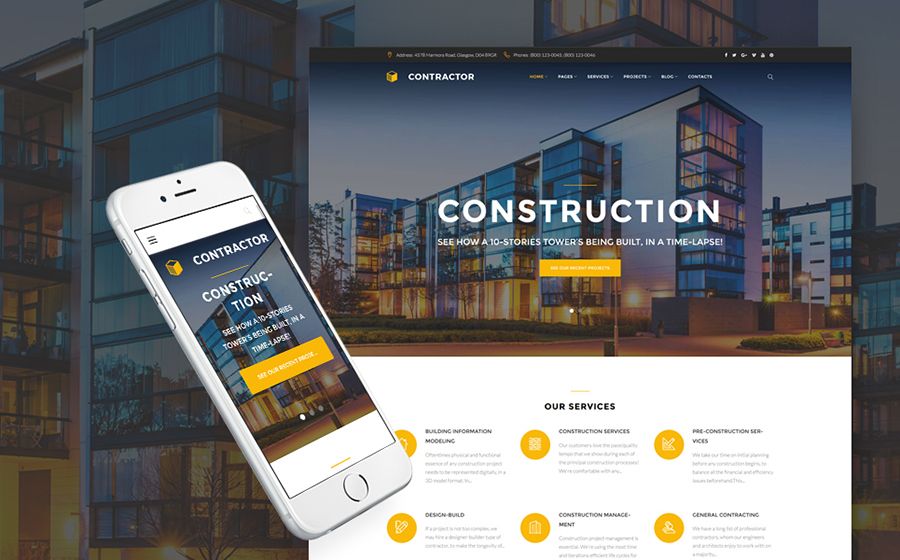 This classy best-selling theme is custom-tailored to meet the needs of construction companies. It brings you the ultimate pack of Cherry Plugins, all meant to enhance your website's functionality. Visual customization of your template is powered with Power Builder editor that lets you effortlessly insert customizable content modules and tweak layouts on the go. By the way, remember that a fully responsive design of Contractor allows the theme to automatically adapt to any possible screen resolution so that your future website will always look beautiful and professional.
Intense Multipurpose Website Site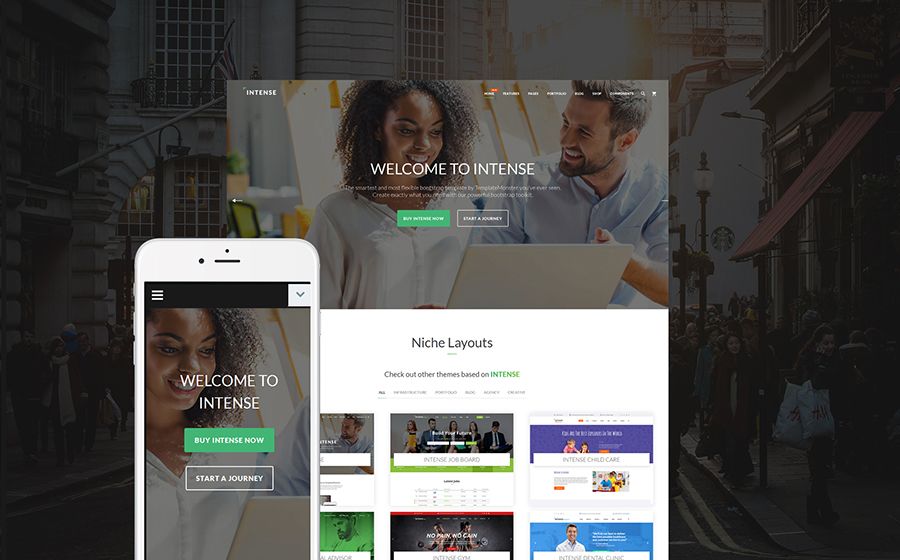 Intense is a premium HTML5 template with a sleek layout and ultimate functionality, perfectly tailored for a variety of business websites. It brings you an impressive bunch of more than 20 thematic skins. That is why it will effectively present all types of businesses, communicate the main ideas of your company and showcase your well-delivered services on the Gallery pages. Therefore, just get everything in one package and even more with the help of Intense multipurpose theme!
Starbis: Multipurpose Business Bootstrap 4 Website Design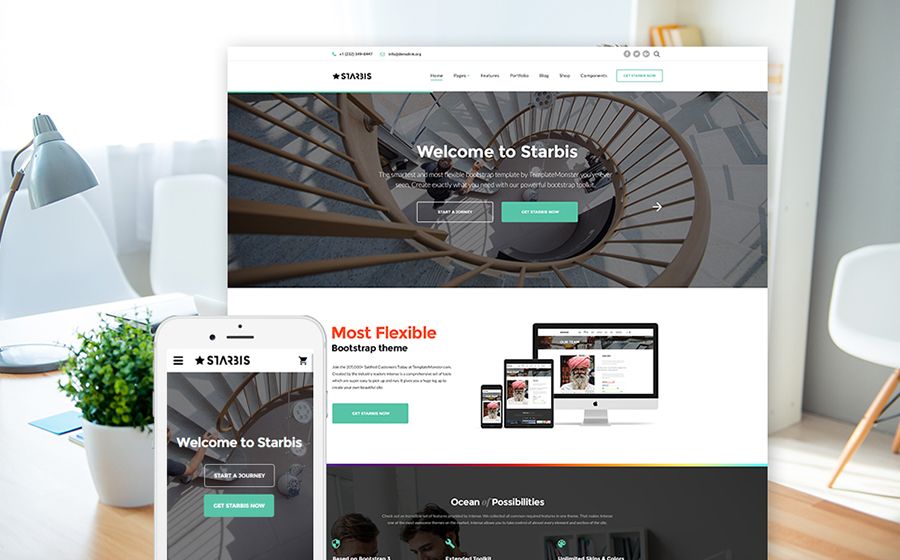 Starbis template is ideal for business, marketing or consulting agencies or professionals thanks to 6 prebuilt top-notch skins. Moreover, the template comes with 150+ HTML pages that you may want to use for your website. What is left to do is to change the contents there, and you get polished pages, with professional animation, interactive graphs, fun timelines and charts that all look appealing and persuasive. Sample pages to power an e-commerce store with Starbis are also included.
Brave Theme: Multipurpose HTML Website Template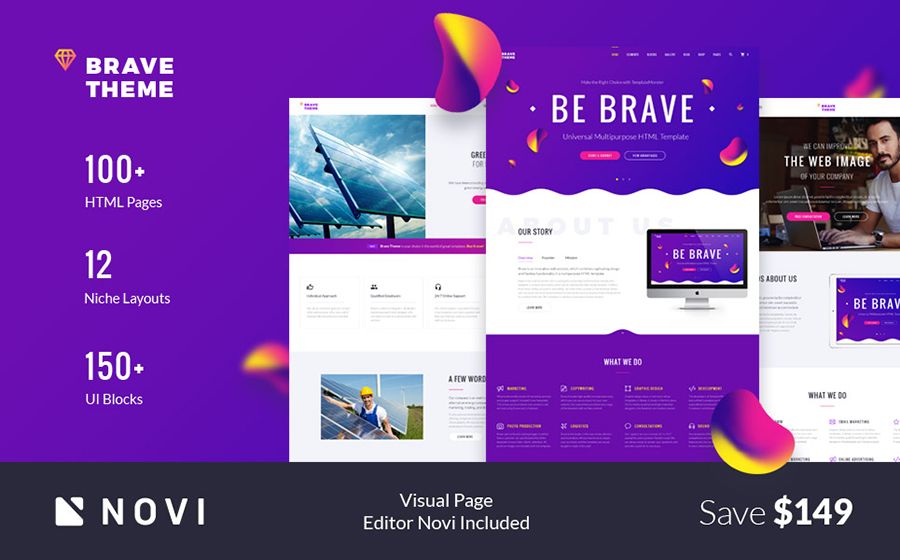 Brave is a juicy HTML template that's a true bounty with 100+ ready-made pages and 150+ UI blocks. Brave template will work for every niche out there, be it web design, consulting, trucking, private airlines, museum or whatever else you can imagine. The winning design of its main frontpage comes with a sparkle of creativity to it thanks to artsy block borders and minimalist flat icons. Moreover, designers and developers did everything possible to empower you with a mind-blowing set of components, including forms, galleries, accordions, tabs, popups, and more.
Jumerix: All-in-one Responsive Joomla Theme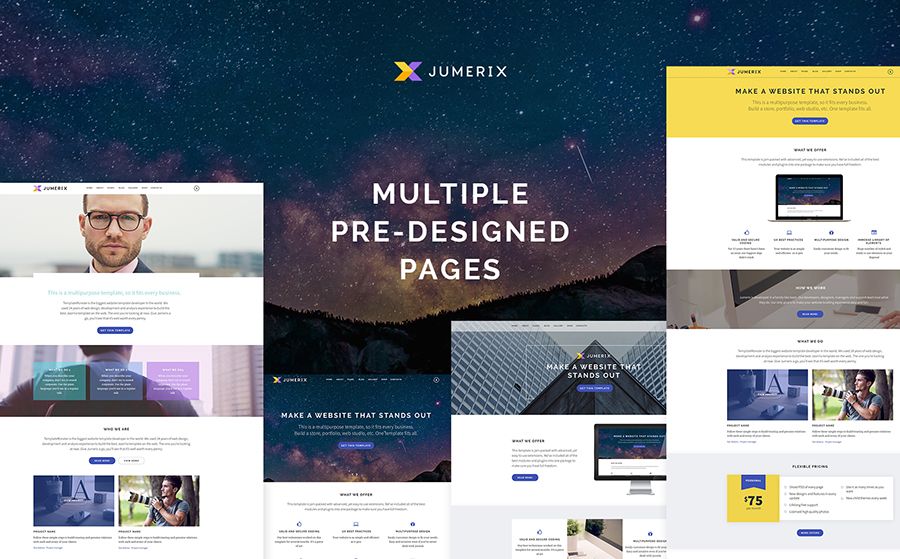 If you're searching for an inclusive all-in-one solution for Joomla CMS, go for Jumerix template that is packed with all the features that provide for creating successful blogs, portfolio and corporate websites and e-stores of different types. This multi-purpose template brings you a number of homepage designs and blog variations, as well as fully-fledged Komento component integration. Among the template's features you'll find such modern website's must-haves as Swiper Slider, MegaMenu, Cunena, Comento, Olark Live Chat, etc. Moreover, the theme brings you a Color Schemes tool, which lets you adapt the default theme's color scheme to your corporate style in just a couple of clicks.
Jedi: Flagship Multifunctional Joomla Template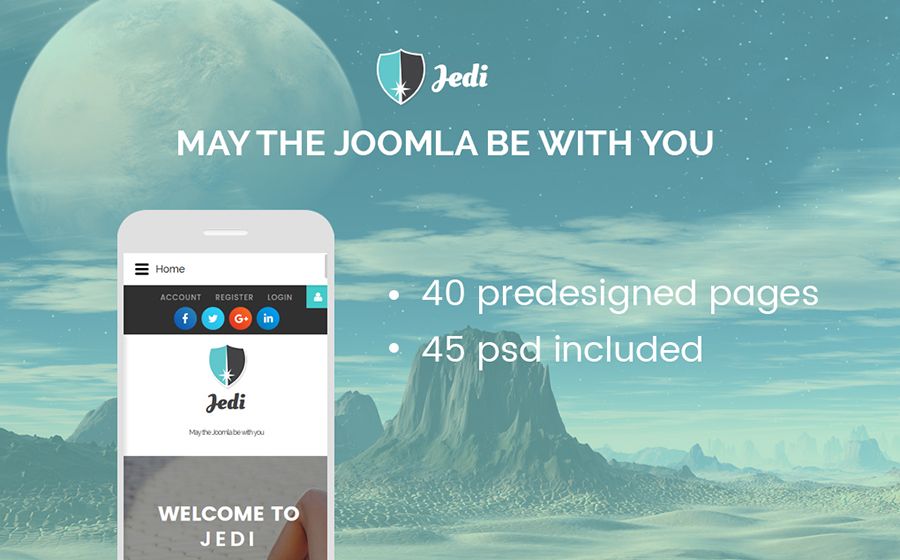 Fast and responsive, multipurpose Jedi template is full of innovations that bring you a chance to create a website from the future. It comes with a set of 40 prebuilt pages, has rich UI for managing content of different types and ensures supreme browsing experience of your website guests thanks to such features as stick-to-top menu, social login, extended commenting system, etc. On top of all its tailored blog/corporate website functionality, Jedi also comes with VirtueMart e-commerce engine and ready-made shop pages out of the box.
Eveprest: Impressive PrestaShop Multipurpose Responsive Theme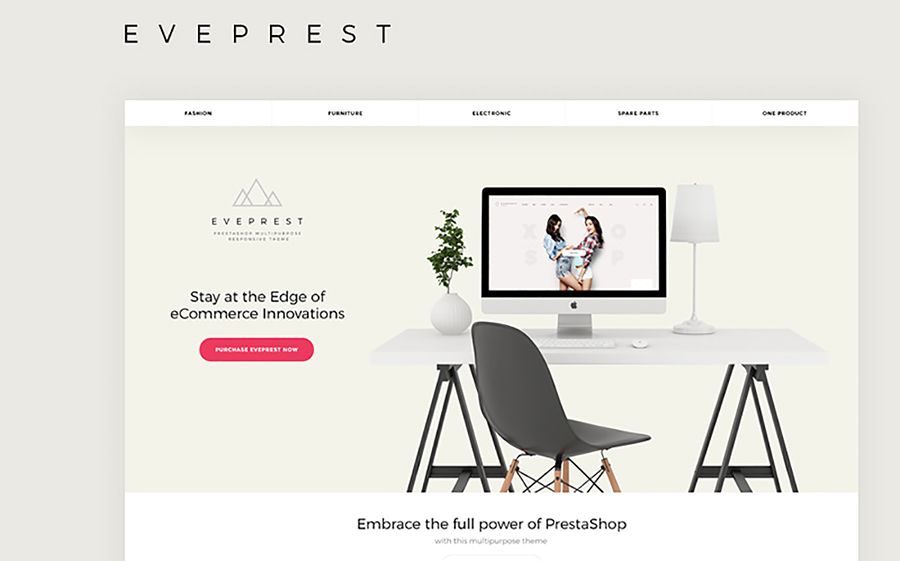 Unleash the full potential of PrestaShop e-store engine with flagship Eveprest template. It brings you a number of classy design skins suitable for online boutiques, interior design and furniture stores, selling electronics and hi-tech gadgets, automotive things, single products, accessories, underwear and even groceries. The theme brings you the ultimately helpful TM Product Manager extension that offers you 16 options for fine-tuning each product in your store.
imPresta: Flagship Multipurpose PrestaShop Template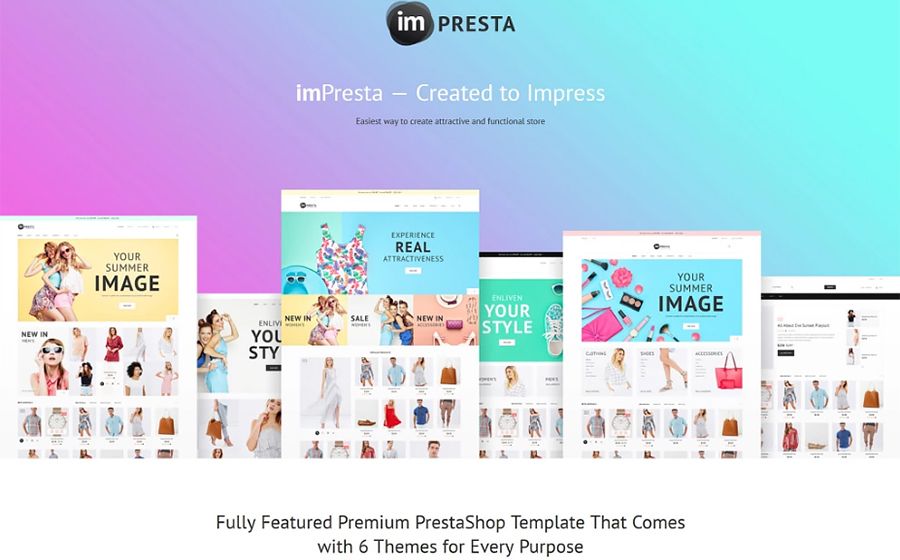 Are you ready to impress your clientele with a solid and appealing online store? With this colorful and bouncy PrestaShop theme, you get a bunch of ready-made storefront for powering your unique e-store in record time. Moreover, you get tons of exclusive modules that save you $811 and help you manage your store effectively. On top of being fully responsive, imPresta also corresponds to the demands of Retina devices in terms of quality of the visuals.
ArtWorker: Online Art Gallery PrestaShop Site Design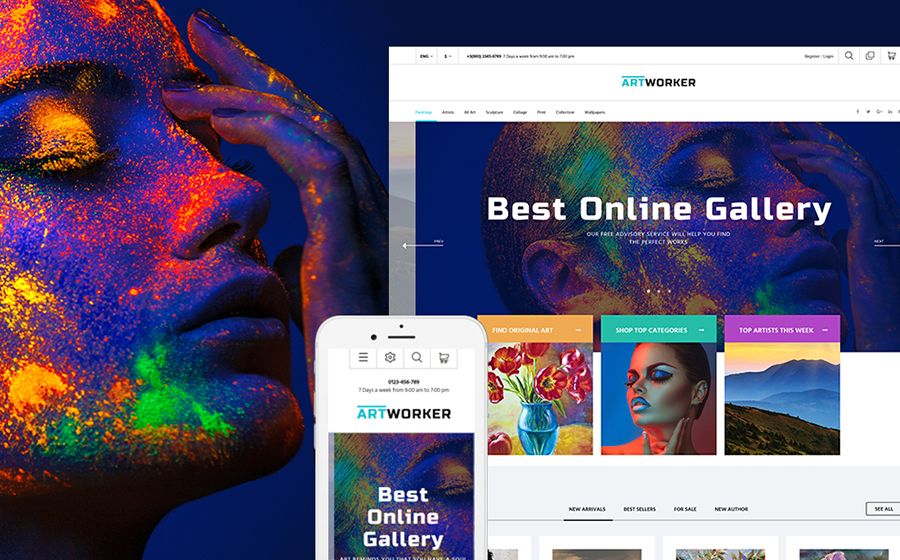 Unquestionably, designed in unusual and inimitable colors, this wonderful art gallery PrestaShop template will positively charm any visitor of your online store. ArtWorker is a premium PrestaShop theme with a unique set of features that include Mage Layout Builder, TM Megamenu, TM Search, TM Header Account, TM Deal of the Day, and much more. You can use the template either in catalog or in online store mode. Mosaic Products module is a priceless tool as it lets you present the artworks in the best way possible and, by this, raise your sales up a notch!
Magetique: Dazzing All-in-one Responsive Magento 2 E-shop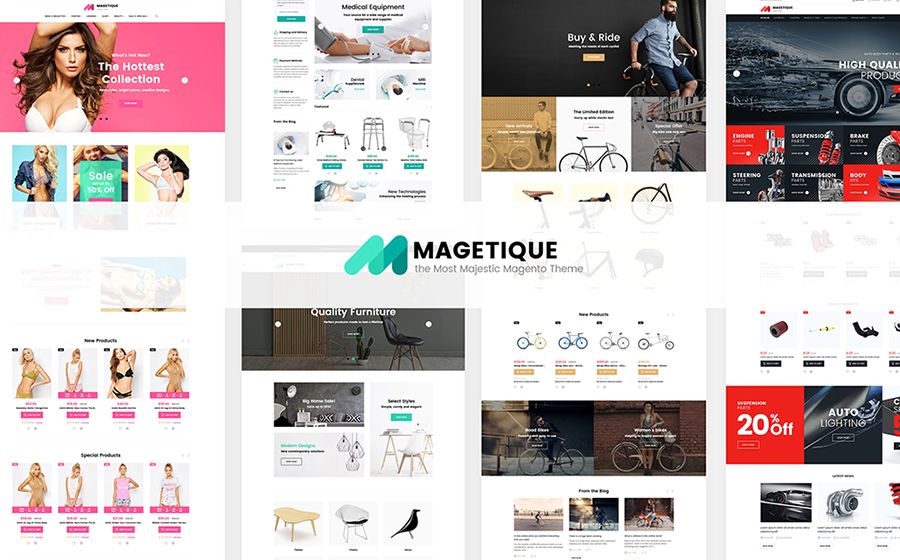 With Magetique, you'll tap into the most affluent well of Magento magic. This template arches a myriad of marketing, design and administration tools. What's more, it incorporates 5 premium niche layouts for different kinds of e-stores. No matter whether you want to power clothes, furniture, car parts, medical or any other kind of an e-store, you'll be able to find the skin that makes this task simpler. Thanks to a dazzling collection of more 20 pre-installed extensions, bringing your shoppers amazing UI and UX takes no time. The modules provided range from store functionality boosters to design enhancers that let you power Parallax and Video backgrounds, countdown timers, etc.
Jewelrix: Jewelry E-store Resposnive Magento Design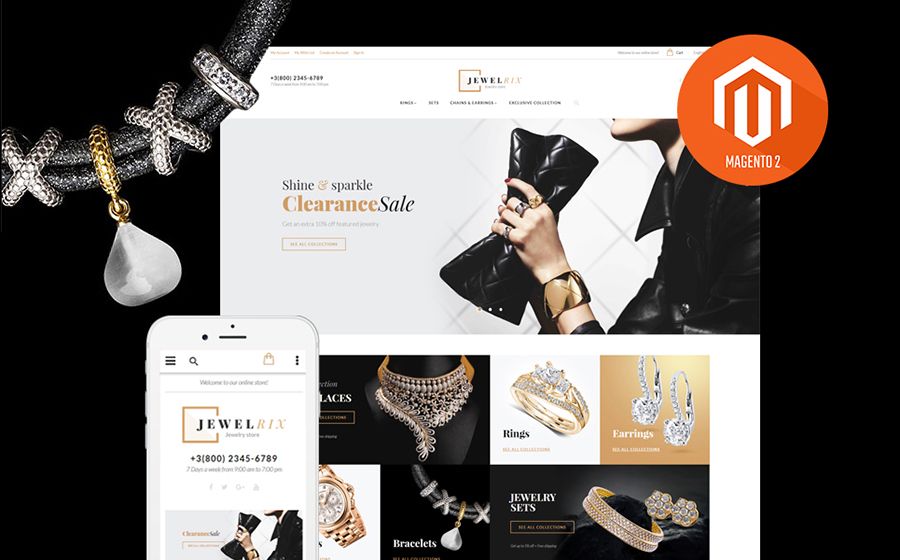 If you're searching for an e-store design that is more on the luxury side, Jewelrix is the ultimate option for you. It marries the mesmerizing design into advanced online store functionality. This theme features a number of extensions that let you promote and sell you good effectively. Thanks to MegaMenu, you can boost store navigation by including every single store category and showcasing featured items on the menu panels.
Woostroid: Feature-Rich Multipurpose WooCommerce Site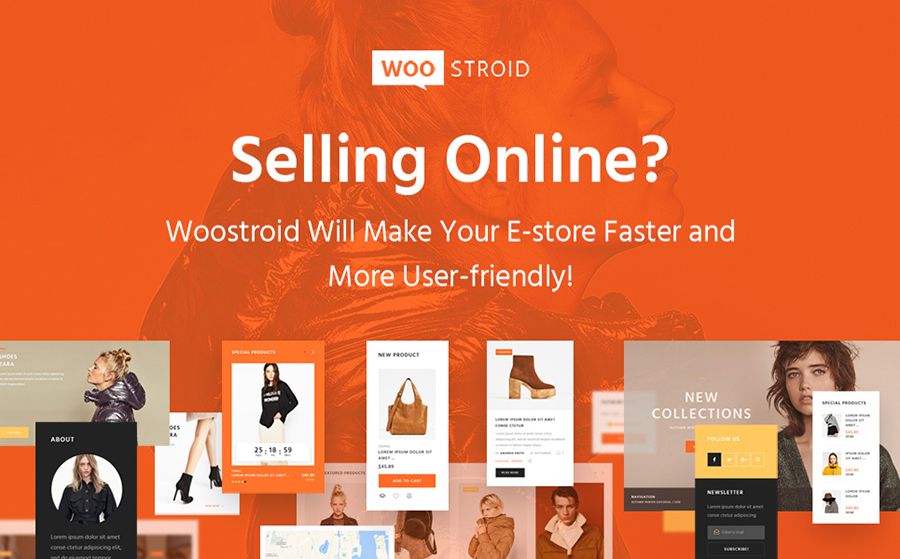 Creating a fast and user-friendly e-store is as simple as that! Woostroid template comes with 5 ready-made store themes for stores that sell clothes, tools, lingerie, jewelry and other goods. You can run the stores not only with WooCommerce, but also with Ecwid, another popular and simple e-commerce engine with a number of useful features. Woostroid brings you a solid pack of shopping experience boosters, including extended filtering options, Wishlist and Compare, product badges, quality product zoom and more.
SportLabs: Sport Nutrition & Equipment WooCommerce E-store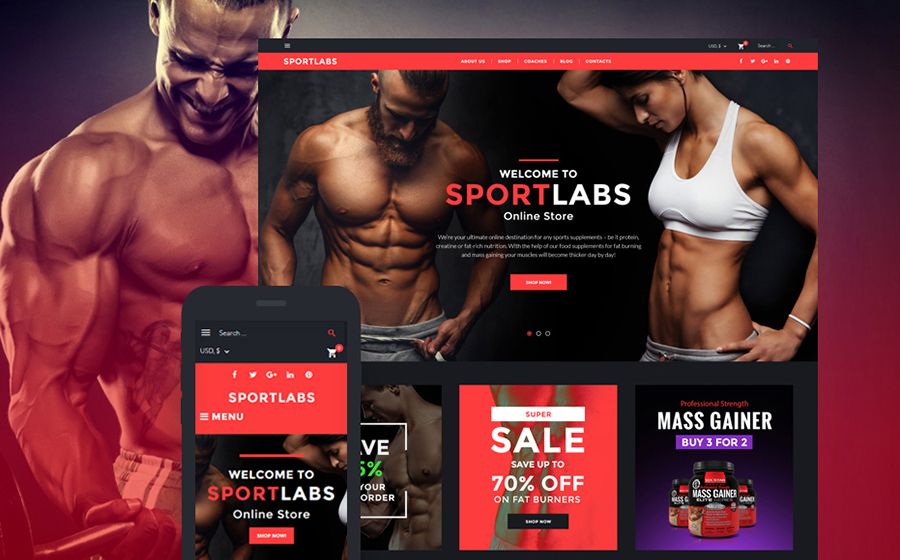 If you sell sports nutrition and equipment, SportLabs is the classic template that perfectly accommodates the needs of the niche. It boasts of the active color palette and dynamic design that galvanize sales. What's more, it brings you a new-gen WYSIWYG editor to remain comprehensive even for web design newbies. With this theme, you can label newest, featured and best-selling products of your store and run promotions and sales effectively.
Skyline: Business, Dentistry, Architecture & Travel Moto CMS 3 Template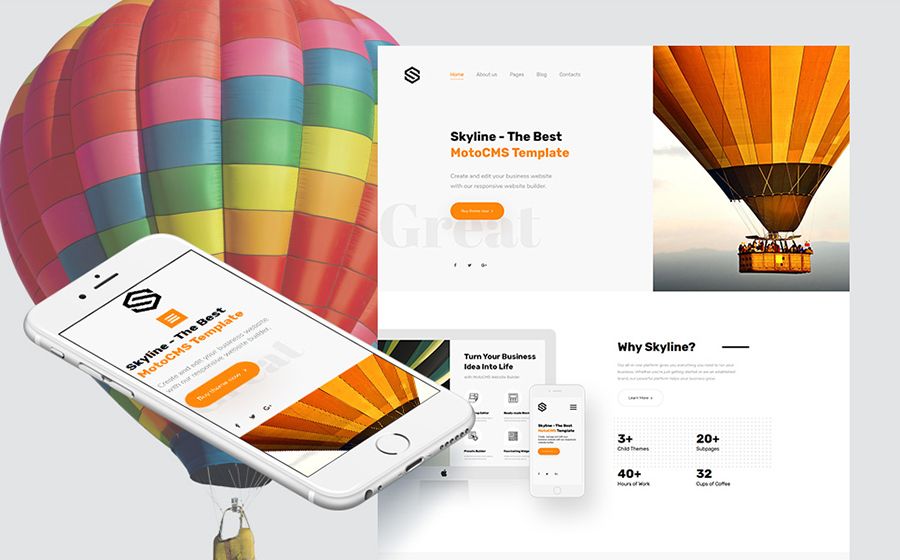 Stop wasting your time and check this marvelous all-in-one Moto CMS template, as it includes an impressing package of vital features for creating your online project just out-of-the-box. Without a doubt, various additions such as step-by-step interactive tutorials, Parallax effect, charming gallery, and Google Maps block are included to complete the image of professionalism. All in all, price-quality rates of such a superb multipurpose Moto CMS theme may surprise you and soon this easy in use theme will be an inherent part of your internet business.
StoreFlex: Responsive Multipurpose OpenCart Theme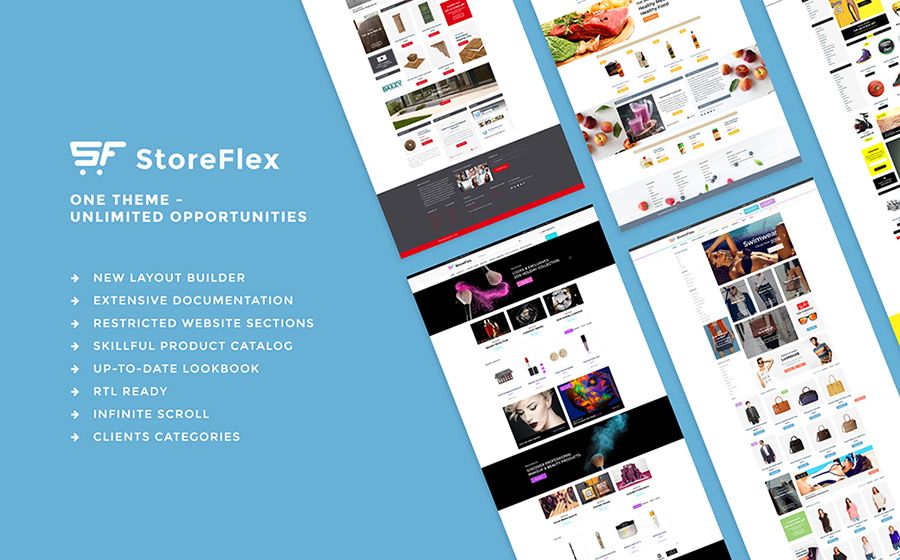 Storeflex is a leading flagship OpenCart template that's well-liked by multiple store owners for its versatility, flexibility and sound core. The theme brings you exclusive functionality, such as offering Gift Cards, powering impressive lookbooks that demonstrate how your items play together, as well as showcasing alluring promo banners. The template is multilingual, multicurrency and features RTL support.
Multifly: Multipurpose Shopify E-store Design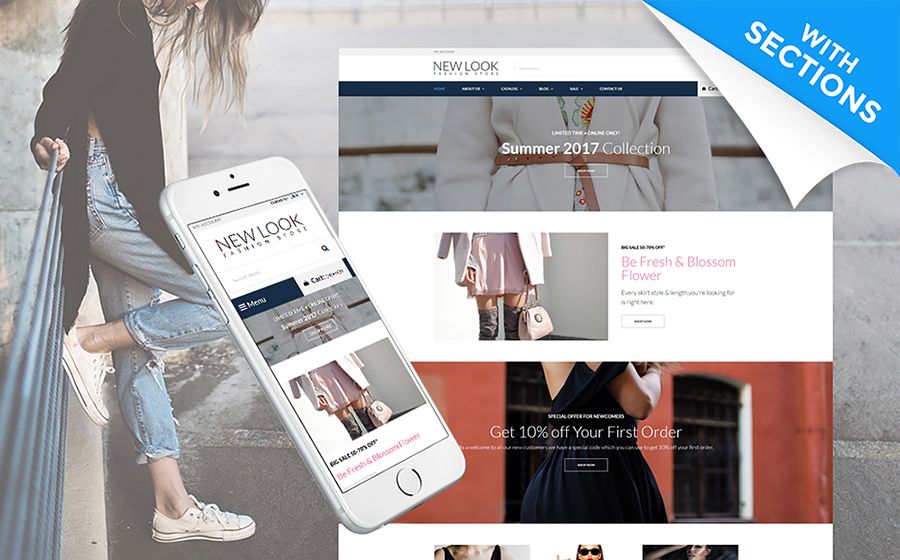 With Multifly, you can power three different e-stores right out of the box. What's more, this highly usable template allows you to operate with 15+ blocks and move them around in few clicks. With MegaMenu, you can show not only the categories but offers of your choice and other content. This menu brings the most-needed elements handy for your clients and persuades them in your superiority.
2018 Pitch Deck PowerPoint Template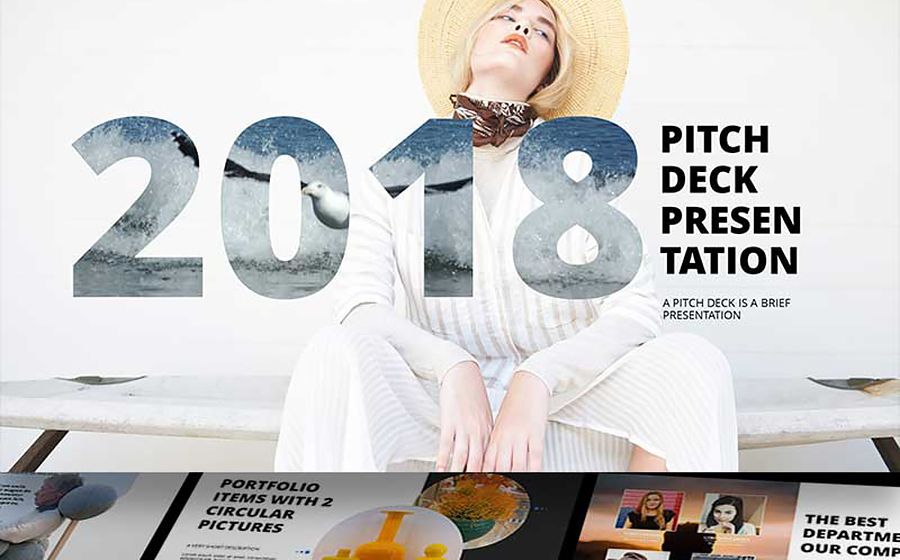 Designed in dazzling modern shades, Pitch Deck is a superb PowerPoint template, which will impressively highlight the subject of your PowerPoint presentation and firmly grasp your audience's attention. It brings you 230+ modern and unique slides, which you can recolor using 12 additional color themes. Pitch Deck also brings you a number of easily editable data-driven charts and graphs that you can customize using PowerPoint.
Steve Cadey: Modern & Stylish Music Event PSD Template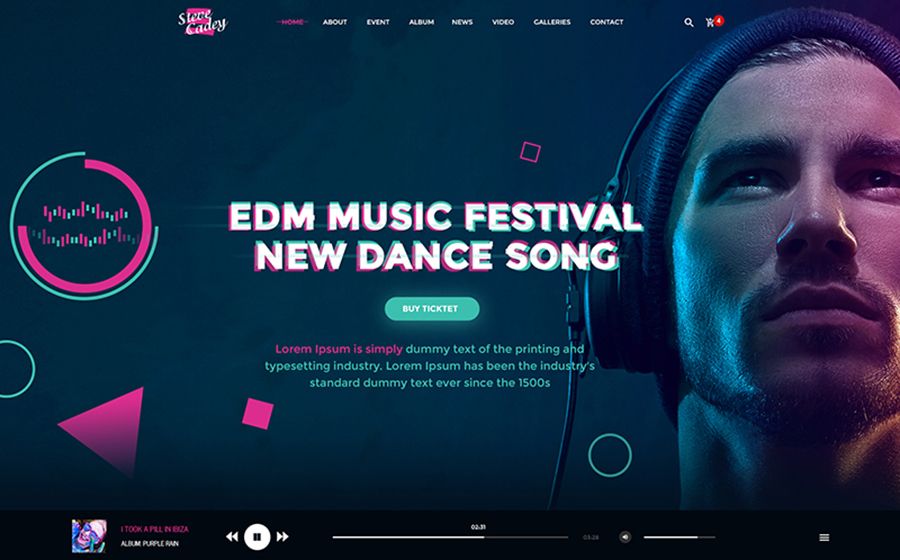 Steve Cadey is a PSD design created for music bands, musicians, DJs, producers, labels or organizers of events and festivals who are looking to create a blog or portfolio for their band or team members. You can use this PSD to power your site's design on WordPress, Joomla, Drupal or any other CMS. Steve Cadey PSD theme brings you designs for showing off upcoming events, presenting featured artist, embedding videos and audio files, as well as sharing hot news and any other information for fans.
Were you able to find the template that fits your needs among these 20 flagship and best-selling themes? If this is the case, do not hesitate to learn more about it following the 'Details' link.
By the way, if you purchase one of these exciting premium themes, you'll be provided with professional round-the-clock support by the qualified expert team. Support is available via online chat, phone calls and ticket system.
All in all, we wish you make it to the top by powering your website with a top-notch flagship template!
If you have any questions or comments, you're more than welcomed to share them in the Comments section below.
Stay tuned!