The SMB market is a hot one right now and while some former SMB CMS solutions are focusing on the Enterprise space, this has opened up a ton of opportunities for some other players to gain market share. Today, I'm going to announce which Small to Midsize Business CMS was selected by the judges to win the Critics Choice award Best Small to Midsize Business CMS for 2013.
To begin, a little about the selection process. To make things fair, we sent a list of the various categories to each judge with no individual products listed anywhere within the document and asked them to list their top three choices for each category. They were not restricted in any way with their selections and were free to choose from any of the products on the market. We agreed that if any judges came back with the same answers in the same categories, we would automatically select that answer as the winner. This keeps the awards unbiased and makes the selection of the winner fun and fresh each year as we never know what options might be brought to the table.
This year, the CMS that we feel is most deserving of the Critic's Choice Award for Best Small to Midsize Business CMS for 2013 is…
eZ Publish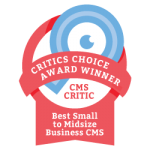 Why eZ Publish?
eZ Publish is an incredible platform that has really grown over the years. Within the publishing sector, for example, they are second to none in the industry and offer an excellent all-in-one solution with the eZ Publish Platform – Web publishing, mobile and multichannel content delivery, digital marketing, e-commerce, and workflow. eZ Publish also offers a community edition that has been developed under the open-source development model, giving them access to thousands of eager developers worldwide who contribute code to better their platform.
eZ Publish has been continuing to make great strides in the industry since the release of version 5 and now, with 5.1 have really started to strut their stuff. We can't think of a better platform to give this year's award to and would like to congratulate eZ Publish on their win.
Check out this video to learn more about eZ Publish:
Want to learn more about this great CMS and the winner of our Critic's Choice Award for Best Small to Midsize Business CMS? Visit ezPublish or learn more in our CMS Directory.