The award for Best Hosted / Cloud CMS is new for 2013 and we added it to give a bit of separation from the typical content management systems on the market.
For a cloud CMS to be effective, the services need to be managed well, offer regular updates and security maintenance, have excellent technical support and high availability. These are separate from the typical requirements of a standard CMS and therefore, we felt it justified to have this new category this year.
As a refresher, here are the nominees for this year:
It's time to announce the winner of the People's Choice award for Best Hosted / Cloud CMS. This was a hard-fought battle between Agility CMS and Acquia Cloud but in the end, there can only be one winner.
So who takes home the award for Best Hosted / Cloud CMS for 2013?  According to the people, it's…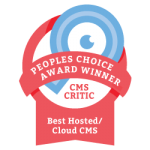 Acquia Cloud!
Acquia's open cloud platform delivers scalability, security, and high performance for your Drupal sites. Acquia Cloud is the only solution that helps everyone from professional developers to large enterprises achieve success in Drupal application lifecycle management.
Congratulations to the Acquia development team and to all those CMS that were nominated this year.
Visit them on the web.
Don't forget, we have the Critic's Choice portion underway now, where a panel of judges select the winner of the Critics Choice awards so check back to see who gets picked as the cream of the crop by the Critics.