It's no surprise that website builders are so popular. Millions upon millions of people choose them every day to build amazing portfolio websites, online stores, company websites, and personal blogs and with the number of people using them, the developers have had to work hard to add functionality to keep up with demand.
This year, we had a number of excellent products in the mix for Best Website Builder and it's no surprise that the ones that ended up being nominated are the People's Choice.
As a reminder, here's the list of nominees for this year's award:
And the winner of this year's People's Choice Award for Best Website Builder goes to…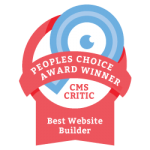 Adobe Business Catalyst!
Adobe Business Catalyst is really much more than just a website builder, it's a powerful hosted CMS with integrated everything. With a host of powerful tools from one of the biggest names in the industry, Adobe, Business Catalyst is the ultimate solution for all sizes of business and personal sites. It's so powerful, you can use it to run a midsize business from it without any problem at all.
Learn more about Adobe Business Catalyst or visit them on the web
Congratulations to the Business Catalyst team on their win! Stay tuned to find out who walks away with the Critics Choice Award (selected by our panel of judges) coming soon.