Forums are a common way of communicating and have become the haven for some pretty amazing communities.
In order to keep them active, we need powerful software that can handle the demands. This is where exceptional forum software comes into play.
Today, we're going to announce the winner of the People's Choice CMS Award for Best Free Forum solution.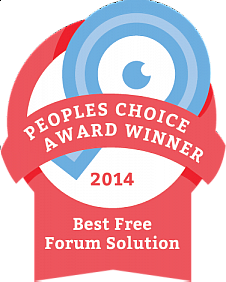 This year, contenders were Vanilla Forums, MyBB and NodeBB.
The winner for this year was Vanilla Forums!

The runner up this year was MyBB coming in a close second.
Congratulations to everyone at Vanilla on their win! Go check them out at http://vanillaforums.org/