Open Source content management systems have been growing in popularity as companies and customers discover the benefits of the open source community. As such, there has been a large number of amazing success stories for companies that have chosen to open source their products.
Today, we're going to announce the winner of the 2014 People's Choice CMS award for Best Open Source Java CMS.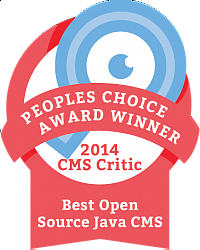 The contenders this year were Liferay, Magnolia and dotCMS.
The winner this year was Magnolia!

Congratulations to the team at Magnolia on their second win this year! Check them out here: http://www.magnolia-cms.com/