With the enormous number of open source .NET based content management systems on the market, it can be difficult at best to weed through the various projects in search of the best one for your needs.
Today, we can hopefully make that task a little bit easier as we announce the winner of the 2014 People's Choice CMS Award for Best Open Source .NET CMS.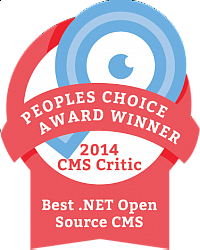 Contenders this year were DNN Platform, Sageframe and Umbraco.
The winner this year was none other than Sageframe!

Sagefame is a powerful .NET CMS that offers the ability to quickly build beautiful websites using it's easy to use interface.
Congratulations to the team at Sageframe on their win. Go check them out: http://www.sageframe.com/