Content management systems are an important part of business today and small to midsize businesses have a wide variety of solutions to choose from.
Today, we're going to announce the winner of the 2014 People's Choice CMS Award for Best Small to Midsize Business PHP CMS.
Contenders this year were CMS Made Simple, Craft CMS, and Impress Pages.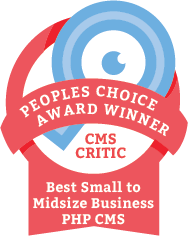 This was one of the hardest-fought categories this year with all three projects very close in the votes until the end.
Finally, a winner emerged from the rubble and it's time to announce that CMS Made Simple has taken the award this year as Best Small to Midsize Business PHP CMS.

CMS Made Simple has been a strong contender each year in these awards and we're very pleased to see them take the cake this year. Congratulations to everyone at CMS Made Simple!
Head over to our forum and share your thoughts on the winners: Discuss the Winners of the People's Choice Awards