Today, I'm going to announce the winner of the 2014 Critics Choice CMS Award for Best JAVA CMS for Small to Midsize Business CMS.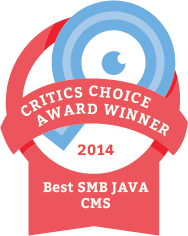 The importance of content management systems to business is obvious, they are a critical piece of the infrastructure and part of what holds things together. Choosing the one that should be crowned as best of the best is a challenging task but the judges have made their decision.
The winner for this year is Jahia Digital Factory.

Congratulations to the team at Jahia on their win. Learn more about them in our directory here: Jahia Digital Factory