Drupal has always been promoted as the tool for developers by developers.
While we at Drupal Partners fully embrace this mantra, there is a whole community that often gets left out of this conversation – the creative community.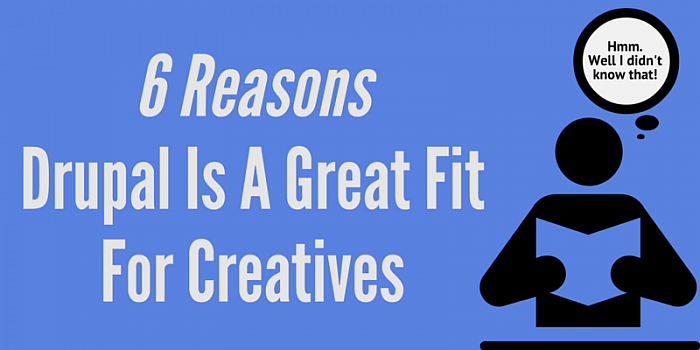 Sure, there's the development part of Drupal, but there's also the incredibly important "using that development" in interesting and beautiful ways. And that's where the creatives come in: They run with the development and make the theme/idea their own.
That leads to the question, "How is Drupal a good fit for artists/designers/photographers (aka creatives)?" If you are a creative person looking for the best tool to showcase your work, we think Drupal is a strong and really fantastic choice. In fact, here are 6 reasons Drupal is a great fit for creatives
1. Drupal Themes are Flexible, Adaptable & Look Wonderful
As a creative, you work really hard on your project/idea to make it look fantastic. When you're ready to put it on the web, you want your work to be displayed/optimized/showcased in the best way possible, reflecting all the time you've put into it.
When Drupal 7 hit the market, the myth that, "Drupal isn't designer-friendly" vanished. Proof: Drupal 7 alone is packed with over 450 downloadable themes and 20,000 modules/plug-ins. Many of these themes are perfect for the creative: The themes are feature-rich with responsive layouts, smart content administration, image optimization and much more. In fact, here's a list of free themes , many made with the creative in mind.
But what if you can't find a theme that's just right? Drupal's flexible nature and open source architecture have created a huge community of developers and users. These people live, eat and breathe Drupal and are more than happy to help you realize your creative vison for your website.
2. Drupal Themes Make Managing Your Site Easy
So. You've scoured potential Drupal Themes and found the perfect fit. You, the creative, are very excited about your new, classy looking website that reflects your personal style. What's left now? Managing the site. AKA – The boring part.
No worries – Drupal is known for its simple content administration and the flexibility to modify, extend and scale your requirements as your site traffic grows. With astonishing levels of customization, you won't have to spend hours making things fit here, then do that over there, and then connect this to that, etc.
With Drupal, you just add a module, make a few custom changes and you're done. One of our favorite modules: Static page caching. This makes for quick photo and large file load times. Ideal for the photographer.
3. Drupal Manages User-generated Content Intelligently
If you thrive on user-generated content (think user submitted blogs, videos, polls), then this one's for you. Drupal comes with an intelligent architecture that helps establish relationships among differing types of content and then categorizes them.
This saves you the time and energy of making sure everything fits and makes sense. Drupal makes managing your content fast and simple, giving you more time to do what you love: create!
4. Want your Designs to go International? Drupal Does That
Fun fact: The  average number of languages spoken per person is 1.58. Another fun fact: There are over 6,500 different spoken languages on earth. Unless you plan on learning all 6,000+ languages, Drupal has you covered with its Internationalization plug-in for multilingual support. Showcase your art in different languages simultaneously and save money on translation services.
That means your photo journal, blog entry or graphic design could go viral in several languages!
5. Drupal Sites are Spacious
In Drupal, you can have thousands of pages and subpages. And then some. On top of that, you can add as many users as you want to help you edit/maintain those pages. If you have a site limitation and space issue, Drupal is a great fit.
Also, to get more space, moving from your old content management system to Drupal is 100% possible. We call this "Drupal Migration." When you migrate, all your content, comments, media and files are transferred without losing any data.
6. Jump the Training Curve Quick – Drupal is Easy and Fun to Learn
We get it – you're a creative and that means your time is always valuable. On top of that, the idea of learning a new system might give you the jitters. Rest easy! If done right, managing a Drupal site is very simple and intuitive. Also, as mentioned before, there is a big community of Drupal users and groups that love helping newbies learn the ropes.
And there you have it – our six reasons why Drupal is a great fit for creatives. If you're looking for a content/website managing system that is flexible to your needs and makes your creative work look fabulous, then Drupal is right for you.