900dpi have announced the release of a brand new blogging feature, adding another vital dimension to their platform.
900dpi is a charming hosted CMS, which allows you to use DropBox to build a website – which I think is pretty cool. All you need is a DropBox account, along with some basic coding skills, and you're good to go. I covered the features and functions of 900dpi not too long ago.
Using the newly revamped 900dpi toolbar and editing box, you can add dynamic blog content to your website including images, videos, lists, links and more.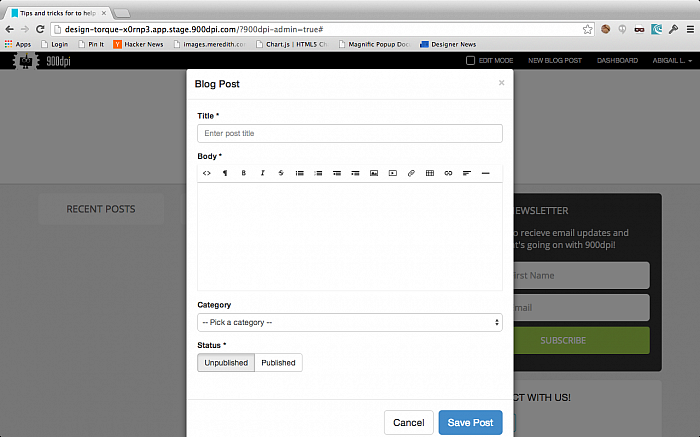 The tool provides all the functionality of more complicated blogging applications, but does so in line with 900dpi's ethos of simplicity. Your blog can have its own dedicated homepage displaying recent posts, whilst authors can be assigned, and so forth. Plus, it's still all within DropBox.
Introducing a blogging function is a no brainer really, but 900dpi gave some reasons anyway, as to why they decided to take the blogging plunge:
The average small business blog garners a 55% lift in site traffic, and as many as 31% of consumers make purchasing decisions based on blogs, according to HubSpot.com. That's a lot of marketing potential for your small biz and self-employed clients!
This release comes just as we brought you 15 blogging tools that encourage you to write.
For information about how to implement a blog into your 900dpi website, check out this resource.
To find out more about 900dpi, visit their official website.