CMS Critic's very first featured week is all about DNN Software, and we're now taking a closer look at how DNN Evoq 8 helps to ease platform migration for brands through some stellar integration options.
The .NET platform is trusted by over 2,000 brands worldwide, including a range of Fortune 500 companies. DNN was also the 2014 Critics' Choice Award Winner for Best Small to Midsize Business .NET CMS.

The Importance of Integration
Adopting a new platform for your website (or websites) isn't the easiest task in the world, especially if it means having to leave behind the extra apps and solutions your company already works with.
For example, if your company depends on Microsoft Sharepoint as a digital asset manager, switching to a CMS which doesn't readily support such integration will hit your team hard. The double whammy of having to adapt to a new CMS as well as having to live life without Sharepoint will be a difficult pill swallow, for everyone.
Of course, Sharepoint is but one example, with most companies relying on a range of intranets and marketing suites to keep workflows in check and business in order.
Hence, the heightened importance of solid integration options — because nobody wants to deal with that double whammy.
All The Essentials, And Then Some
After already discussing DNN Evoq 8 from a advocate marketing standpoint, let's now delve into what it serves up on the integrations front.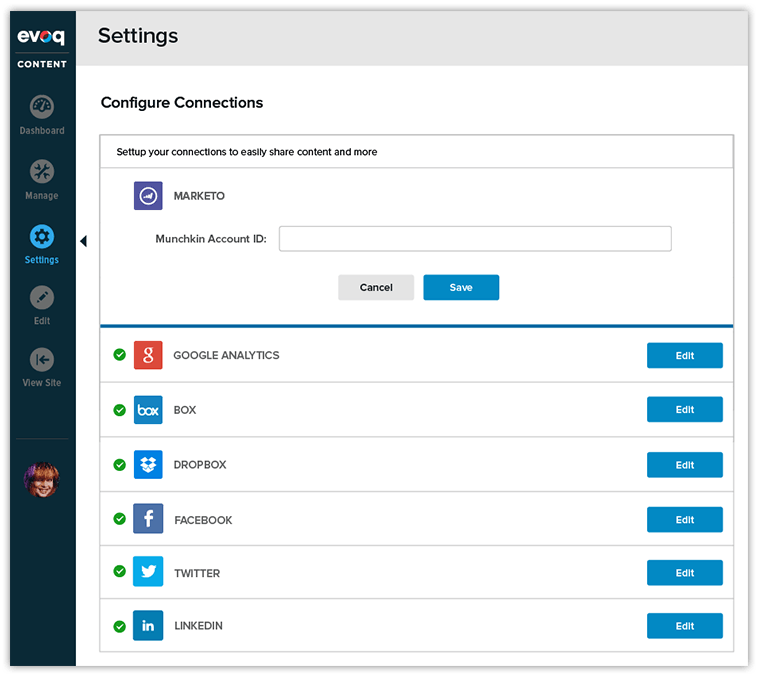 According to DNN, Evoq 8, "connects easily to popular cloud marketing software and social media networks, so you can use familiar and preferred solutions to extend your website's functionality."
Here's what DNN serves up as readily available integrations:
Google Analytics integrates just as easily as it always does.
Marketo can be configured even without any technical knowledge.
Storage Solutions including Box, Dropbox, Amazon S3 and Sharepoint can all be accessed simultaneously from a single window.
Extended Microsoft Sharepoint integration, with features that enable you to schedule publications, push documents, share lists, and synchronize files between Evoq Content and SharePoint.
But that's not all.
DNN Evoq 8 also boasts a fully fledged store, which is home to a vast array of modules built to extend website functionality.
Many modules have been developed to add functionality in their own way, while others are there to help integrate with systems like Mailchimp, Google Maps, and so forth.

And just in case none of that is enough, DNN also allows you to craft custom integrations via Evoq API.
DNN's powerful development libraries are there to help you build interactive web applications, integrate with ERP, CRM, marketing automation systems, and much more.
So, with all of those integration options and tools on offer, it's safe to say that DNN Evoq 8 is equipped to help any brand avoid the aforementioned double whammy during platform migration.
And of course, it's also more than ready to help existing DNN customers expand their website functionality.
To find out more about DNN Evoq Content 8, visit their website. Also, be sure to explore more of DNN Evoq Content through our CMS Directory.