As we enter our second featured week here at CMS Critic, our focus turns to the Telerik Sitefinity platform.
Recently acquired by Progress, Telerik Sitefinity is an ASP.NET web content management and marketing platform. The solution is trusted by some of the world's biggest brands, including Toyota, Audi, Kraft Foods, and NASA.
Mike Johnston recently travelled to Telerik's California headquarters while on the CMS Critic North American Tour, where he interviewed Robert Mattson, Telerik's Director of Product Marketing. Mike was also given a highly detailed product walkthrough before his visit was over.
Crowned winner of the 2014 Critics' Choice CMS Award for Best Enterprise .NET CMS, Sitefinity is a platform to be reckoned with.
To kickstart our featured coverage, let's begin with an overview of the powerful features of the Sitefinity platform for both enterprise-grade content management and digital marketing.
Simple, Even When Complex
"There's usually an ease of use to complexity curve. You can be easy to use, but can you still be easy to use when things get tough and complex? That's something I think [Sitefinity CMS] excels at." – Robert Mattson, Director of Product Marketing, Telerik.
On top of crisp presentation across the platform, Sitefinity CMS maintains its simplicity by making use of drag-and-drop interfaces for when it comes to general content management such as in-line page editing.
Furthermore, approval workflows, versions histories and granular permissions help to keep both content and marketers in check.
When it comes to gleaning information from customers and visitors, marketers can enjoy the Sitefinity CMS intuitive form building features, which can once again be managed through the drag-and-drop interface.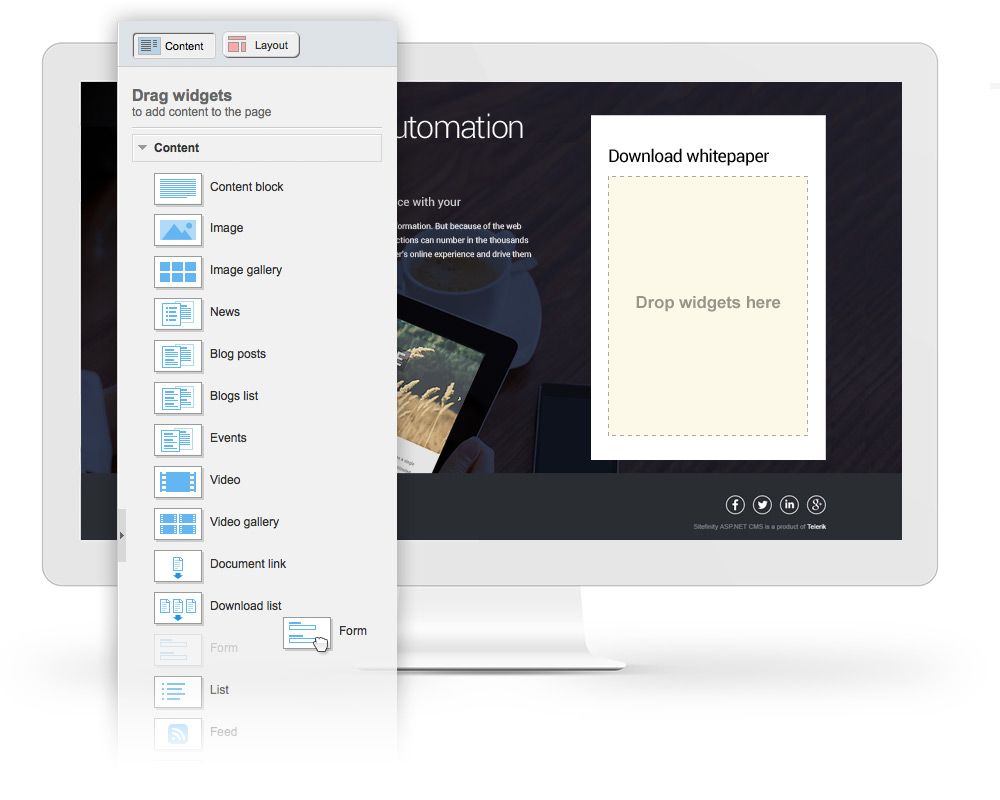 Sitefinity CMS also employs powerful digital asset management, enabling marketers to manage assets from a central location, giving them organizational features such as  hierarchical libraries, categories and tags.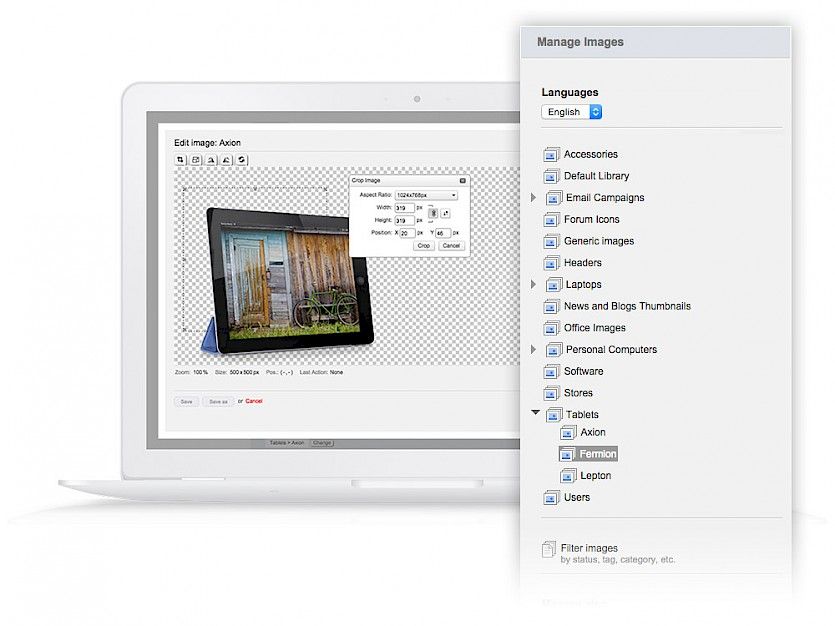 The platform also provides ample SEO features to help push websites further up Google's rankings.
Learn more about Telerik Sitefinity's content management features.
A Digital Marketing Command Center
Since the latest release of Sitefinity back in March 2015, the platform now works in tandem with Telerik's standalone Sitefinity Digital Experience Cloud (DEC), serving up what the company calls a, "Digital Marketing Command Center".
By using Sitefinity CMS and Sitefinity DEC together, organizations can benefit in the following three ways.
1. Gather Omni-channel Information: With data connectors pulling information from Sitefinity CMS, Salesforce.com, Marketo, Microsoft Dynamics CRM, mobile apps  or other sources of customer interaction, the customer journey repository in the Sitefinity DEC becomes a single source of truth.
Having this extensive context enables marketers to see interactions between an anonymous site visitor, known prospect or existing customer, and all aspects of a company's sales and marketing functions. Thus, the marketer can make far better informed decisions about how to hone the entire process.
2. Enhanced Insight: The Sitefinity DEC uses machine learning to relate how groups of customers and prospects interact through all channels. Interestingly though, the platform then provides specific recommendations for how to move those customers toward their goals more effectively.
3. Real-time, Actionable Data: The solution unveils trends that enable marketers to target their actions and run and adjust campaigns in near real time.
The Sitefinity DEC provides predictions toward opportunity improvement, while the Sitefinity CMS enables marketers to personalize and optimize marketing programs, or restructure web properties on the fly, to guide people on a personalized customer journey.
Hence, the two platforms working side by side help to streamline the job of monitoring and acting on incoming information.
Additional Sitefinity DEC features include persona management, third party data source integration, advanced customer analytics, automated lead management, and more.
Learn more about Sitefinity Digital Experience Cloud.
For more details on Sitefinity visit their website. You can also explore more of Sitefinity via our CMS Directory.