We are proud to announce our latest addition to the site! Our new CMS Directory which is now available for use. When we decided to start putting this together, we wanted to ensure it offered value to our readers so we incorporated some very cool functionality and data that should be able to help you in your CMS selection process.
Here's how the directory looks when you first visit it (and we encourage you to do so):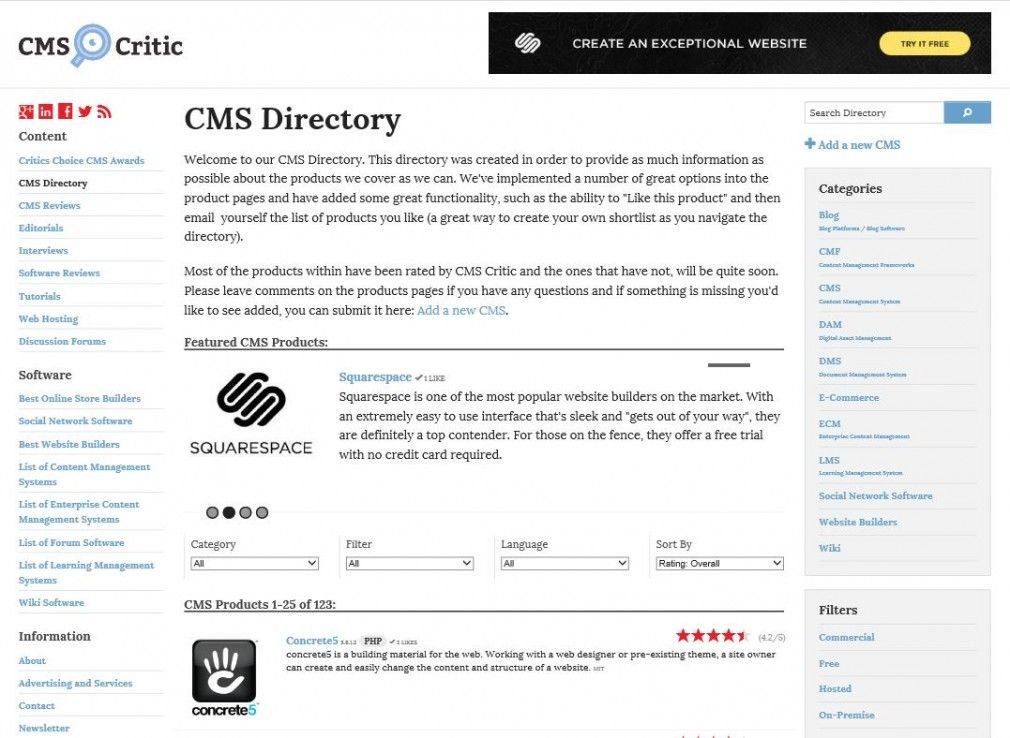 As you can see, we have a list of featured vendors in a slideshow, followed by a number of ways you can sort the directory to help find the products you need. For instance, you can sort by directory (or click on one in the right-hand column) and in the instances where you don't know what an acronym means, we've also listed the definition underneath it. You can filter the list by items such as Free, Hosted, On-Premise and Commercial. You can filter based on programming language and you can sort by a number of items such as specific ratings, number of likes, date added and more!
We're really worked hard to give you as many options as possible as you can tell.
The ratings you'll find on each CMS are assigned by CMS Critic based on our impressions of the product and may change as new versions are released. These are here to give you an idea as to which areas the software is strongest. We've also got a new "Like" system which doubles as a means to create a shortlist. For example, if you browse the directory and click like on a few products, you'll see a link appear on the right sidebar that looks like this:

Clicking on the CMS Products you liked link will take you to a page that allows you to view your likes and also email yourself a list of them.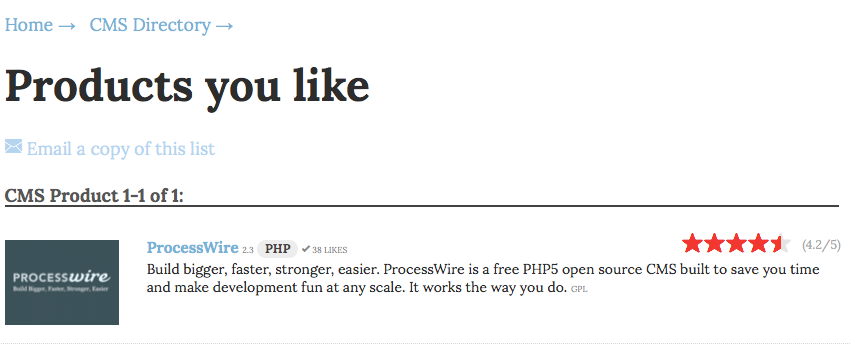 This is super handy for creating a shortlist of products as you browse the directory and then emailing them to yourself for further research. Pretty cool isn't it?
Here's what a directory page looks like (keep in mind that some will not contain all of this data as not all companies offer screenshots or videos but we did our best to catch as much as we could and are continually improving the listings):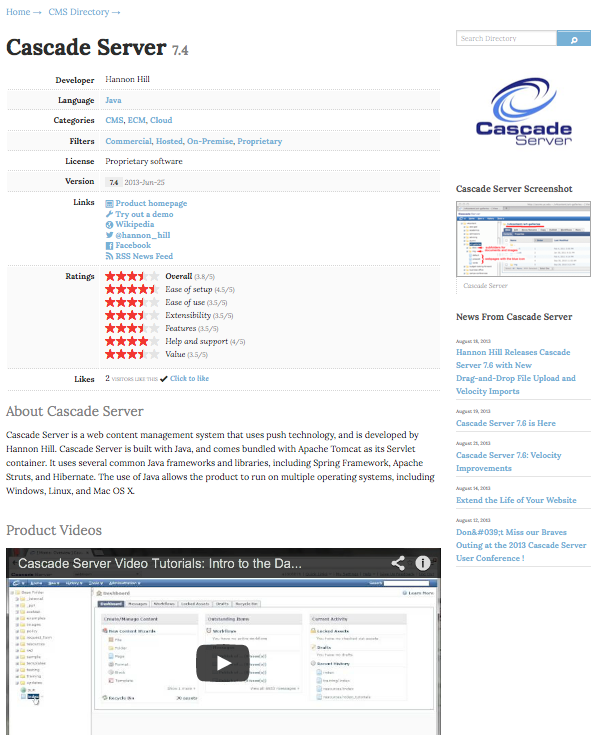 As you can see, it's chock full of information. We've included social links, RSS feeds automatically pulled from the company and displayed in the right column, screenshots of the product (where we were able to find them anyway), videos of the product from Youtube or Vimeo, full ratings in a number of areas, likes, links to product demos on the companies website and much more!
You can also comment on each page and leave your thoughts and see all related posts (and reviews!) we've written about the products!
We hope you love it as much as we do and if there's anything you think we can add that would help make it better, please let us know. If we've missed something that should be listed, use the Add a new CMS link, fill out the form and we'll have it up as soon as possible.
Thanks everyone and enjoy the brand new CMS directory!