It is with great pleasure that I announce the winner of the 2015 People's Choice CMS Award for Best Enterprise CMS. We had some strong contenders this year with Cascade Server, Sitefinity and CrownPeak in the running and the voting was very, very close. In the end, it came to a very close battle between Sitefinity and Cascade Server but only one winner came out ahead.
The winner for this year, according to your votes is..
Cascade Server by Hannon Hill!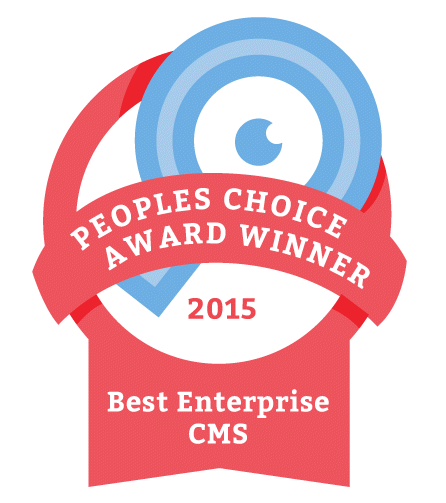 With Cascade Server, you can go beyond just managing your content to amplify your content with SEO scoring, stale content reporting, social media analytics, easy form builders, RSS feeds and other tools to help you improve the quality and reach of your web content. Cascade Server is a Java-based "push" CMS that can either be installed locally or hosted in the cloud by Hannon Hill. End user features include in-context editing, drag and drop file upload and move, WYSIWYG editing, HTML editing, auto-saving of drafts, and spelling and link-checking. Cascade Server offers straightforward pricing with unlimited users, unlimited sites, unlimited pages, and publishing to an unlimited number of web servers.
Learn more about Cascade Server.
This year was an amazing year for the People's Choice CMS Awards. With thousands of votes cast, we were absolutely blown away by the amount of participation this year and we're pleased to say it grows leaps and bounds year over year. Thanks to all who voted and congratulations to our first winner!