The 2015 CMS Awards were the most broad yet, with new categories being added into the mix to reflect the dynamic world of web content management. The award, "Best CMS for Marketers" was one such addition.
Following the nominations stage, it was a closely fought battle between three big players; Sitecore, Kentico and Sitefinity. All worthy candidates of course, but the people could choose only one winner.
I'm pleased to announce that the Best CMS for Marketers 2015 is…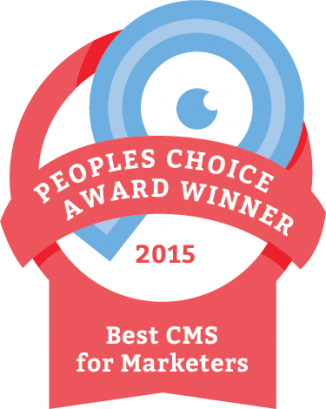 A big congratulations goes out to the Sitefinity team!
After Progress' acquisition of Telerik Sitefinity on the cusp of 2015, changes were expected, and they were indeed made. The unification of Sitefinity CMS and Sitefinity Digital Experience Cloud for example, was one such change for the enterprise-grade platform.
2015 also saw CMS Critic host a featured week for Sitefinity, where I personally got to grips with the product and its core features.
Be sure to check out the Sitefinity website for more information about them.