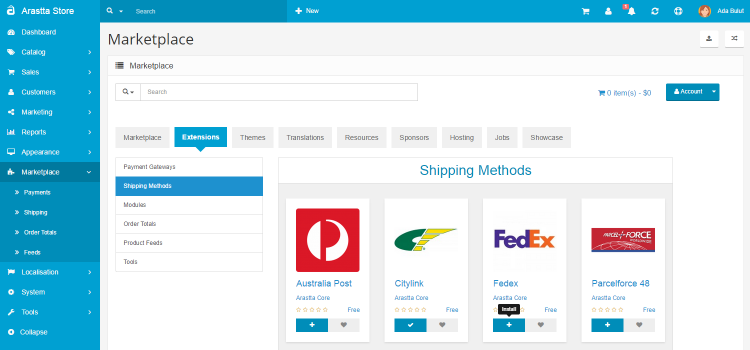 Most Arastta store owners don't need to extend Arastta core to sell their products, thanks to the Arastta Cloud platform which boasts features that let anyone create an online store in seconds.
But online stores vary and store owners may need to extend their store's capability with extra extensions like payment gateways, themes, translation, shipping modules, and so forth.
All of the popular eCommerce platforms support 3rd party extensions, but sometimes it become a complex procedure to install an extension, especially for beginners.
This is because you need to register on their marketplace site, find the extension you need, purchase and download it, and then think about how to install it.
Some eCommerce platforms even redirect you to third-party developer sites to download certain extensions, which can be risky in terms of compatibility and security.
Streamlining the Installation Process
Even if all goes well, you now need to log in your admin panel and install your new extension via extension(s).
This can often be tricky, and it's also a common time for errors to occur – frustrating you further.
Arastta solves all of these problems with its fully integrated and built-in marketplace feature which we call the Arastta Appstore.
Just like Apple's Appstore and Google's Google Play platform, it's a peace of cake to install an extension in your Arastta admin panel. Yes, that's right, you don't need to leave your Arastta admin panel and browse another website to purchase, download, or install an extension.

If you are an Arastta Cloud user, it's even easier (as Arastta download users need to get an API key from within their admin panel first).
Cloud users just have to navigate to the Marketplace menu from the admin panel and find the desired extension. Then, users can simply click on the plus icon – and bingo! – it's installed on your store.
What if the extension you want to install is a paid extensions? Thanks to built-in Arastta Appstore you can purchase any extension without leaving the admin panel and marketplace area. Simply purchase and install!
Uninstalling an Extension
Uninstalling an extension is also very easy. You can uninstall any extension from your Arastta store's Extensions page but also you can directly uninstall them from your marketplace. Just find the extension you want to remove and click on the minus icon to uninstall it.
Multiple API Keys
Let's say you are a web design agency and have one Arastta marketplace account. You purchased all the extensions you use generally on your customers site. But how to install those extensions for different Arastta installations and marketplace instances? No bother!
Arastta marketplace provides multiple API key management. So you can create unlimited API keys and use each of them for your each customers. Even better, you can assign each API key to any extensions, so one key can download some of the extensions, while another one cannot access those extensions. It's all up to you and very easy to manage yours and your customers' extensions via Arastta marketplace.
Web Version
Arastta marketplace is also available as a website. So you can always visit Arastta.pro[https://arastta.pro] website and browse, signup, download and purchase extensions. Also if you are a developer you can even add your own extension to the Arastta marketplace and start earning money.
Visit Arastta.pro website for more information.
---
This post is sponsored by Arastta. Find out more at arastta.com.