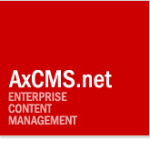 Axinom, European WCM vendor, today announced the next version of its WCM solution AxCMS.net 10, which streamlines the processes involved in creating, managing and distributing corporate content on the internet. The new solution helps reducing ongoing costs for managing and distributing to large audiences, while at the same time drastically reducing time-to-market and one-time setup costs.
Axinom's WCM portfolio, based on the Microsoft .NET Framework 4, Microsoft Visual Studio 2010 and Microsoft Silverlight 4, allows enterprises to increase process efficiency, reduce operating costs and more effectively manage delivery of rich media assets on the Web and mobile devices. Axinom solutions are widely used by major European online brands in IT, telco, retail, media and entertainment industries such as Siemens, American Express, Microsoft Corp., ZDF, Pro7Sat1 Media, and Deutsche Post.
Brand New User Interface built with Silverlight 4
By using Silverlight 4, Axinom's team created a new user interface for AxCMS.net 10 that is optimized for improved usability and speed. WYSIWYG mode, integrated image editor, extended list views, and detail views of objects allow a substantial acceleration of typical editor tasks. Axinom's team worked with Silverlight Rough Cut Editor for video management and Silverlight Analytics Framework for extended reporting to complete the wide range of capabilities included in the new release.
"Axinom's release of AxCMS.net 10 enables developers to take advantage of the latest features in Silverlight 4," said Brian Goldfarb, director of the developer platform group at Microsoft Corp. "Microsoft is excited about the opportunity this creates for Web developers to streamline the creating, managing and distributing of online corporate content using AxCMS.net 10 and Silverlight."
Rapid Web Development with Visual Studio 2010
AxCMS.net 10 is extended by additional products that enable developers to get productive quickly and help solve typical customer scenarios. AxCMS.net template projects come with documented source code that help kick-start projects and learn best practices in all aspects of Web application development. AxCMS.net overcomes many hard-to-solve technical obstacles in an out-of-the-box manner by providing a set of ready-to-use vertical solutions such as corporate Web site, Web shop, Web campaign management, email marketing, multi-channel distribution, management of rich Internet applications, and Web business intelligence.
Extended Multi-Site Management
AxCMS.net has been supporting the management of an unlimited number of Web sites for a long time. The new version 10 of AxCMS.net will further improve multi-site management and provide features to editors and developers that will simplify and accelerate multi-site and multi-language management. Extended publication workflow will take into account additional dependencies of dynamic objects, pages, and documents.
"The customer requests evolved from static html pages to dynamic Web applications content with the emergence of rich media assets seamlessly combined across many channels including Web, mobile and IPTV. With the.NET Framework 4 and Silverlight 4, we're on the fast track to making the three screen strategy a reality for our customers," said Damir Tomicic, CEO of Axinom Group. "Our customers enjoy substantial competitive advantages of using latest Microsoft technologies. We have a long-standing, relationship with Microsoft and are committed to continued development using Microsoft tools and technologies to deliver innovative Web solutions in the future."