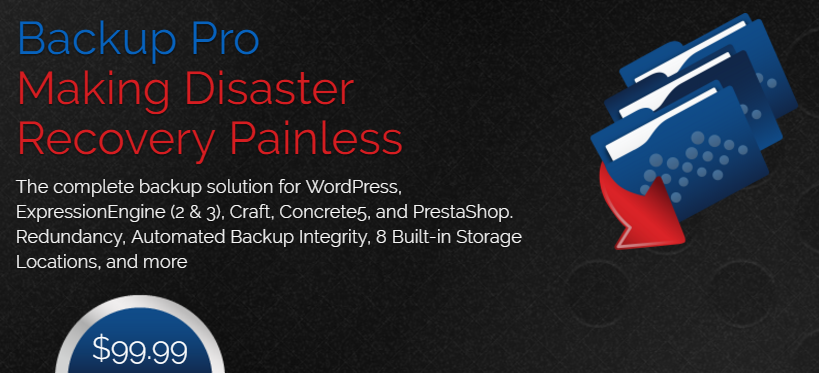 Backup Pro is a CMS agnostic data backup tool that forgoes the cloud to put your website data in your hands.
Launched back in 2011 by the programmer and entrepreneur Eric Lamb, Backup Pro has built a reputation for being feature-rich and flexible in the face of disaster recovery.
At the time of writing, it supports the following five content management systems:
WordPress
Prestashop
Craft
ExpressEngine (2 & 3)
However, support for other content management systems is coming.
Backup Pro allows for abstract storage of website backups through any combination of local storage, Amazon S3, Rackspace, Google Cloud Storage, Dropbox, FTP (with SSL), SFTP, and even an email inbox. Plus, you can create your own storage engines for complete control over your backups.
A command line interface also allows you to take backups with Backup Pro without involving Apache into the process. And since Apache applies limits to PHP, using the command line interface for Backup Pro ensures your backups never fail due to time and/or memory issues.
Another handy feature is the 'Integrity Agent', which is an automatic system that inspects your backups looking for errors and missing data – so you don't have to.
What's more is, thanks to the REST API support, Backup Pro users don't just have total access to their data, they have absolute control over it, too.
In this review, I'll be focusing on how Backup Pro handles itself with WordPress – which I feel is the most relevant platform to focus on, considering 26% of the known internet runs on WordPress.
Plus, there's no difference in functionality between the different "versions" of Backup Pro.
First Impressions
I always start my reviews on the vendor website, and this review is no different.
Backup Pro was crafted by Eric Lamb, and he has decided to host the product on his personally branded Mithra62 website, where it can be purchased and downloaded.
It's sold alongside Mithra62's other products, which include Automat:ee, Securit:ee, and Export It.

The website itself is clean and professional, with a dark color scheme. There's nothing wrong with it in terms of design, but it certainly doesn't feel prestige, either. And on that note, I think it's fair to say that a re-branding project wouldn't go amiss.
Nevertheless, let's get down to business.
Getting Started
After downloading Backup Pro, I uploaded it to my WordPress test site like any other plugin, to test out the functionality.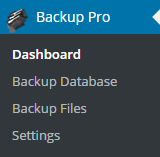 After installation and activation, I checked out the Backup Pro interface. To access Backup Pro, you'll find it on the sidebar, consisting of four sections:
Dashboard
Backup Database
Backup Files
Settings
Here's a close look at all of them.
Dashboard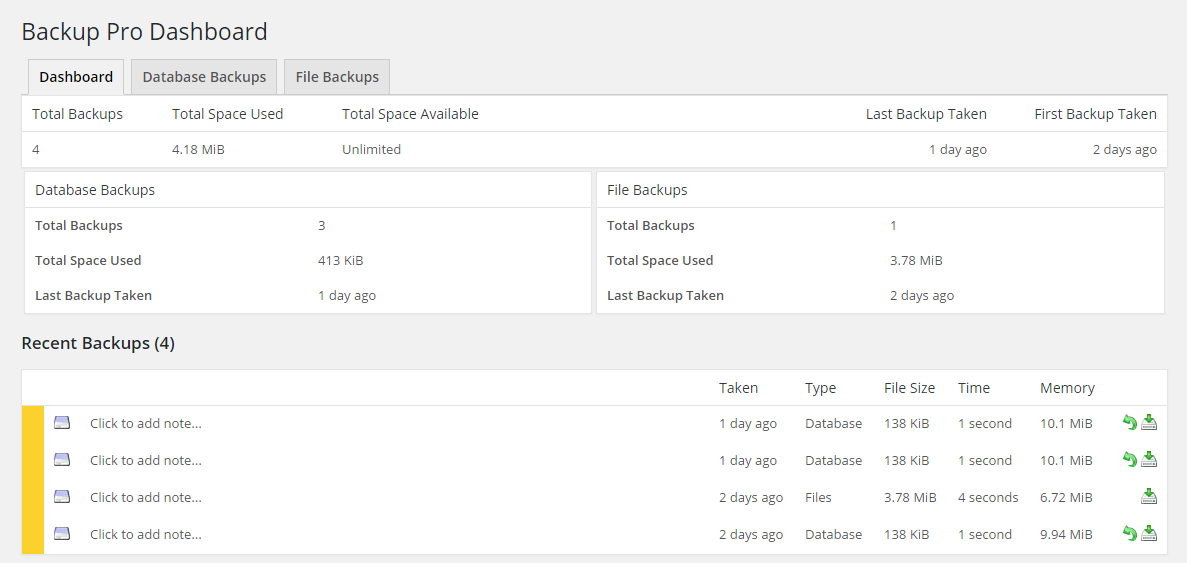 The Backup Pro dashboard is very easy on the eyes, and doesn't try to do anything fancy to take up your WordPress menu or screen space – like many other plugins try to do.
It gives you an overview of the backups you have already created by showing you how many backups you have taken, the total space taken, the total space available, as well as the date of the most recent backup.
This overview is also segmented to show database backups and file backups individually.
Beneath all of that, is a list of your most recent backups. It gives you everything you need at a quick glance, and does nothing too fancy – just the way I like it.
Backup Database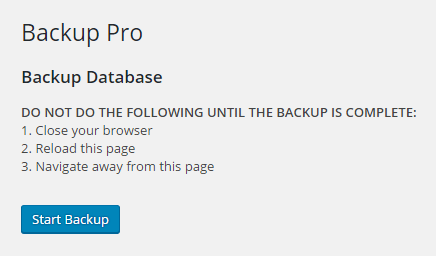 To backup my site's database, I only needed to head over to the Backup Database section and click Start Backup.
The resulting backup took a matter of seconds, leaving me with.
I was able to see all my recent backups listed, and I could also leave a note on each one, to help me remember exactly when and why I made that backup – if necessary.
Backup Files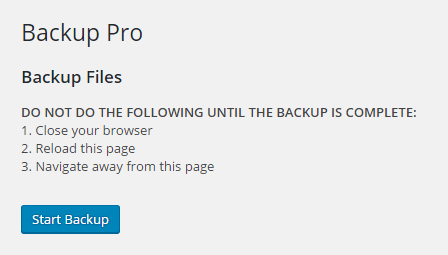 As with the database backup, a file backup can be done via one click of a button, and it all worked just as fast. Of course, the speed will largely depend on how large your website is.
Once backed up, I was able to see the backup in my list, restore it, or download it to my computer. The download conveniently came as a .zip file.
As with the database backups, I was also able to leave notes for each of my listed backup.
I took multiple backups, downloaded them, restored them, and tinkered as much as I could. It all worked seamlessly.
So far, so good!
Settings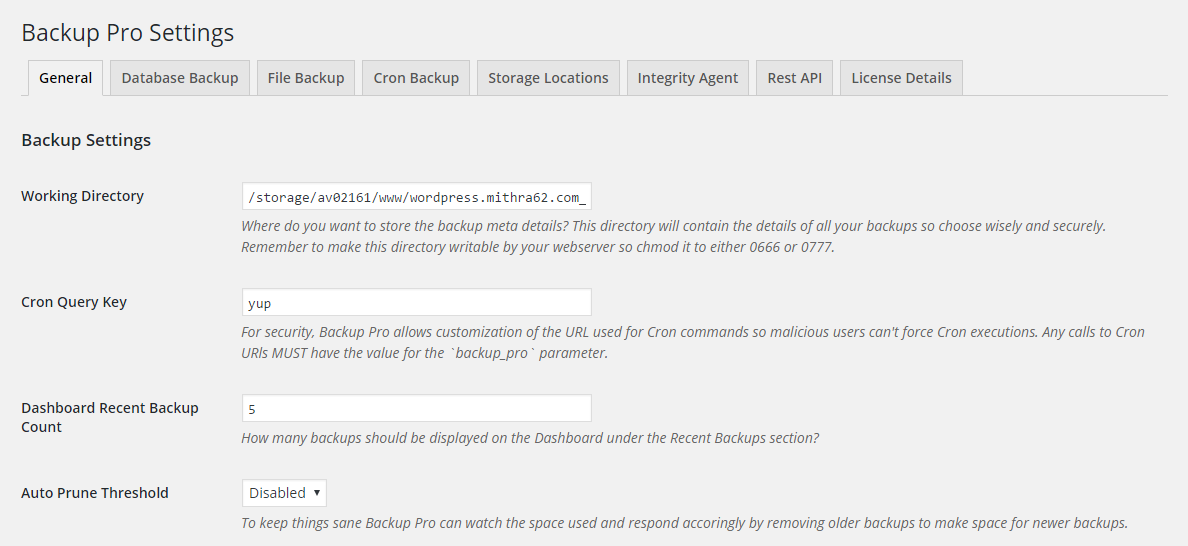 The settings page is where things take a more technical turn.
From here, you can configure things to do with:
Database backups
File backups
Cron backup
Storage locations
Integrity alerts
Rest API
Additional SQL commands
Generally speaking, you won't need to touch these settings, but it's good to know that you can change things like the maximum amount of locally stored file backups and the file format of database backups – should you ever need to.
Getting Help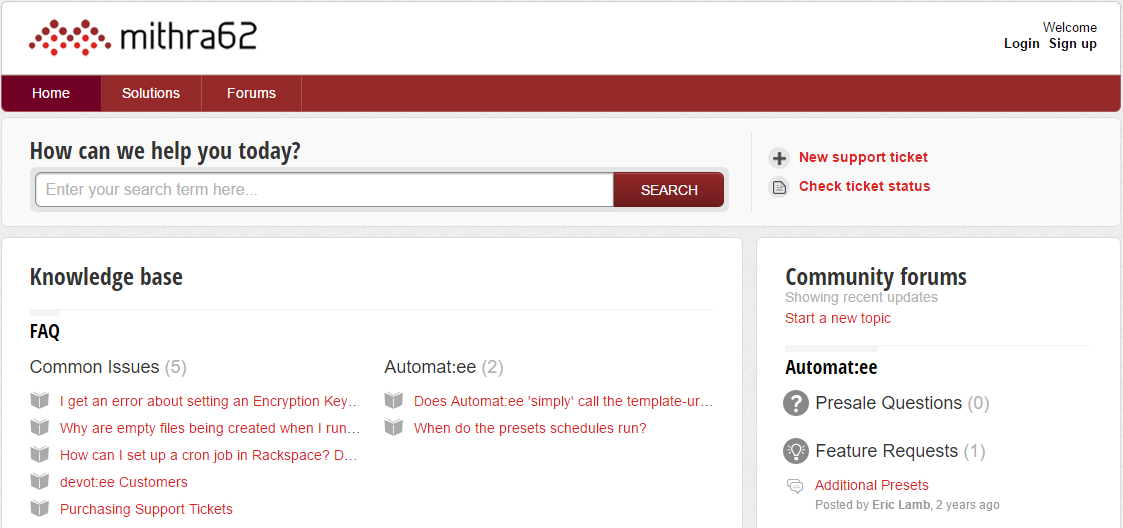 If you run into any trouble, Backup Pro offers some decent support options on its Support page.
There's a searchable knowledge based with a decent amount of FAQs, along with a small support forum to pose questions if needed. Neither are extensively detailed, but they are there.
There's also a trackable ticketing system if you need some more hands-on assistance.
As for documentation, there's a whole lot of it that can be found on the Mitha62 website, which details everything from configuration to automation.
Plus, Eric Lamb's personal approach will come in handy if you need help. He personally runs the Backup Pro twitter account for example, so you can reach him there.
In fact, during the course of this review, I actually uncovered a minor bug and reported it back to Eric Lamb. He fixed it almost immediately.
Pricing
Backup Pro currently sells for $99.99, which is a great price when you compare it to the long term costs of cloud-based competitors.
If we compare that one-off fee to some worthy competitors, we'll see why Backup Pro makes more sense financially.
CodeGuard's cloud service charges you $5 per month, while DropMySite charges $2.50 per month. Even if you go for the latter option, Backup Pro becomes the cheaper option before the two year mark.
The Verdict
Backup Pro does what it says on the tin.
It poses solutions for the problems brought about by cloud-based backup services, and makes it easy to keep all your data safely offline as well as online (across a wide range of storage options).
I'm not a huge fan of the branding that surrounds the product, but that's a minor issue with no bearing on the product itself, which is nothing short of great.
Furthermore, the fact that is works with a good range of popular CMS – and promises to work with more soon – is something that I have to commend it on. However, in order to really push Backup Pros' USP as a CMS agnostic tool, more content management systems need to be on the list. Particularly Joomla and Drupal.
To find out more about Backup Pro visit the Mithra62 website.