If you have ever written anything online, you'll know that it can often be a challenge figuring out how to best position your content and gain visibility for it online. Thanks to a tool called InboundWriter, the writing process just became a whole lot easier. For those looking to develop a content marketing strategy, this product should be on your list.
What exactly is it?
InboundWriter is a web-based content optimization application that helps content marketers and professional writers of all types to create web-friendly content. There is also a WordPress plugin, which can be installed from the WordPress plugin repository.
How does it work?
The application/WordPress plugin suggests popular keywords as you type, empowering you, the writer, to make informed decisions regarding striking a balance between style and optimization for the web.
Until now, the traditional online writing process was broken into separate stages – research, writing and optimization. InboundWriter combines them all into a single application by integrating real-time insights from a variety of web sources, including search engines and social media, directly into the writing process. Documents created in InboundWriter are scored on a scale of 1 to 100 based on their findability and in accordance with the content optimization strategy, as identified in the settings by the writer. Signing up and exploring the insights and automation that InboundWriter provides is completely free. Professional users may upgrade to a premium account with unlimited editing and no advertising for a monthly subscription fee.
What I Think About It
I think InboundWriter is an excellent tool to help writers get back to the business of writing and I think it's extremely useful for those who have been pushed into a blended role of creator/marketer. It removes the stress of having to figure out how best to position your content for maximum exposure. If you are in the process of trying to define your content marketing strategy, InboundWriter should definitely be on your list of applications to consider adding to your repertoire.
I'm a big fan of choices and InboundWriter gives you plenty of them. At any time,  you can choose your content marketing strategy, effectively telling InboundWriter what your goals for the particular piece of content are.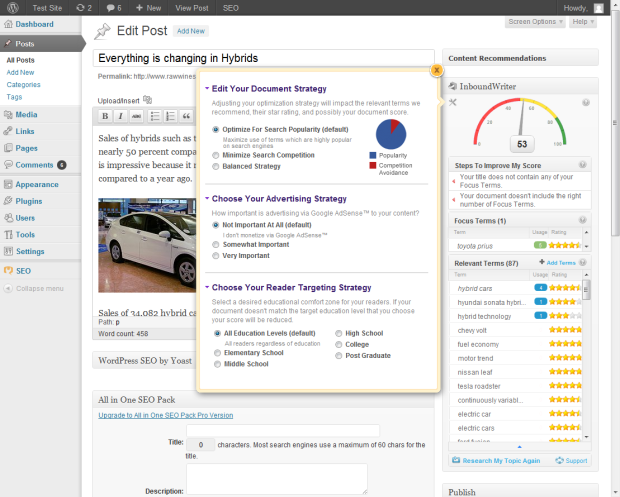 Once it has your goals in mind, the system changes it's focus and guides you in the writing process by providing new suggestions and recommendations as you write.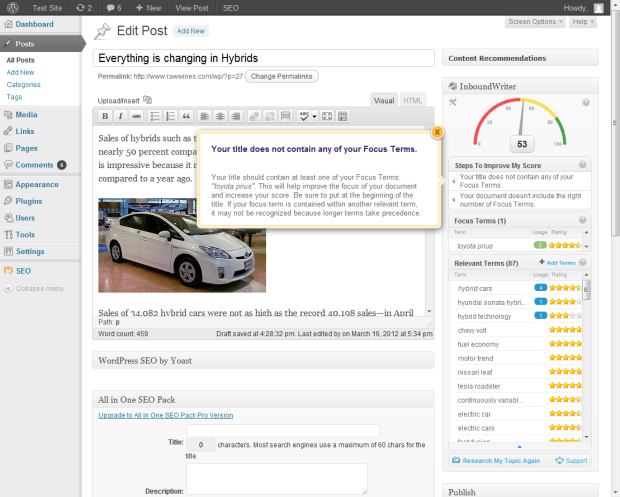 The stars in the screenshot above show you which terms are more likely to give you higher traffic & exposure, allowing you to alter your content accordingly. This is handy if you, like me, are unsure at times which keywords are the best to use as focus terms for your content.
Once you've completed all of the steps suggested by InboundWriter, you should have a score that shows green and the gauge in the software should show you in the 80-100 range (shown below). This is how you determine that you've done a good job targeting your content.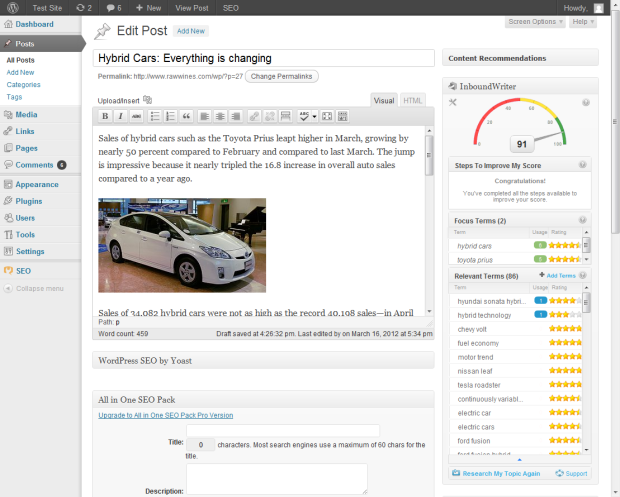 If you haven't taken a look at InboundWriter, I'd suggest implementing it as part of your writing process. You can always get started for free and once you've seen the benefits of this great piece of software, I've no doubt it'll become part of your content marketing strategy.
Take a look at InboundWriter today and start getting your content the exposure it needs.
Since we like InboundWriter so much, we're giving away 2 free licenses. Leave a comment below to be entered to win. Winners announced on September 8th, 2012.