Bitrix has announced the release of Bitrix Site Manager Version 11.0. As of this version, Site Manager is no longer only a platform for the creation of sites, but also for development of Cloud-based web services. Among the most notable product enhancements are: Bitrix Cloud Storage with support of Google Storage, Amazon S3, Windows Azure Storage, OpenStack and others; Geo-distributed Web Cluster for smarter and more secure web traffic distribution, and Project Quality Control tools.
Bitrix Cloud Storage
The move to Cloud-based services is undoubtedly a major trend in technology, and support of the system mentioned above, as well as CDN (Content Distribution Network), is critical to Bitrix Site Manager . Bitrix Cloud Storage accelerates uploading of files, which is especially important for multimedia and size-hungry content types. Beyond this, the site owner saves significantly, as Cloud storages are cheaper than space provided by standard hosting.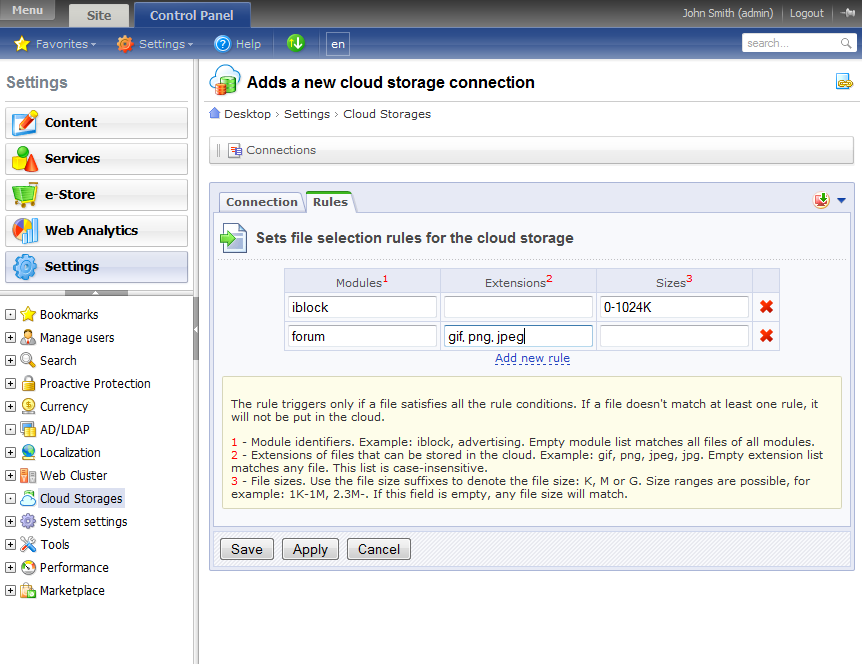 Managing file distribution rules in Bitrix Cloud Storage
"The average CMS is not a viable method for working in the Cloud. We made modifications throughout our product to make this version a 'Cloud platform' for web development which meets the requirements of major Cloud infrastructures. We support the open standard of OpenStack Swift API and encourage hosting companies to develop their own Cloud solutions." – said Sergey Rizhikov, CEO, Bitrix, Inc.
Project Quality Control
For the majority of developers and clients, a key question in project development is control of the quality of the implementation. Version 11.0 is equipped with a Project Quality Control tool which offers a set of mandatory and supplementary tests that ensure optimal quality of integration of the design, the program's external environment, security, performance, and hosting settings within the system.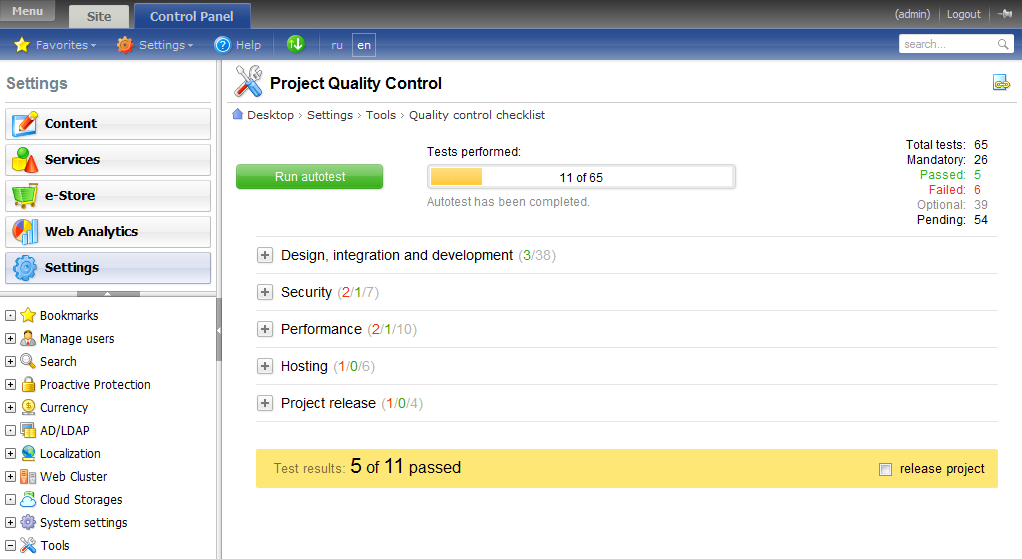 Quality Control test categories
Geo-distributed Web Cluster
The new Geo-distributed Web Cluster module increases project availability and provides independence from a given data center. By enabling installation of the cluster in data centers located in different cities or even countries, the likelihood of a power outage or natural disaster interrupting service approaches zero. If one data center goes down, a replicated server in a different location compensates, with no need to restore a backup. Site performance is also improved by distribution of workload among data centers.
Other important changes and enhancements
Among other remarkable changes made in the product the following are worth mentioning:
Secure authorization using the RSA algorithm with a 1024-bit key – protection from password theft even in the absence of SSL (for example, free WI-FI hot spots in cafes, airports, etc.);
Social Search using a unique user influence system to weight content and user ratings;
Improved search quality with better accounting for spacing and punctuation;
Automatic Time Zone settings – all dates and times used in news articles, comments, or e-store orders are now shown with respect to the time zone where the user is currently located;
New Admin Dashboard at the backend of the product now has individually configurable desktops with drag-and-drop gadgets and quick search;
Significant improvements in the Photo Gallery including two additional themes (skins), a new thumbnail slider, and comments displayed under the original image and in the Live Feed;
Built-in tool for generating short links right in the front-end;
Support of Schema.org microformats in the e-Store for better search engine indexing;
Auto-saving for forms – if there is an interruption before a web form is submitted, the dialog box, when opened the next time, will offer a restored version;
User interface usability improvements in Forums, Blogs, WYSIWYG Editor, and other features;
Virtual Appliance 3.0 with Web Cluster support;
Over 150 additions, improvements, and changes, affecting 33 modules of the product.
How to upgrade to version 11.0?
Current Bitrix Site Manager owners with active subscription for technical support can upgrade to Version 11.0 at no charge using the SiteUpdate feature in the product. The new version is available for download as a free 30-day trial version (www.bitrixsoft.com/download/cms.php), or can be tested online using the instant 3-hour demo (https://bitrixsoft.com/products/cms/demo.php).