Braindigit announces the release of SageFrame 2.1, an enhanced version of SageFrame2.0.
SageFrame is a highly extensible CMS, that helps users build their sites, and builds them to perfection. SageFrame is an open source CMS that is released under the MIT License and built on ASP.NET technology. As a matter of fact, SageFrame is much more than a CMS; it is a CMF (Content Management Framework) that is scalable, extensible and provides enhanced user experience. Further, it empowers users with all the essential tools required for developing custom modules, applications, templates and various-purpose websites with ease, convenience and simplicity. SageFrame employs an extensible modular architecture and implements role-based security.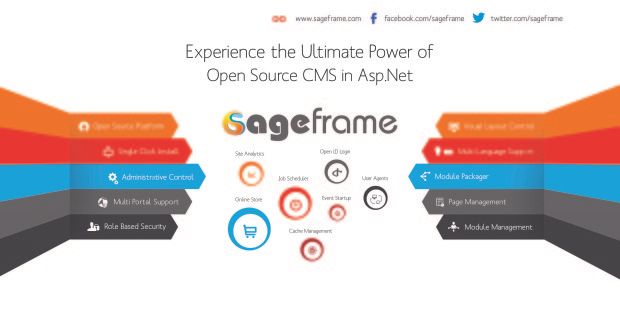 SageFrame 2.1 users can now use Open IDs like Facebook, Yahoo, etc. to login to the SageFrame. They can perform cache management, look at the site analytics, priorities events on system startups, schedule events, create and manage multi-portals, and make their sites multi-lingual. Furthermore, SageFrame users can customize their page by adding preset templates to their site. While adding such templates, the original data associated with the templates is also fetched. Another notable improvement that SageFrame 2.1 includes is that the pages built on SageFrame 2.1 are compatible with both handheld devices and PCs.
There are strong incentives for SageFrame 2.0 users to migrate to SageFrame 2.1, as this SageFrame version is truly built for developers, crafted for designers and developed for site administrators and comes with several powerful and handy features. Further, it comes with several bug fixes and security updates. For more information users can visit www.sageframe.com and see SageFrame in action at http://demo.sageframe.com/