Need a form with an embedded YouTube video and PayPal integration? JotForm can do that.

The web browser based form builder lets you build a highly functional form right on their website's homepage. You can then embed the form on your website, access the source code, or even save it for later. It's a very clever and very accessible form building solution, and there's even a free plan to make use of.
Now though, to round off their feature set even further, JotForm has unveiled Form Analytics.
Feature-rich Forms, Tracked & Analyzed
JotForm has been around since 2006, and it boasts a feature set to reflect that.
With over 8,000 form templates, 380 widgets and 100 integration options, JotForm offers every user a wealth of creative avenues.
Not to mention, This new release is following up from several previous ones in quick succession, including an advanced Form Designer, Theme Store, migration tool for displaced Adobe FormsCentral users, and a Fillable PDF Form Creator.
As for the new Form Analytics tool itself, it comes bearing data regarding impressions, conversion rates, devices, and more. Plus, the tool presents all numbers visually, as any good analytics system should.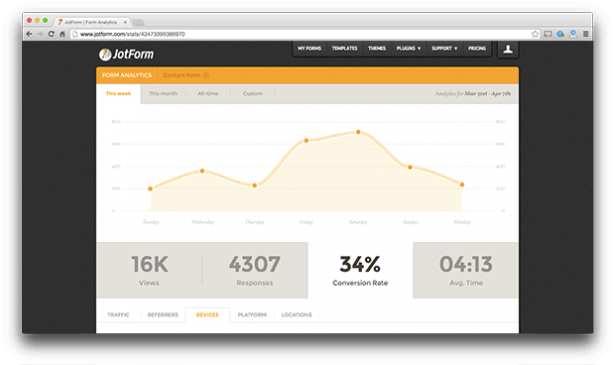 JotForm's founder and CEO, Aytekin Tank, had this to say upon the announcement:
"This feature is really going to help our users discover how to make their forms more effective. Having this kind of data is going to go a long way toward improving any form's performance.

Knowing how well your forms are performing is a key step for businesses everywhere.

This is the kind of tool that can help save or make a company a lot of money."
To get started with JotForm, visit their website.