Cascade Server version 7.10 by Hannon Hill has today become available for download.
Hannon Hill's award-winning Enterprise CMS now boasts several new user experience features and improvements, from the admin dashboard to the end-user mobile experience.
So, here's a look at the highlights of what's new with Cascade Server 7.10.
Progressive Disclosure, Better Dashboard & Mobile Experience
It's always great to see developers listen to their customers, and so we'll start with the fact that Hannon Hill have implemented the second most popular idea on their customer idea exchange by introducing Progressive Disclosure.
Users can now select dependencies between Data Definition fields where one field will be hidden unless a specific value is selected in another "parent" field. This allows  for progressively showing more fields to the user as needed and hiding other fields that are irrelevant when editing structured data Pages and Blocks.
For example, suppose a Data Definition contains an "Address" group containing a number of data definition fields used to capture address information.  This group can be configured such that it will only be displayed if a user changes the value of another data definition field called "Include Address?" to "Yes".
Parent fields can be radio buttons, checkboxes, dropdowns, and multi-select boxes.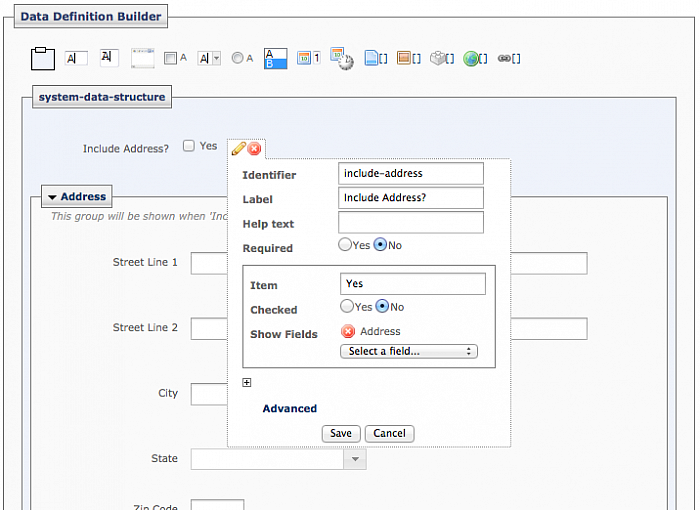 What's more is, the Home area Dashboard has received a face-lift, allowing every user to be able to customize their own dashboard for each site. The dashboard has been split into widgets that can be dragged and dropped to a new position or removed from the dashboard completely.
The Stale Content widget, the Content to Review widget, and the Analytics widgets can also be configured to show specific information in particular time frames.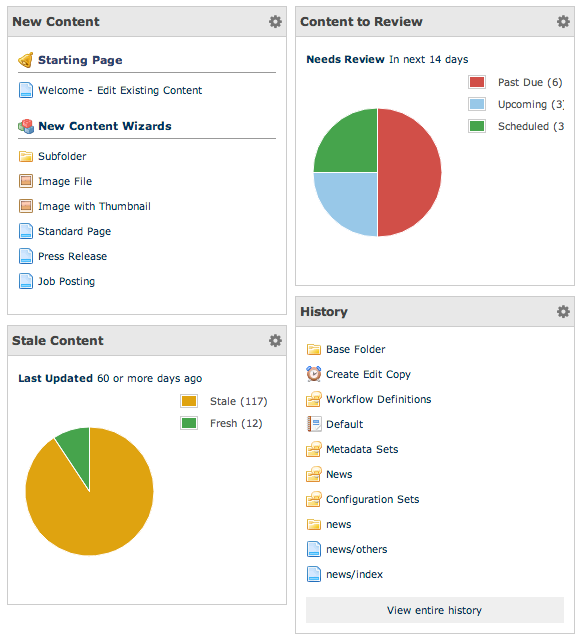 The dashboard is also responsive and compatible with most mobile devices.  The layout of the dashboard will seamlessly transition from a 3 column layout down to a 2+1 layout and then finally down to a single column layout as the viewport gets smaller.
Additionally, in a continuing effort to improve the Cascade experience on mobile devices, a number of mobile bugs have been addressed and improvements implemented that allow users to better interact with Cascade using their phones and tablets. This effort began in the 7.8 series and will continue through 7.10 and beyond.  
Thanks to these improvements introduced in version 7.10, Cascade's goal of creating a mobile experience as close as possible in functionality to the desktop experience for all core Cascade features is now a few steps closer.
Such changes include:
A mobile optimized login screen
Responsive home area dashboard
A fixed 800px width viewport for mobile devices
Improvements to editing to allow better navigation of edit forms
Addressed issues with the layout on mobile devices including an issue with the site dropdown sticking during scrolling
Advanced Code Editor, UI Improvements & More
The Advanced Code Editor as introduced in Cascade 7.4 has been added to the HTML View in the WYSIWYG.  This adds things like syntax highlight, code folding, line numbers and other convenient features to HTML editing.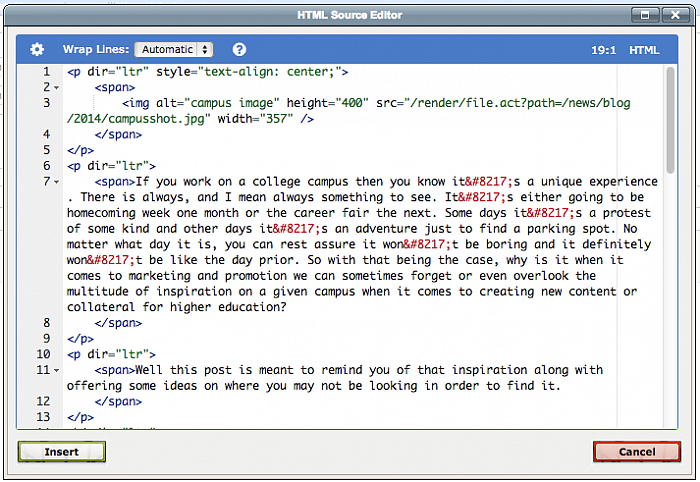 Also on the list of updates, Cascade users can enjoy some revamped control icons, which make them easier to distinguish and easier to click.
This includes the links to expand and collapse folders in the left-hand navigation: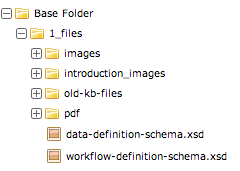 Along with added controls to re-order, add and remove multiple fields when editing pages and blocks: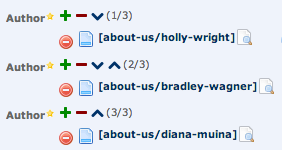 Over the next two weeks, Cascade will be releasing a series of blog posts to give you more details about the major improvements in 7.10, but you can also learn about the new features in the 7.10 Release Notes, the 7.10 Press Release or by signing up for the 7.10 Release Webinar, to take place February 26th at 2PM Eastern Time.
To download Cascade Server 7.10, check out the official Downloads Page.