WordPress powers millions of websites and blogs worldwide. More than 60 million in fact, according to Wikipedia. And this number is constantly growing.
'What makes it so popular?' you may ask. Well, the answer is simple – WordPress is easy to setup and use. This CMS allows users to build almost any type of website – from blogs to multipage websites, online portfolios and even eCommerce websites.
One more thing to mention is the wide variety of WP themes available. As you know, a WP theme is a fast and easy way to "dress" your site, so it is not such a bad thing that the web is flooded with millions of free and premium WordPress themes, developed to serve multiple purposes.
Below we offer you an overview of the 12 essential components to which one should pay special attention when choosing a WordPress theme. Consider these elements and build a website that will set you apart from the rest.
12 Things To Look For When Choosing A WordPress Theme
In this section you may consider 9 basic elements that most popular WordPress templates boast. Making use of them, you can not only save time and effort on site development and management, but also start a project that will be in demand among the online audience. So, read on and remember these suggestions.
1. Responsive Design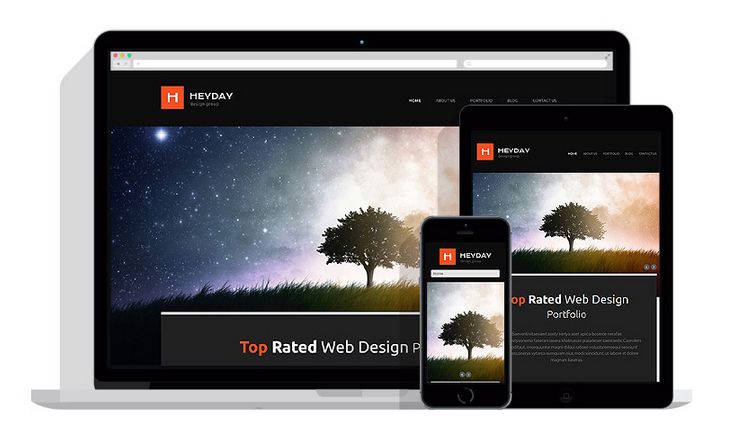 This is one of the indispensable features any website struggling to gain customer loyalty should incorporate. It's no secret that modern users are shifting from desktop to handheld devices, so targeting mobile shoppers is the win-win solution.
Think about this for a moment – would you stay on a page that doesn't display content properly on your smart device? I really doubt that. When choosing a responsive WordPress theme you may feel secure your blog or website will adapt to any screen size, showing all elements the way you intended.
Prime example: Heyday
2. Auto Upgrades & Support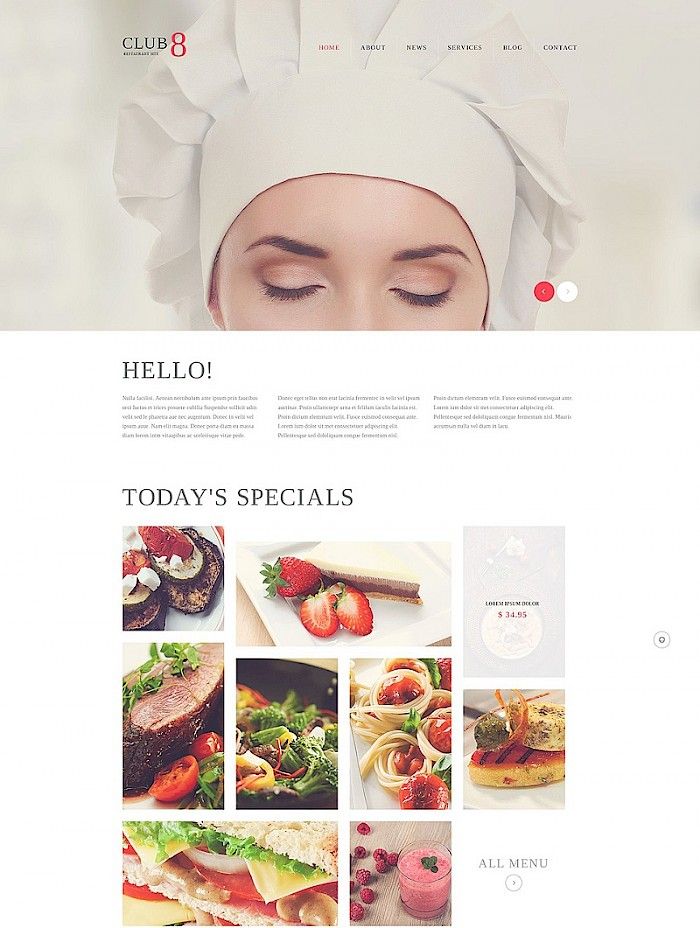 No matter how stunning the look of the theme you've picked, customer service is what really sells. The good thing is that WordPress templates from trusted companies like TemplateMonster come with auto upgrades and free 24/7 support.
Prime example: Club8
3. Navigation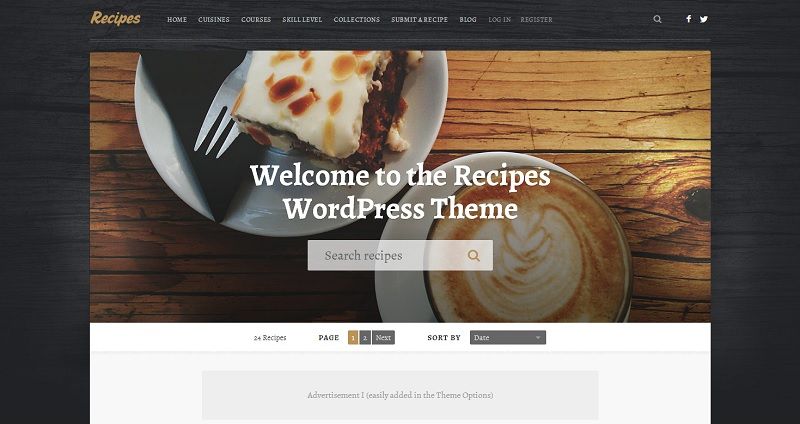 You may have great content, a beautifully designed layout and several easy-to-reach social sharing buttons from which to choose, but all your efforts will be in vain unless you make your site easy to navigate. If the layout looks cluttered and users can't figure out your site, they will simply leave.
Making your website easy-to-navigate is a key to success. So be sure to choose the theme that has a clean and intuitive navigation.
Prime example: Recipes
4. Social Media Integration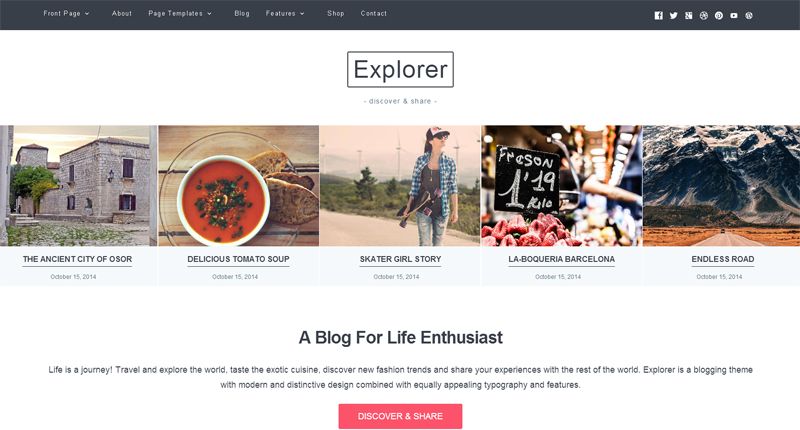 It's unusual to find a modern user who doesn't have a social media account. If you are running a blog or a corporate website, chances are you are trying to attract more users to participate in discussions and comment/like/share your posts.
With the help of social sharing buttons this can be easily achieved. Social media integration is known as a proven effective way to increase page views and sharing stats.
Prime example: Explorer
5. Easy Customization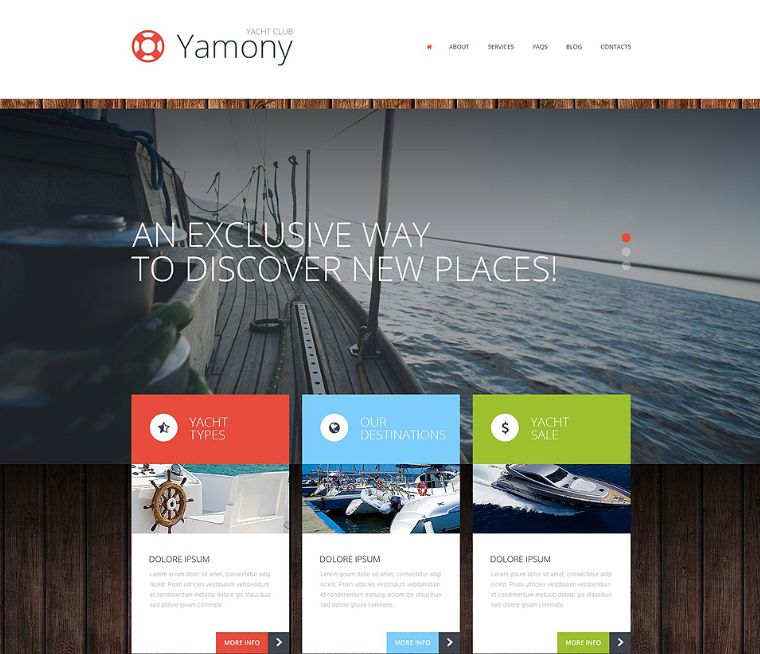 When buying a theme, check out whether or not it's easy to customize. Some template providers will give you a theme together with detailed guides on installation and management. Depending on what goals you pursue, check out the advanced options with which the theme comes packed; does it include the functionality you might need (like calendar, slider, galleries, portfolios, etc.); what kind of standard pages does it offer? How many color/font options will you have at your disposal, etc.?
Also, check out whether the developer provides you with packaged functionality along with the template itself. As a rule, this functionality is not turned on by default.
Prime example: Yamony
6. Fast Load Speed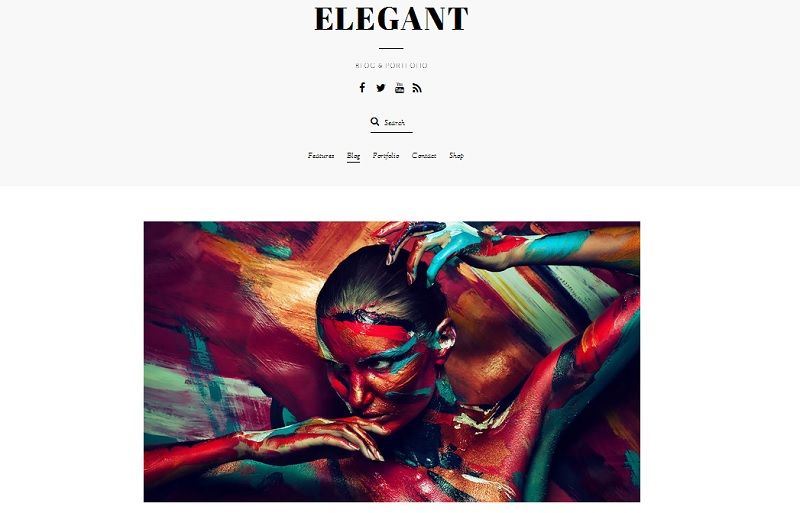 Will you stay on the page that doesn't load quickly? Modern users want everything instantly, otherwise they go elsewhere to get it. On average, people wait for three seconds for the website to load fully. It would seem a three second wait is not that long.
However, when online it can feel like an eternity. That's why you should be especially selective when choosing a WordPress theme for your site. Many problems with load speed will vanish once you pick a well-coded, clean template and dedicated plugins created to speed up your site.
Prime example: Elegant
7. Cross Browser Compatibility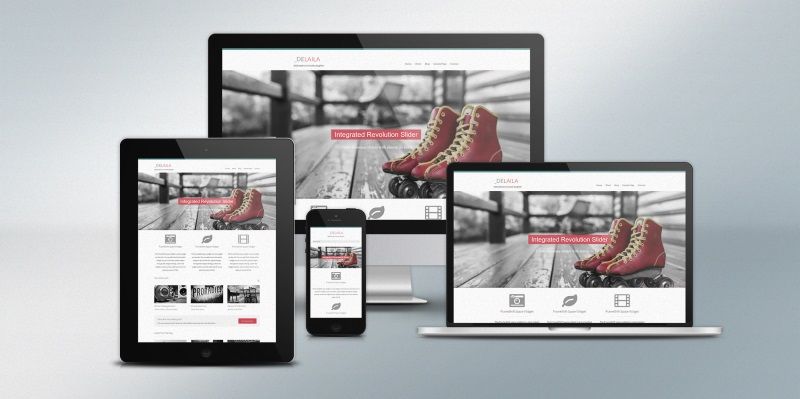 People are using a variety of different browsers nowadays. Alongside such popular solutions as Firefox, Safari, Google Chrome and Internet Explorer, there are many lesser known browsers (like Konqueror) that are also being used to view your site. That's why it's important to know your site will perform properly across all major media platforms.
To release you from the heavy burden of checking out your web page each time changes are being applied, modern template providers make themes cross-browser compatible for you to feel safe these will look and work effectively in all browsers.
Prime example: DELAILA
8. Clean Layout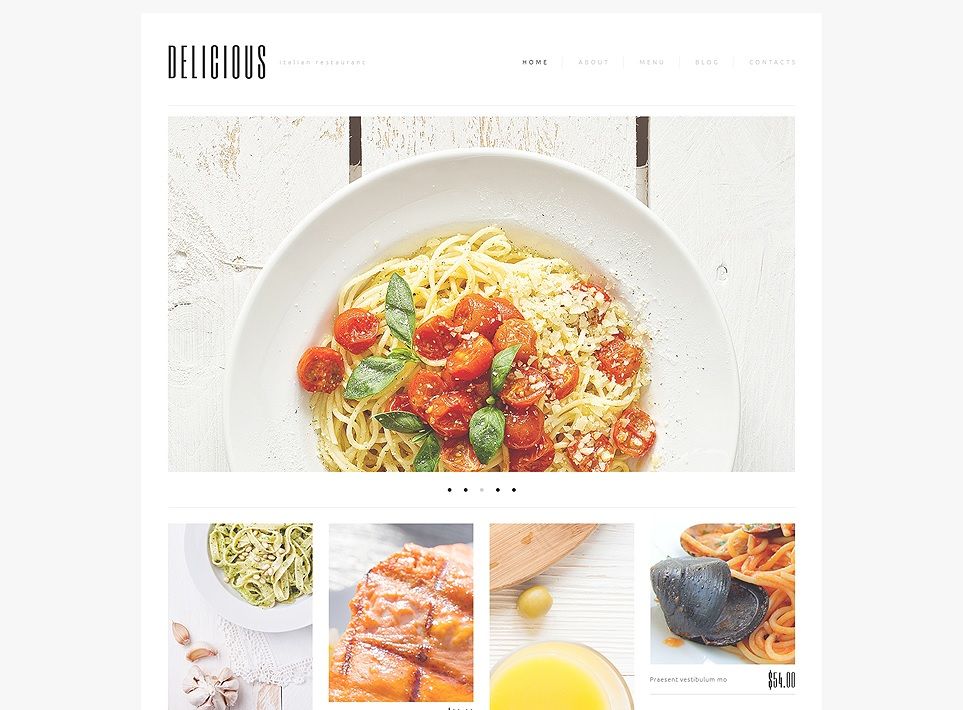 Apart from functionality, design factor should also be considered. It is not always recommended to pick a template heavy in design elements. Clean and minimalist layouts are always in demand. Have a look at the screen shot below.
Delicious is a clean and minimal WordPress theme best suited for developing cafe & restaurant websites. Thanks to the pale background, users can focus attention on the menu and specialties rather than be distracted by heavy graphics.
Prime example: Delicious
9. Unique Design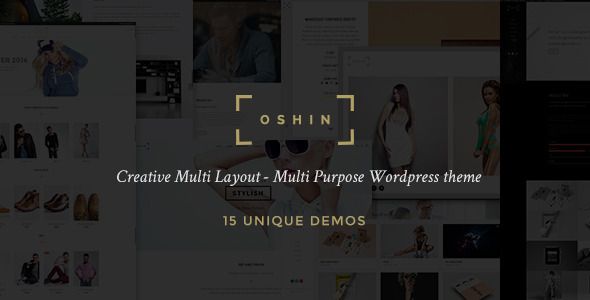 Those who want to stand apart from competitors and grab user attention with something outstanding, can opt for unique designs. As a rule, such resources are very interactive, allowing visitors to participate in storytelling.
For instance, Oshin is a beautifully designed multi-purpose WordPress template with 15 different layouts from which you can choose, 50 page builder shortcode modules, a bundle of free fonts, and much more. Incorporating the latest web design trends, like slow load effect, full- width visuals, ghost buttons, and grids, it was developed to catch the user's eye at first sight.
Prime example: Oshin
10. Cherry Framework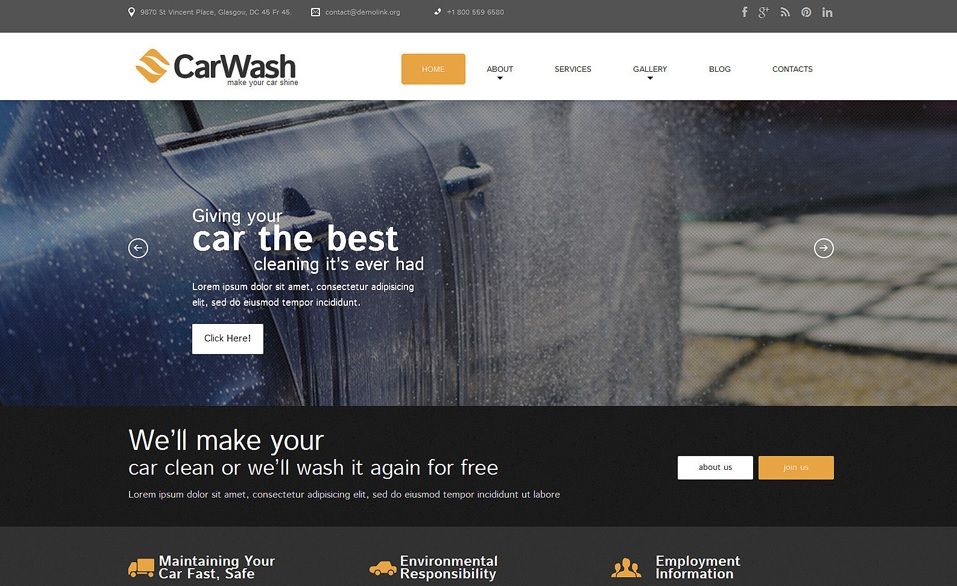 Cherry Framework, along with its child themes, was launched by TemplateMonster. This is a free parent framework that comes with various widgets, shortcodes, and solid Bootstrap options.
Originally released in December 2012, Cherry is now compatible with more than 900 child themes. The admin panel resembles the original WP interface in many ways, allowing even those of us who are not tech-savvy to set up a site and bring it to life hassle-free. Cherry is easy to install, requiring only three clicks. Overall, it comes with most of the WP features, like SEO optimization, excellent support, custom post creation, easy import/export data procedures, XML sitemap generation, and a number of other extra features.
Prime example: Car Wash
11. Custom Widgets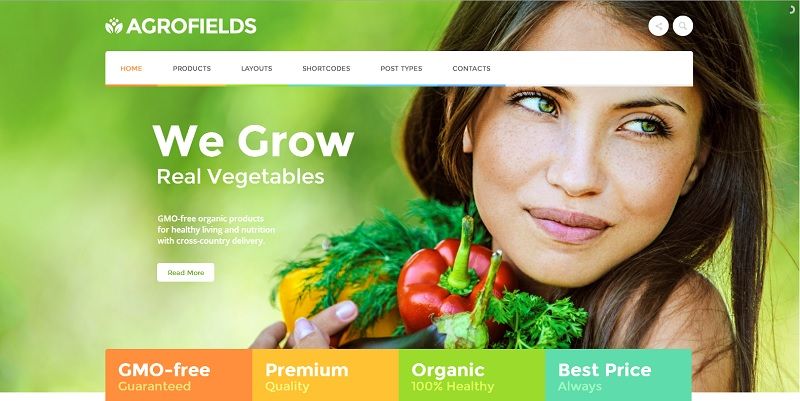 The best part about WordPress themes is that many of them are filled with widgets that you can add to your site. These range from contact forms to menus, full screen slideshows, and other features. When working on the design of your future site, these are some of the elements in the Library adding functionality to your project.
Prime example: Food Shop Premium WordPress Theme
12. Shortcodes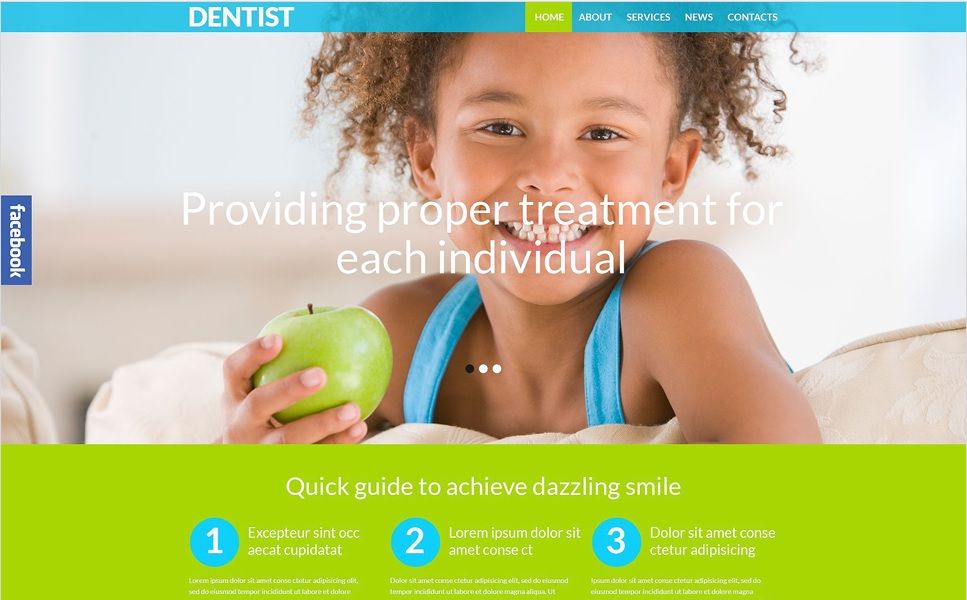 Attaching media data can be facilitated by means of shortcodes. These are known as the easiest way to embed lists, tabs, audio and video data, Google maps, grids, and plenty of other elements into your site. If you need any of the above features, then look for a WP theme that comes with shortcodes.
Prime example: Dentist
Final Thoughts
Although there is no way to guarantee success in the online world, one thing is for sure: by taking into consideration the 12 aforementioned elements you can set up a website that will be user-friendly, easy-to-customize, intuitive, easy-to-navigate, appealing and remarkable. 
Interestingly, free WordPress themes don't lag far behind their paid equivalents, however the latter do provide a number of additional features and functionalities, like free 24/7 support, regular updates, protection from malware of any kind, etc. When looking for a template with which to build your next web project, there are several things to consider in order to obtain a product that is really worth the money. 
If you have any other thoughts or ideas on other elements to consider when choosing a good WordPress theme, you are welcome to mention them in the comments.