Contegro has launched an innovative online Discovery Room that lets people experience the power of Contegro first hand.  Visitors to the site are able to interact with the Web CMS, watch online training videos and participate in live chat discussions. To celebrate the launch, all CMS Critic Readers are invited to trial Contegro by simply visiting http://www.contegro.com/discover and entering this special access code: cmscritic
The founder of Contegro Vaughan Reed developed the Discovery Room to showcase Contegro and its benefits.
"We've continually stated how Contegro is both easy-to-use and hassle-free. Now customers and potential Partners can experience this via our website without the need to contact us first – it makes things so simple."
Reed explains that visitors to the Discovery Room are lead to a demonstration site where they can delve into the heart of Contegro.
"This presents users with an opportunity to play and experience Contegro's innovative Window's style desktop and vast functionality."
Reed believes that the Discovery Room will be of interest to web designers in particular.
"We hope web designers will instantly discover just how hassle-free Website Content Management can be for them and their clients. What's more, there's no need to compromise on functionality, says Reed. "Anyone who wants to see a smart and easy-to-use web CMS in action should check it out."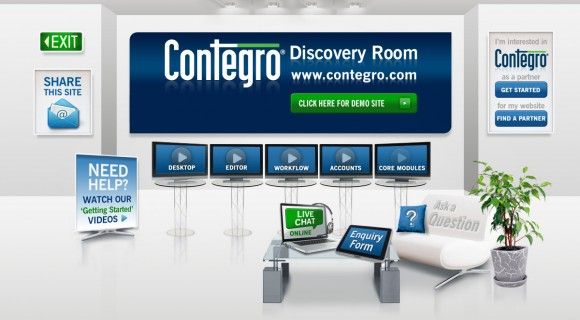 Interested in checking out Contegro? Visit http://www.contegro.com/discover and enter this special access code: cmscritic