CS-Cart, the popular eCommerce solution, has released a newer, faster version of itself.
The platform comes in two editions; CS-Cart and CS-Cart Multi-Vendor. The latter is an extended version of the software, enabling larger outlets to manage and operate from different branches and departments via one website.
Previously, the platform was offering Beta testers of CS-Cart 4.3.1 five free 1-year licenses.
Speed, Blogging & A Variety of Enhancements 
Both CS-Cart and CS-Cart Multi-vendor have benefitted from this update.
Most notably, this latest version is faster than any other release before it thanks to:
SQL query optimization speeds up product search and filtering.
Optimized caching makes the search faster, if you call the same search twice. Storefront pages also load faster on the second visit because CS-Cart 4.3.1 caches the content during the first visit.
CS-Cart 4.3.1 supports Alternative PHP Cache. This technology speeds up PHP scripts on your server. Even well-optimized websites load with a delay because it takes time to execute PHP scripts. APC cache shortens this delay.
JavaScript code was moved to the bottom of pages so that the code doesn't slow down page loading. Store pages now load faster on the first visit.
Additionally, a new CS-Cart Blog add-on lets you create a fully functional blog inside your store. Naturally, this will help merchants to keep their customers informed by posting news and special offers.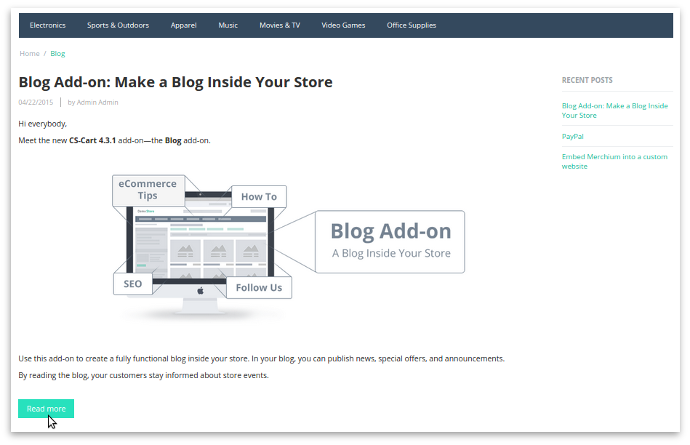 Further enhancements include importing and exporting, a user-friendly upgrade center, and more.
For more information on CS-Cart 4.3.1, check out the official blog announcement.