Do you have an irresistible passion for photography? Do you want to show the whole world your incredible pictures and promote yourself as a professional? If so, you definitely need your personal website to achieve this goal!
Today we will talk about a website you can create even if you know nothing about coding or web development. Or more specifically, about the website template that is believed to save you lots of time and money. This website template is called Defrozo from MotoCMS. Its developers claim that Defrozo is a unique all-in-one solution for a photographer of any kind. Out task will be to analyze what benefits, if any, this photography portfolio theme has in store for us.
DEFROZO is Easy to Use
This template contains Drag and Drop Block Editor with the help of which you may compile your online portfolio yourself. No special skills whatsoever. You do not need any coding experience. Neither the assistance of well-paid web designers or programmers is required. This Creator gives you an opportunity to design your portfolio just playing with the ready-to-use blocks. What I like most about Defrozo is that there are content blocks for every single layout element you can think of. Just move these blocks around till you find the layout you need.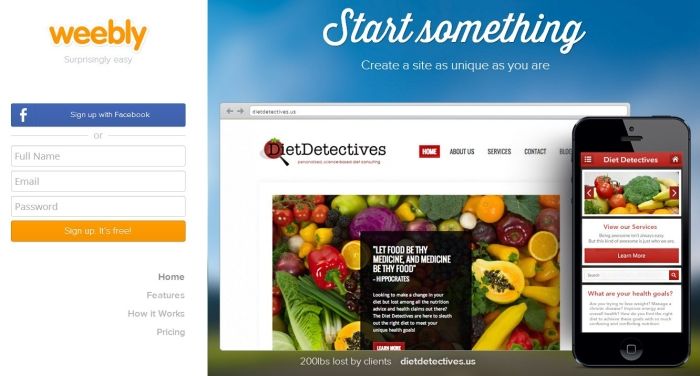 One more irresistible feature of this wonderful photography portfolio theme is 100% responsive design. It does not matter what device your online visitors use. They may have access to your portfolio from any device and it does not influence the quality of your storytelling. The layout and design remain as attractive as they really are.
There is one more characteristic that makes your work of compiling the portfolio much more enjoyable. You can create an original photography website design with 4 made-up templates for every single page. They can help you make your portfolio more vivid and enlarge your clientele.
Being secured is not less important feature for any person. This is especially true for the professionals, like photographers, who promote their services by offering different content to their customers. That is why Defrozo can be proud of its Under Construction Mode (it allows to notify your visitors that you are editing your website) and its activation of Password Protected Pages (it is responsible for keeping your artworks safe using the system of password control). You can enable both options in the very approachable Settings – General tab.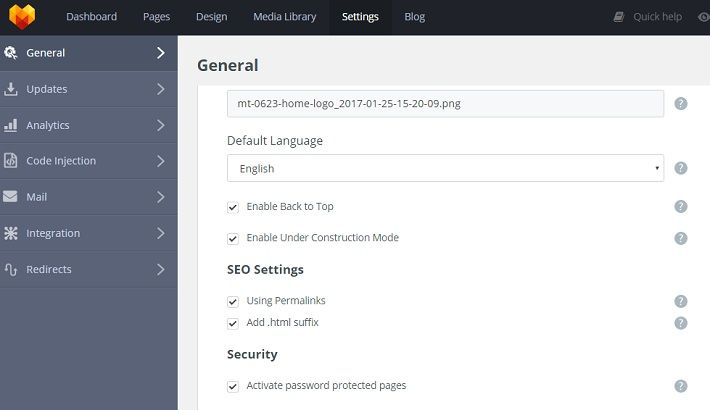 DEFROZO is Fun to Design
Let's start with Color Picker in the Design tab. This is the tool that can help you choose the appropriate color palette for your portfolio design. It literally takes seconds to pick five dominant colors and see how they fit to your portfolio concept. Color Picker gets even more important if you want to redesign your portfolio. You change one color in the color palette and the whole portfolio looks fresh and inviting again. So, there is no need to click through pages and change every single one of them.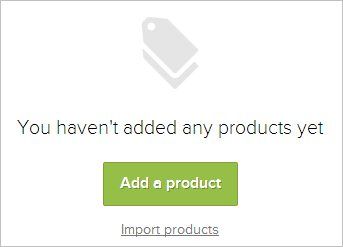 What Defrozo also offers is three fabulous galleries for your photos. All of them you can find in Design – Widgets tab (which, by the way, contains quite a number of useful tools to make your website even more attractive). Exquisite Slider, Grid and Carousel are all at your disposal to showcase your talent and professionalism. Choose the one that you like and your visitors are sure to appreciate it.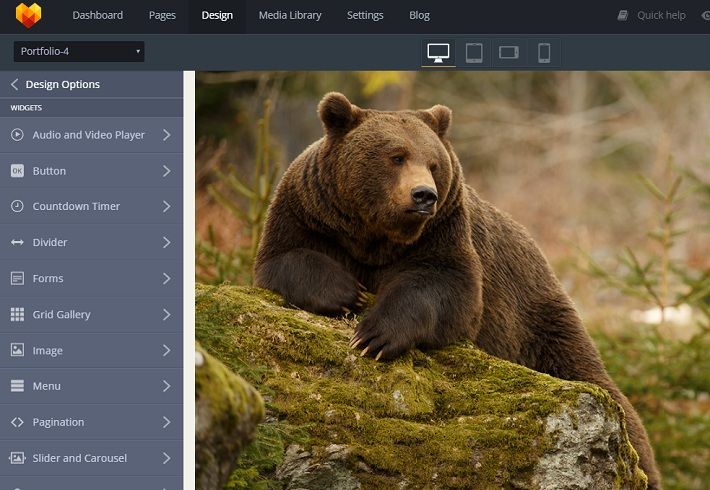 Besides all the mentioned characteristics, there are some more features that are worth presenting. You will definitely appreciate Google Fonts which belongs to the most fascinating developments in web typography so far. Providing you with the rich collection of text styles, this plug-in enables you to add high quality fonts to your website, to make it more appealing.
DEFROZO is Multifunctional
To begin with, Defrozo contains integrated Aviary Photo Editor. You may crop, frame, and add different effects to make your photos more amazing – and you do not need to pay monthly fees for upgrades. What is more, there is no need to install this editor on your computer. Aviary Photo Editor is always at hand, right there in your online portfolio.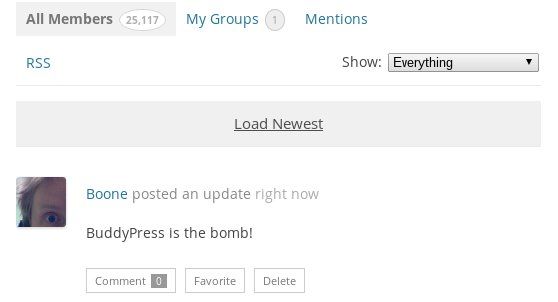 It is also important that Defrozo offers you an excellent opportunity to start your personal professional blog. Your online guests would be glad not just to admire the amazing photos from your portfolio but also to read your informative articles on photography. You can use this blog as a means of promotion, publishing different content for your audience. And again you can do everything yourself, without anyone's help just using the tools that are offered to you.
With Defrozo, you may add interactivity to your portfolio thanks to the smart use of different widgets. For example, it is as easy as it can be to manage media files using Video Widget and Audio Player.
Defrozo can also function as your personalized SEO tool. Do you want to make your photography portfolio noticeable for search engines? Defrozo photography portfolio theme is characterized by SEO integration. Do not miss the chance to use this feature! Add keywords that describe basic information on a web page, the meta description for your website pages, ALT tags and titles for images. You can be sure that search engines will spot your portfolio on the web in no time.
Moreover, it is possible to let your visitors write comments if you are interested in their feedback. And do not forget that they may help you become more well-known just by sharing the articles via different social media. What is more, you can use such option as subscription form to get new subscribers and build your own online audience.
DEFROZO is Attractive Both for Web Developers and Beginners
Defrozo has an appealing offer for cooperation for web developers. Called White Label, it is all about providing developers with an opportunity to create best portfolio websites for photographers with Defrozo under their own brand.
The last but in any case not the least significant feature of Defrozo is its 24/7 Tech Support that is provided by an experienced team of professionals. The newcomers to the web world will definitely appreciate this feature. If you have any problems you need to tackle, you are never left alone with your issues. You can send a message via contact form and your manager will help you fix everything you need.

So Defrozo has proved to be a reliable and user-friendly website template from MotoCMS. No doubts, it can help the whole world know that you are the master of the photography craft. If you became interested with Defrozo, use an exclusive promo code cmscritic30 to get Defrozo online portfolio by MotoCMS with 30% OFF.