dotCMS, the popular Java, open source, content management system, has rolled out version 3.0. Java and Web developers in particular will want to take note.
The update brings about advanced tools and features, including Cluster Auto-scale and Auto-wire, eliminating manual configuration of dotCMS server clusters. This also means that servers can be automatically provisioned or de-provisioned in response to peaks in traffic, making dotCMS more powerful than ever before at enterprise scale.
Targeted Toward Java Developers & System Administrators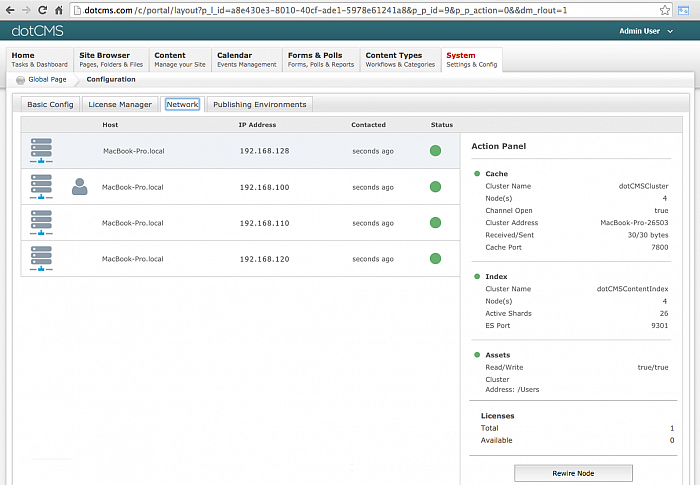 dotCMS 3.0's new enhancements have been targeted toward Java developers and system administrators, with an aim to maximize efficiency and reduce maintenance efforts.
Such enhancements include standard WAR based deployments, moving to modern build and code management tools (Github, etc), and deployment on almost any application server including Tomcat, Weblogic, Websphere, Jboss, etc.
Furthermore, the new built-in Sass and Less Auto-compiler is a unique feature for helping Web developers build modern CSS-driven web applications efficiently. The addition of Multi-type Containers is another example of building features into dotCMS that give developers the freedom and flexibility to build sites the way they want to.
Will Ezell, CTO of dotCMS Services LLC made these comments regarding the release:
"With all the new features in dotCMS 3.0 that help developers move forward, faster, it may not be evident that many of the changes and improvements in version 3.0 have taken place in the background, enhancing the core code. Importantly, this release is a strong step towards building our foundation for delivering more sophisticated and powerful capabilities in upcoming releases. With dotCMS 3.0 we are certainly making our software a powerful delivery system in content management, and the perfect hub at the center of the Internet of Things (IoT)."
My preview of dotCMS 3.0 goes into further detail regarding the specific features of the update.
You can download dotCMs for yourself here: http://dotcms.com/download/ or you could try out the online demo at: http://dotcms.com/explore/demo/
To find out more about dotCMS, visit their website.
Also, you can discover more of dotCMS via our CMS Directory.