Personalization has now successfully exited the "buzzword" phase. Today, its pretty much the first thing on the minds of most, if not all, enterprise marketing teams.
To keep up, dotCMS has unveiled some new personalization anf targeted content features, which can be tested via the dotCMS 3.5 beta.


There's no news on when the final release will be, but here's what you can expect.
Personalization Personas, Tags & dotCMS Rules
Based on this beta, dotCMS 3.5 will be brimming with new features.
The sizeable update will bring with it; Personas, Conditions, Actions, Visitors, Weighted Tags and Content Scoring, all working in tandem to help marketers and developers quickly build more relevant and more engaging experiences for their visitors.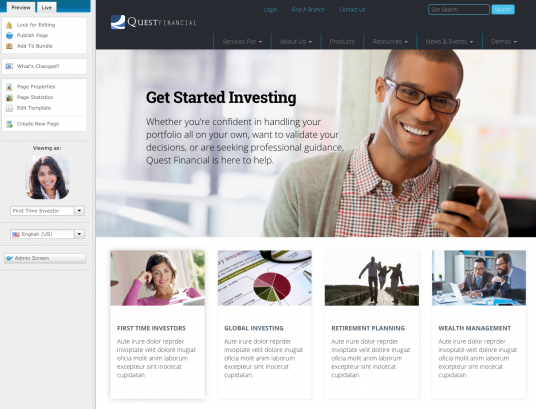 Personalizing content wasn't beyond the reach of dotCMS before this update, but version 3.5 is certainly taking things to a new level.
The new Rule Builder in dotCMS has been designed to be used by site admins, marketers and content editors. They can set up complex Rules for targeting content or performing other actions without having to write any code at all.
Rules can be used to glean "ambient" visitor information such as; the visitors geolocation, their referring url, their browser capabilities and their visit history. In other words, dotCMS is now prepared to provide some pretty comprehensive segmentation options.
Passive & Active Targeted Content
The dotCMS Rules engine will allows business users to drive both passive and active personalization and easily deliver targeted content.
Passive personalization occurs without any specific action from a visitor and happens as a visitor browses pages or views content. dotCMS 3.5 will look at how those contents or pages have been tagged and store this information in the visitor's session as "Accrued Tags".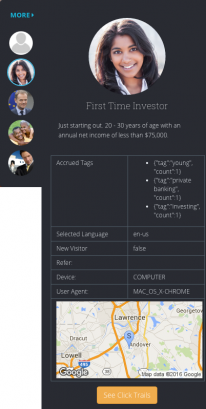 Active Personalization on the other hand, allows a visitor to select their interests manually, creating their own Persona and based on their selections. dotCMS can then display specific content tailored to each Persona.
dotCMS 3.5 is currently a limited beta, so you'll need to request access here.
Interestingly, you can also experience dotCMS' personalization prowess first hand by visiting their live 3.5 demo, where you'll be served content based on a pre-assigned Persona.
To find out more about this beta release, check out the dotCMS announcement.
To explore more of dotCMS, visit their website, or explore them via our CMS Directory.