After getting to know the DotCMS 3.x Series, it's time to take a look at the platform's flexible cloud offering. For those unaware, DotCMS is available as an on premise solution, as well as a cloud-based solution.
As one of the leading products in the Java, open source CMS niche, DotCMS recently won the 2014 Critics' Choice Award for Best Cloud CMS for SMB.

Previously this featured week, we've also had the pleasure of interviewing DotCMS CEO Tim Brigham. CMS Critic also had the chance to sit through a detailed product walkthrough.
For now though, it's back to DotCMS as a cloud solution.
To Cloud Or Not To Cloud: On Premise vs dotCMS Managed Hosting
The awesome thing about dotCMS is its flexibility when it comes to being cloud based.
dotCMS can be used on premise just as simply as it can be used from the cloud. In fact, clients can even opt for a hybrid of both.
As far as on premise goes, the client will be largely responsible for the maintenance of the entire setup, although companies with experienced technical teams may prefer this option due to the hands-on freedom, there's no denying the comfort of the cloud.
DotCMS Managed Hosting is easier to scale with, as it enables development teams and IT resources to be focused on building solutions, not administering servers. Thus, overall costs as well as time to market are minimized.
Further flexibility is found with dotCMS Managed Hosting as the cloud solution is available for smaller, single server implementations to mega set-ups using multi-tiered development, staging and production clusters. All configs are scalable and as dotCMS is an Amazon Web Services Technology Partner, solutions can be hosted in one or more of the Amazon geographical region data centers. From a web operations perspective, all this flexibility means it's likely that dotCMS can be configured to meet the budget and business requirements of most businesses.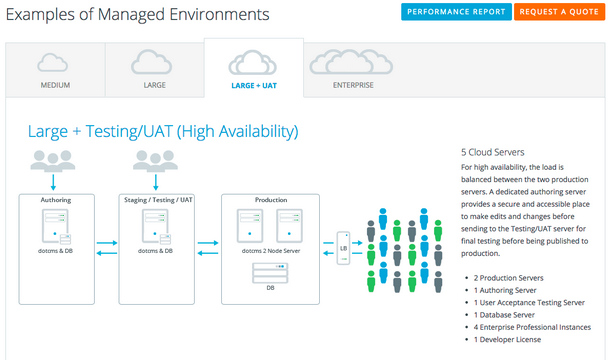 Plus, with dotCMS Managed Hosting, upgrading or moving to bigger (or smaller) instances, or adding more storage is only a support ticket away.
Speaking of support, opting for dotCMS Managed Hosting brings the help and support of the dotCMS team closer. otCMS engineers will keep your servers up to date with the latest dotCMS patches, security updates versions, including major version updates. Plus, all cloud customers enjoy the added security of full nightly, weekly and monthly backups.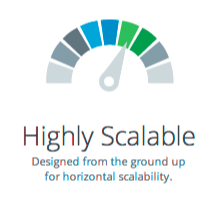 Further to this. Virtual Private Clouds (VPC) are employed to achieve complete separation of your dotCMS cloud instances from all other clients. Either way though, dotCMS clients are never not locked in. They can easily transition from on premise to cloud, and back again should they wish.
More Cloud Options
DotCMS also offers a little publicised option that is geared to Proof of Concepts (POC), digital agencies, and start-ups or wherever a single dotCMS server fits the bill. Called dotCMS Cloud – this option provides a single server dotCMS set up that you can order online. Billed as the fastest and easiest way to get started with dotCMS, dotCMS Cloud is another example of the fast and flexible cloud solutions dotCMS is bringing to market.
Reliability, flexibility, support, and scalability all in one solution. Not to mention the shrunken IT and maintenance footprint. That's why companies are moving to the cloud. It looks like dotCMS is one such CMS that can get you there too.
Learn more about dotCMS Managed Hosting. 
To find out more about dotCMS, visit their website, or explore more via our CMS Directory.