To wrap up this featured week with Ecwid, we're focusing on the Ecwid App Market.
Coming back to today's topic, it's my view that no platform is truly complete without at least a basic app store to provide optional functionality boosts. And Ecwid has that – and more.
Let's take a look at Ecwid's App Store.
Keep Your Store Growing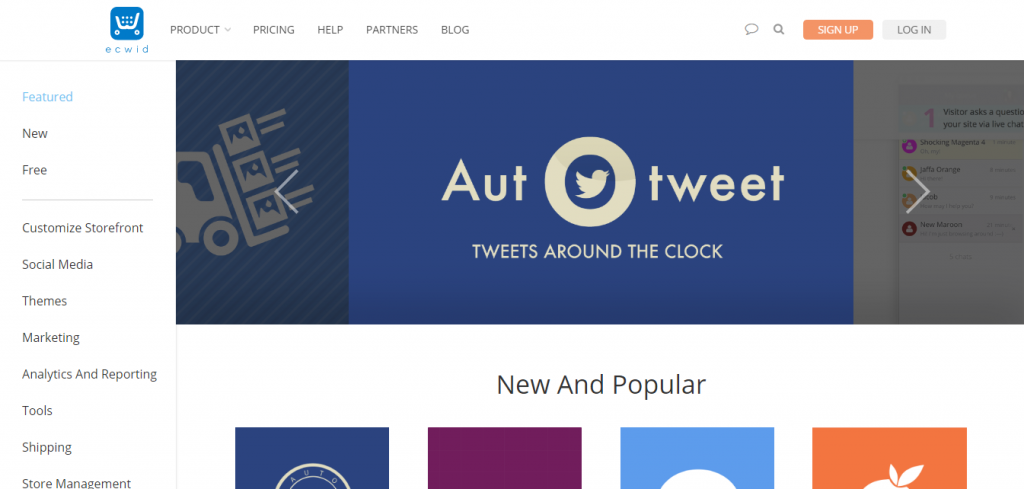 Adding functionality to the front-end and back-end of your store will help keep its growth on track. And Ecwid recognized that by making weekly additions to its App Store.
Some of the categories found within the store include:
Marketing
Shipping
Store Management
Theme customization
Accounting
And what's more is, many of the apps are totally free.

Developer Friendly
I could tell you that Ecwid is developer-friendly, but I think it sounds better coming from an actual developer:
"Most eCommerce platforms only partially support 360º views. Crazy, I know, but there is good news…

Many eCommerce platforms are catching up, albeit slowly. We've built 360º view Apps for other eCommerce platforms, but most platforms are hesitant to let us build a deeply integrated App that works perfect.

And then, there's Ecwid.

Ecwid is the first eCommerce platform that decided to have 100% compatibility with our 360º viewer at Imajize. In fact, we worked directly with the software engineers at Ecwid.

The result? Together, we built one the most polished 360º view Apps yet. With this App installed, you can easily add our 360º viewer into your Ecwid product page. It's almost too easy.

The team at Ecwid played a huge role at making this happen (so thanks, Ecwid!)."
All that praise for Ecwid came recently from Imajize, an app developer that was happy about Ecwid's support for its 360 degree view image producing application. Support that, they say, has been hard to come by elsewhere in the eCommerce industry.
If that's not developer friendliness, I don't know what is.
To check out the Ecwid App Market for yourself, head over to their website.
And with that, we tie up the last entry of Ecwid's featured week here on CMS Critic.