After covering Ecwid's awesome ShopApp feature – which allows merchants to launch their own native iOS and Android retail app – it's time to take a look at another Ecwid feature; automated taxes.
On a personal level, taxes make my brain hurt. In fact, I deem it as one of eCommerce's scariest hurdles – and I'm sure I'm not alone.
To make life easier for merchants though, Ecwid recently partnered with TaxJar to automate the entire process. What more is, that automation is available for free for all paid Ecwid users.
Tax Is No Longer Taxing
The alliance between Ecwid and TaxJar means something very significant; merchants from the U.S., Canada, EU, and Australia can set up tax rates in their store with just one click. Seriously.
Once enabled, the automatic tax rate will determine a precise tax rate at checkout depending on where you and your customer are located. All the technical stuff is done behind the scenes.
How? Well, the tool knows the tax rules in your country, state, and even your county – which is the hardest part, really. It then simply applies them properly to each order as and when they come in.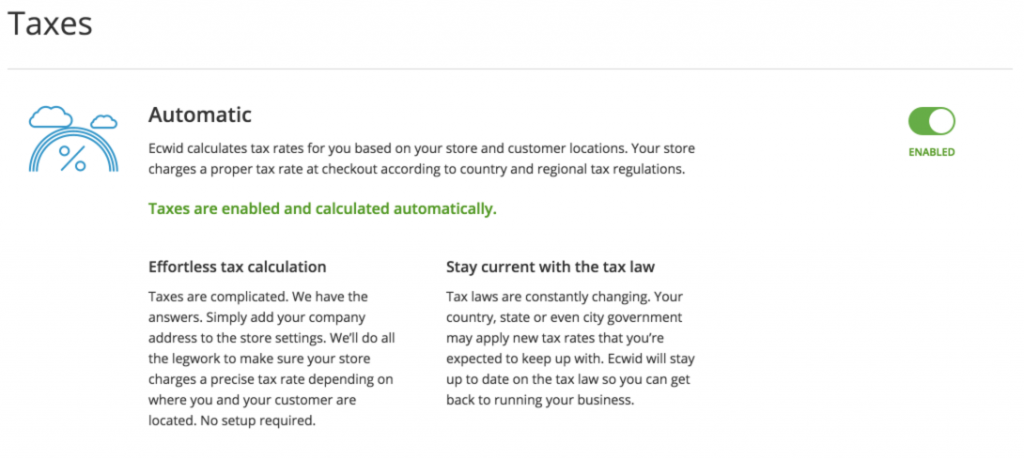 If you're worrying about its level of tax knowledge, don't. Here's why:
The TaxJar integration knows whether you're located in a region with origin-based or destination-based tax schema, whether shipping cost or discounts are taxable, whether you should charge tax in another state or country not, whether the tax rate is calculated with a zip code accuracy. If your customer provide zip+4, it will be calculated with even higher precision. In some U.S. states the tax is calculated with a street address level precision!
The real beauty of this automated tax feature is that it will stay up to date with all new tax laws that get implemented in your country. So you never have to worry about updating your tax configurations – it's all automatic.
More To Come
But that's not all, because Ecwid has already unveiled some of its plans to expand their automated tax feature with the help of TaxJar.
By the end of 2016, they hope to introduce:
Multiple nexuses for US sellers, which allows for accurate rates to be calculated if your store operates in several states.
Automated reporting & filing to fully automate sales tax management, and more.
Essentially, Ecwid is taking that scary tax hurdle and throwing it off the track, so you can focus on running your business.
To find out more about Ecwid's tax automation feature, check out their blog.