Elxis is an interesting cms that expands upon traditional mambo code by adding an amazing set of SEO features (something sorely lacking in Joomla and Mambo by default) and enhanced security among other improvements. In this Elxis review, let's examine their latest edition and see how it looks.
As you can see from the picture below, they feature an attractive installer with several options such as quick links to their help forums, the ability to click ONCE and restart the installation (which is a very sweet addition.. thank you Elxis team).. as well as a percentage complete and tons of quick notes to make sure you are well informed as you proceed through the installation.
I'm one for appreciating tips and stuff that not just expand the knowledge of the user doing the install… but helps them understand
what and why they are entering the data they are entering.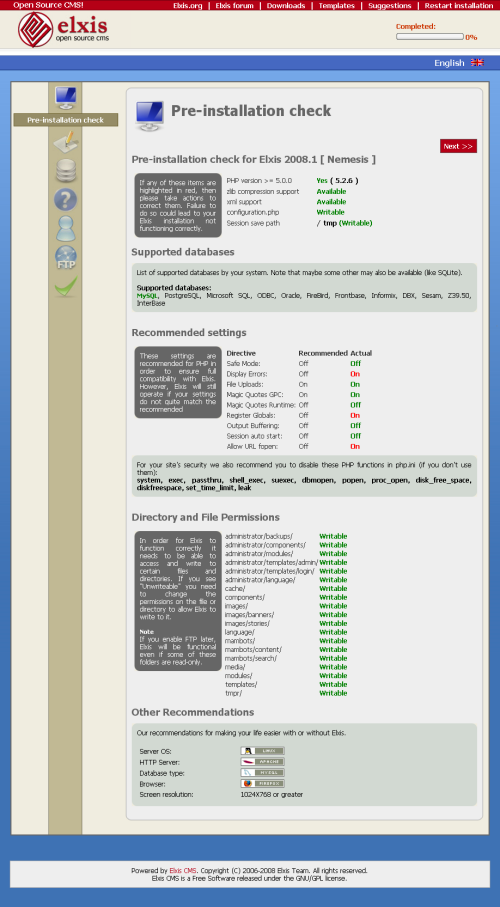 Once you've passed this stage, you will get the screen below: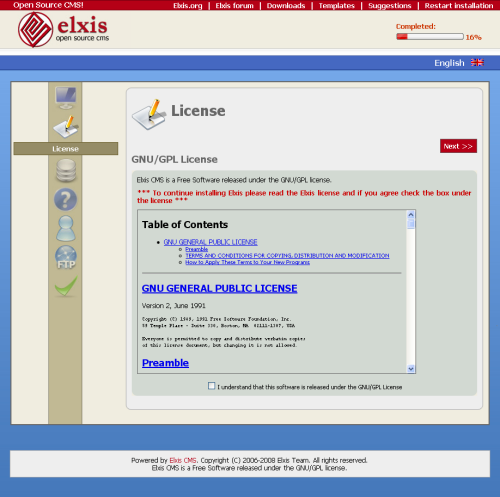 Accepting this license agreement will allow you to proceed: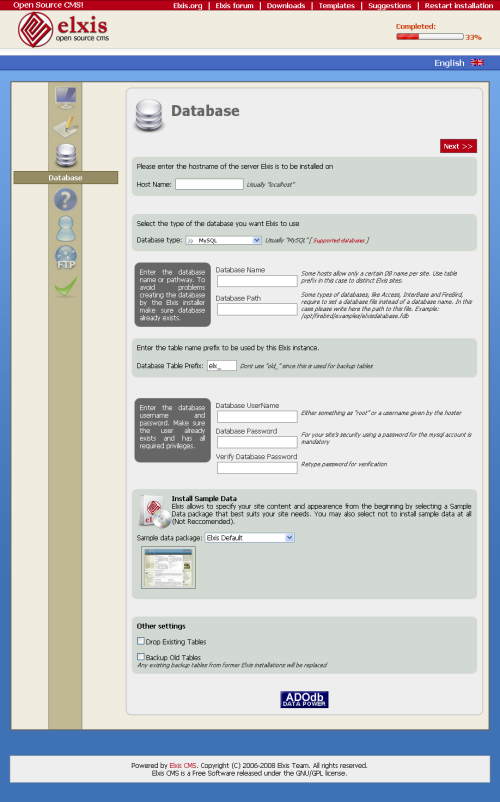 Fill in your database details, select a sample data package and you are ready to proceed. Elxis has a very solid selection of database
options as well.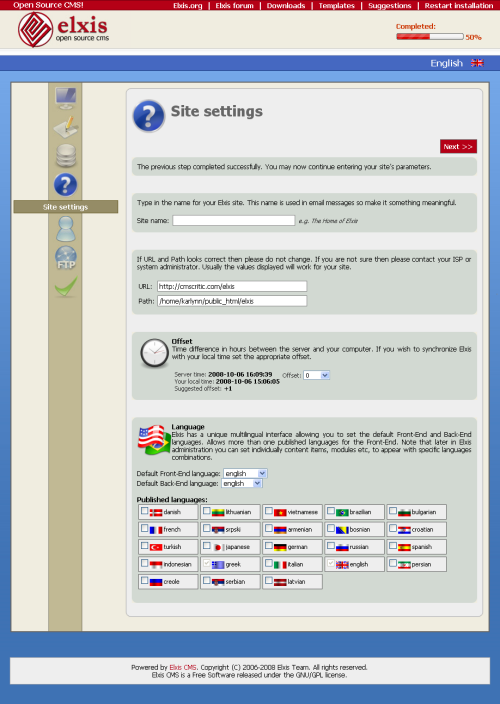 Select your language, site name, timezone offset.. and continue: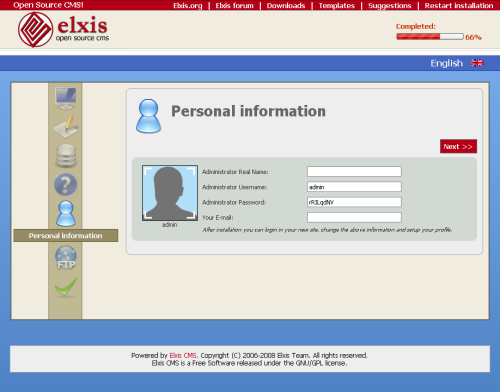 Enter in your admin settings on this screen. I like the fact that it auto generates a very secure password for you.. you are of course not forced to use it but it's nice to have the option (although admittedly with my memory, there'd be no way I'd manage with something as obscure.. )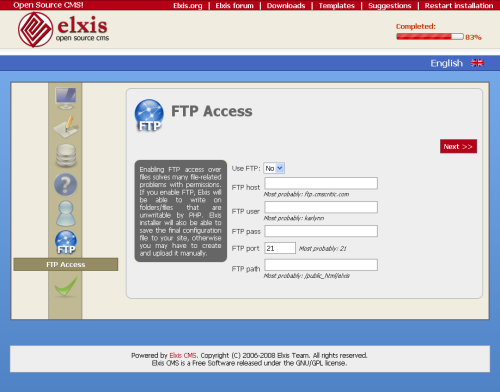 Configure FTP access if you like, the only reason I can see doing this.. is to allow file attributes to be changed by the installer
instead of having to do them yourself.. Personally, I prefer to maintain control.. but I like the fact that I have the choice.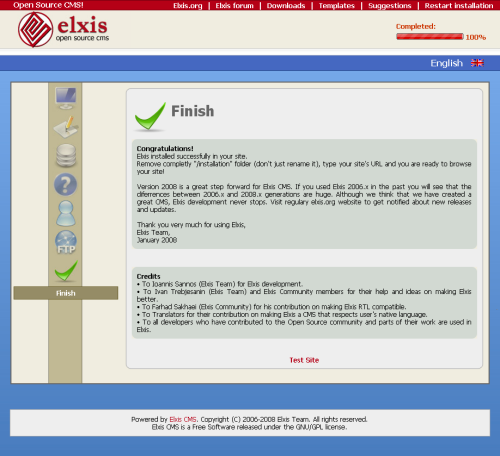 Now we are ready to get to the test site and see how she looks: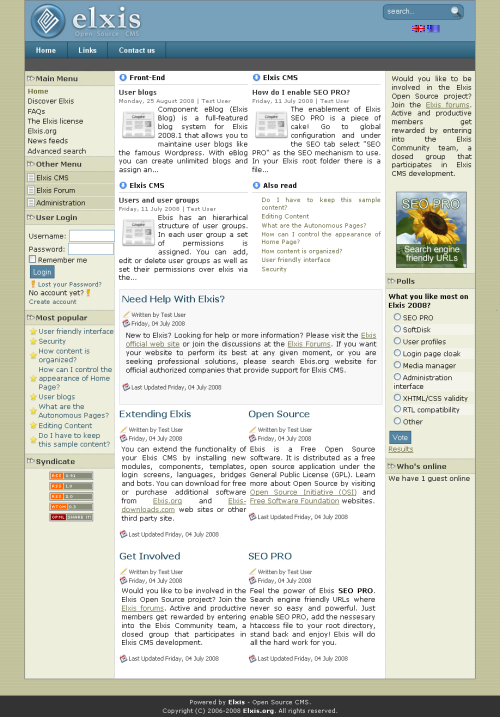 What I like about the default page is that it covers each of their major features such as SEO Pro and serves as a nice set of instructions
and documentation for making the most out of their package. It's a nice looking default template and works well with typical expectations.
There currently aren't a huge amount of themes and templates available but it wouldn't be tough to port over a Joomla or Mambo one as they are basically the same framework. I haven't tested to see if they work by default but if someone knows, please let me know.
Plugin wise, I do know that I tried a few Joomla plugins and they worked fine so I suspect it's a trial and error situation there as
well. Again, if someone has more detail, please advise.
On the topic of plugins though.. I admittedly don't think you would need much. The fact is, Elxis has pretty much everything I'd need from the get go without the need to install third party apps… a fact that I think is one of it's strengths for sure.
The admin panel is a redesigned mambo one with a few additions.. not much of a surprise and very usable and clean: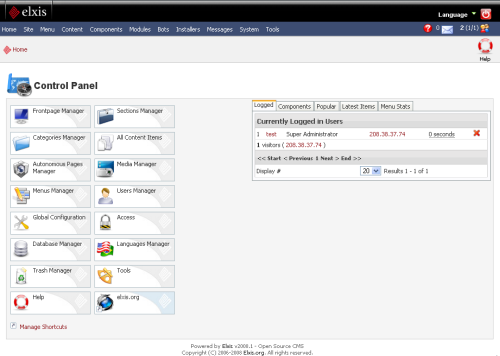 This new version also boasts the addition of eBlog component.. which is very nice! Here is a screenshot of it's configuration page: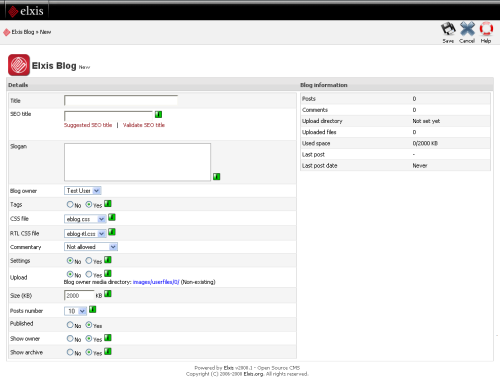 One other thing before our rating that I wanted to point out and that's this nice little addition that I just noticed in the content
section.. When you choose to add a new content item, it gives you the choice to have an SEO Page Title or SEO Post title generated and also gives you a Validate link:

That is a brilliant addition and something that may have been present in 2008.0 but I certainly don't recall it. I'll have to ask the
developers about that..
On with the ratings:
Community 7/10 – Not super active yet, but maybe after this review things will improve ?

Expandability 8.5/10 -Not alot of expansion required, but several options available if needed.
Themability 8/10 – Needs more but I love the ones it has.. for instance, there is a CNN clone!
Useability 9/10 – Very usable, very well thought out and easily outclasses Joomla and Mambo in my eyes.
Overall Score: 8/10